FAQs
How Do I Increase My VA Disability Rating?
While it can be a difficult process, there are a few options to increase your VA disability rating.
What is a VA Disability Rating?
When a veteran applies, and is approved for, VA service-connected disability benefits, the Department of Veterans Affairs (VA) assigns a disability rating based on the severity of the condition.
Ratings can range from 0 to 100 percent, in increments of 10 percent.  A rating from 10 to 100 percent qualifies the veteran for monthly compensation.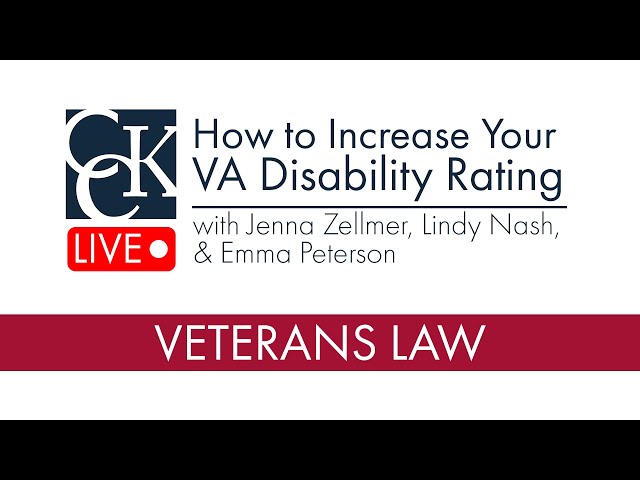 How VA Assigns Disability Ratings
Disability ratings are assigned based on VA's Schedule for Rating Disabilities.  This schedule assigns a particular rating based on a veteran's symptoms.  If your symptoms match the rating you were given, you may not have a strong case for receiving an increased rating.
However, if your symptoms have worsened and you believe they now fall under the criteria for a higher rating, filing for an increased rating may be warranted.  Evidence such as test results or a medical opinion from a physician can help show VA that your condition has worsened.
Why Might I Want a Higher Disability Rating?
Ultimately, a higher disability rating means a greater amount of monthly benefits.
Under certain circumstances, VA may increase a veteran's disability rating in light of new evidence that their condition has deteriorated.  Veterans may also file a claim for an increased rating if they believe that their condition has worsened since they were initially granted their disability rating.
How Do I Increase My VA Disability Rating?
As mentioned above, VA may increase your rating in certain circumstances.  However, veterans themselves also have a few options when seeking a higher disability rating.  These can include:
Filing an appeal within VA's deadlines
Filing a new claim for an increased rating
Filing for TDIU, or total disability based on individual unemployability
Filing for secondary service connection
#1. File an Appeal to Increase Your VA Rating
When you file an initial claim with VA for service-connected compensation, VA will issue a rating decision either granting or denying your claim.  If VA grants your claim, the rating decision will also include an effective date and a disability rating.  The effective date and disability rating will ultimately determine how much compensation you have been awarded.
If you think the disability rating VA has assigned is too low, or the effective date is incorrect, you have one year from the date of the notification letter you received with the decision to file a Notice of Disagreement for an increased rating in the legacy appeals system.
When you receive an unfavorable decision under the Appeals Modernization Act, you have three review options to choose from: the higher-level review lane, the supplemental claim lane, and the Notice of Disagreement lane (i.e., Appeal to the Board of Veterans' Appeals).
Higher-Level Review Lane
By choosing this lane, veterans are requesting that the Regional Office (RO) issues another decision based on a higher level of review.  This review is conducted by a more experienced rating specialist or senior VA employee at the RO who evaluates the veteran's claim de novo (i.e., new look).
In this lane, veterans are not allowed to submit additional evidence in support of their claims.  Instead, the RO will issue a new decision based on the same evidence of record that was available at the time of the prior decision.
Supplemental Claim Lane
The Supplemental Claim lane allows for the submission of new and relevant evidence.  Furthermore, it is the only lane in which VA has a duty to assist veterans in gathering evidence to support their claims.  Importantly, veterans will maintain the same effective dates for their claims when submitting new and relevant evidence as long as the supplemental claim is submitted within one year of the RO's initial decision.
Notice of Disagreement (i.e. Appeal to the Board of Veterans' Appeals)
In the Notice of Disagreement lane, veterans can appeal their cases directly to the Board following an unfavorable decision from the RO.  Here, veterans are able to skip the second level of review at the RO.  There are an additional three lanes at the Board that veterans can choose from:
Direct Docket
The direct docket is for veterans who do not want to submit additional evidence to the Board, and do not want a hearing before a Veterans Law Judge.  In this docket, the Board will only look at the evidence that was in the veteran's file when the appealed decision was issued.  VA has set a 365-day goal for issuing decisions in the direct docket Board lane, which is projected to be the fastest among the three options.
Hearing Docket
The hearing docket is for veterans who want to have a hearing before a Veterans Law Judge.  The only hearing options available to veterans under Appeals Reform include a videoconference hearing and a hearing at the Board in Washington, D.C.  Travel board hearings, held by Veterans Law Judges at ROs, will only be available to veterans in the legacy appeals system (i.e., the old appeals system).
Evidence Docket
The evidence docket is for veterans who want to submit additional evidence, but do not want a hearing.  In this lane, veterans can submit additional evidence to the Board with their Notice of Disagreement or within the 90 days following their Notice of Disagreement submission.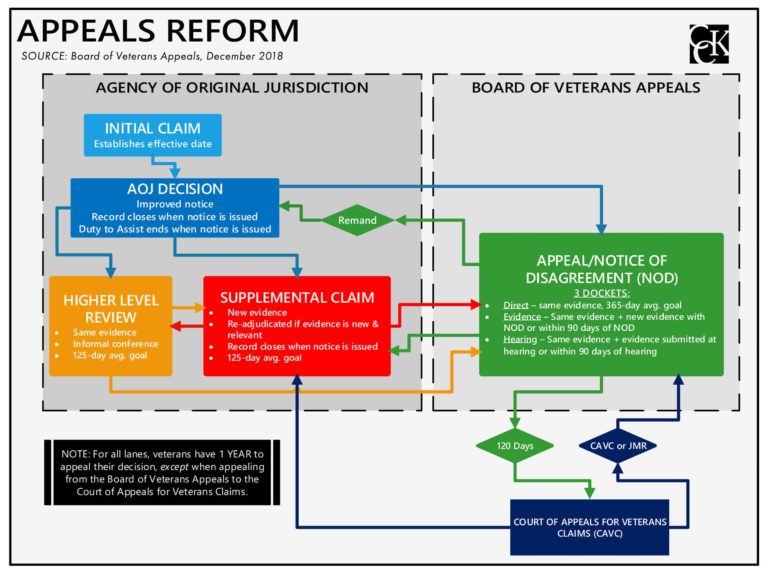 #2. File a Claim to Increase Your VA Rating
The disability rating VA assigns in its initial rating decision may be satisfactory at the time.  But what happens if, later on, you feel that rating is no longer sufficient?
If you are outside of the 1-year appeal window to file a Notice of Disagreement with VA's initial decision, perhaps consider filing a new claim for an increased rating.  You can submit any new documentation or evidence you have supporting that your service-connected disability has worsened.  VA will treat this as any other claim and issue a rating decision in response.
In the legacy appeals system, the evidence must be new and material, whereas under the Appeals Modernization Act, it must be new and relevant.  Importantly, the "new and relevant" standard does not impose a higher evidentiary threshold than the former.  An example of new and relevant evidence may include a medical opinion explaining how your condition has worsened over time.
It is common for VA to require the veteran to undergo a new Compensation and Pension (C&P) exam once a claim has been filed.  Veterans must attend this exam, as VA can deny the veteran's claim if they fail to do so.  Veterans can also submit private medical exam results or records to further support their claim.
Generally, veterans submitting a claim for increased disability compensation should use VA Form 21-526EZ, Application for Disability Compensation and Related Compensation Benefits.
#3. File for TDIU for an Increase in Compensation to the 100% Rate
TDIU, or total disability based on individual unemployability, is a benefit that allows veterans who are unable to work due to a service-connected disability, or disabilities, to receive disability compensation equal to a 100 percent rating, even if their combined disability rating does not reach a schedular 100 percent.
Veterans unable to obtain and maintain "substantially gainful" employment due to service-connected conditions can qualify for Individual Unemployability benefits.  A substantially gainful occupation is defined as a job that pays above the poverty threshold.  Marginal employment and protected work environments do not equate to substantially gainful employment.  An example of this would be a family business where extra accommodations are made for you, enabling you to continue working.
Veterans may qualify for Individual Unemployability on a schedular or extraschedular basis if they meet VA's requirements.
The schedular requirements for Individual Unemployability are as follows:
The veteran has one service-connected disability rated at least 60 percent disabling; OR
The veteran has more than one service-connected disability, with one condition rated at least 40 percent, and a combined rating of at least 70 percent.
Veterans who do not meet the above-outlined criteria may qualify for TDIU on an extraschedular basis.  To do this, the veteran will need to demonstrate that the VA disability rating schedule does not accurately portray the functional limitations presented by their condition.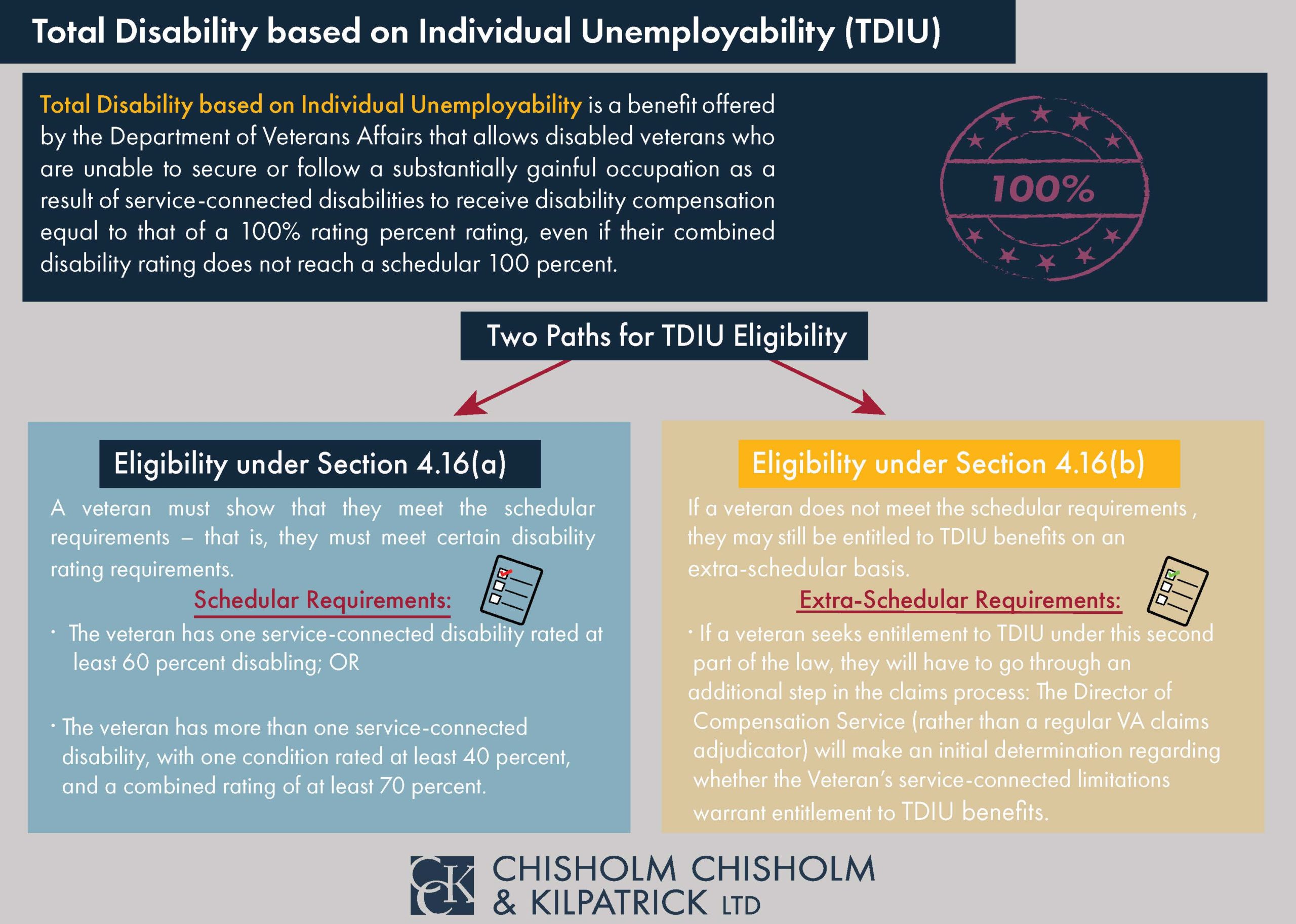 To apply for TDIU benefits, veterans must complete VA Form 21-8940: Veteran's Application Based on Unemployability and submit it to VA.  This form can be submitted:
Online
By mail or via fax
In-person at the local RO
With the help of an accredited representative
However, if you already have an increased rating claim pending, you do not need to file a new claim.
#4. Filing for Secondary Service Connection, Increasing Combined Rating
Veterans can also file a new claim for a secondary service-connected disability.  Technically, this is not an increased rating for an initial disability, but it can still result in increased compensation.
Secondary claims are often overlooked.  Many disabilities or treatments for those disabilities can lead to the development of a new condition for which veterans can receive VA compensation.
An example of this would be if a veteran's service-connected back injury has affected their gait, causing knee problems, then they may be entitled to additional compensation for this secondary disability.
Another example would be if the pain medication a veteran takes for their service-connected back injury causes gastrointestinal issues, then the veteran may be compensated for the gastrointestinal issues.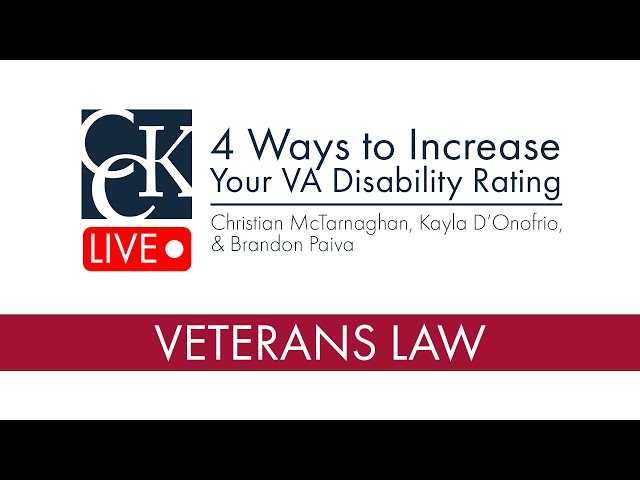 Is There Anything Else I Need to Know?
Yes.  When you ask VA to take another look at your disability rating, VA will review your entire claim file, meaning it does not only look for evidence in support of your claim.  If VA feels your condition has actually improved, or that it initially assigned you too high of a rating, VA reserves the right to decrease your disability rating.
Before filing a claim for an increased rating, do your research. Talk to your doctor and your attorney about how realistic your request is, and make sure you have evidence to support your claim for a higher rating.
An accredited representative can help to ensure that your claim is strong enough to withstand scrutiny from VA.
Have Questions About Increasing Your VA Disability Rating? Call CCK Today
The VA system is notoriously tough to navigate, and can be frustrating to do it on your own.  But the team at Chisholm Chisholm & Kilpatrick LTD is here to assist you.  We have helped many disabled veterans receive the benefits they rightfully deserve, and we can put our experience and resources to work for you.
If you think your VA disability rating is too low and that you should be receiving a higher disability rating, we may be able to help. Call now for a free evaluation: 800-544-9144.