Qualifying Conditions
Getting Veterans (VA) Disability for Sleep Apnea
If you developed sleep apnea during your military service, you could be eligible to receive disability benefits. But there are several challenges to winning veterans (VA) disability for sleep apnea, and many veterans receive denials after they apply. The legal team at Chisholm Chisholm & Kilpatrick LTD can help you file an appeal and prove your sleep apnea is a result of an in-service illness, injury, or event.
We have years of experience successfully advocating for VA disability appeals for our veteran clients — including those diagnosed with sleep apnea. We want to put that experience to work for you.
Call us today to learn more about how we can help you: 800-544-9144.
What Does It Mean for a Condition to be Service-Connected?
Only service-connected medical conditions are eligible for disability compensation. A service-connected condition is one that resulted from an in-service illness, injury, or event. This connection to service can be presumptive, direct, or secondary.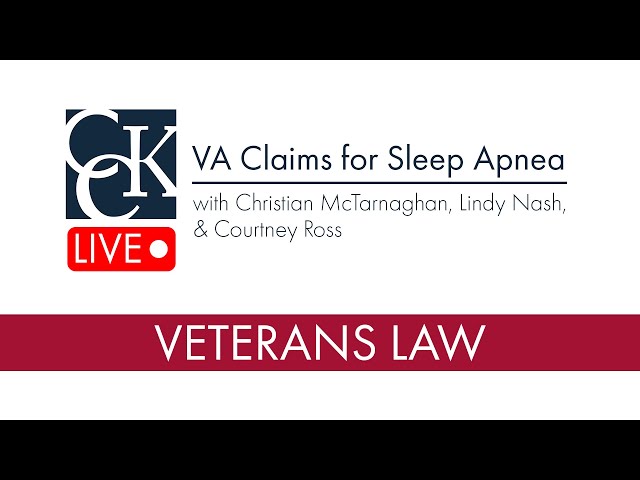 How Can I Prove My Sleep Apnea Resulted from an In-Service Illness, Injury, or Event?
Sleep apnea is not considered a presumptive condition for veterans exposed to Agent Orange or ionized radiation, or contaminated water at Camp Lejeune. However, veterans of the Persian Gulf War may be entitled to presumptive service connection for their sleep apnea. Under the VA's regulation concerning Persian Gulf War veterans, 38 § C.F.R. 3.17, sleep apnea falls under "sleep disturbances" as an undiagnosed illness and medically unexplained chronic multisymptom illness.
Veterans can also prove service connection for sleep apnea by showing that their sleep apnea began in service using service medical records, or by providing a nexus opinion from a medical professional that links their current diagnosis of sleep apnea to signs or symptoms they experienced in service.
Additionally, veterans can service connect their sleep apnea on a secondary basis. Establishing a secondary service connection involves proving that your sleep apnea is a secondary or residual effect of another condition — one that does have a direct service connection — such as chronic rhinitis, asthma, a deviated septum, or diabetes mellitus type 2.
How Does the VA Evaluate Sleep Apnea?
The VA evaluates sleep apnea under 38 C.F.R. § 4.97-13, Code 6847 as Sleep Apnea Syndromes (obstructive, central, mixed). The lowest possible rating, 0 percent, does not qualify you for any monthly compensation, but it makes you eligible for other benefits, such as healthcare. The highest rating, 100 percent, signifies total disability and makes you eligible for the highest schedular amount of monthly compensation.
Per 38 C.F.R. § 4.97-13, Code 6847, the ratings for obstructive, central, or mixed sleep apnea are as follows:
100 percent rating for "chronic respiratory failure with carbon dioxide retention or cor pulmonare, or; requires tracheostomy."
50 percent rating requires the "use of a breathing assistance device such as" a CPAP machine.
30 percent rating requires "persistent day-time hypersomnolence."
0 percent rating for asymptomatic sleep apnea with "documented sleep disorder breathing."
As of December 1st, 2022 the VA disability rate benefit amounts are as follows:
30 percent disability rating: $508.05 per month
50 percent disability rating: $1,041.82 per month
100 percent disability rating: $3,621.95 per month
A rating of at least 30 percent or higher qualifies you for additional compensation if you have a spouse, dependent children, or dependent parents living in your home.
Call Our Team Now at 800-544-9144 for Your Free Consultation
Appealing a benefits denial is complex and can seem impossible if you are handling it alone. The veterans advocates at Chisholm Chisholm & Kilpatrick LTD can handle it for you. We have decades of experience successfully appealing thousands of cases and can help with yours too.
Call us to discuss your case for free today: 800-544-9144.