Veterans Law
TDIU: What you need to know
In this video, CCK attorney Layi Oduyingbo, talks with founding partner Robert Chisholm, about the notoriously complex benefit referred to as TDIU, IU, or individual unemployability.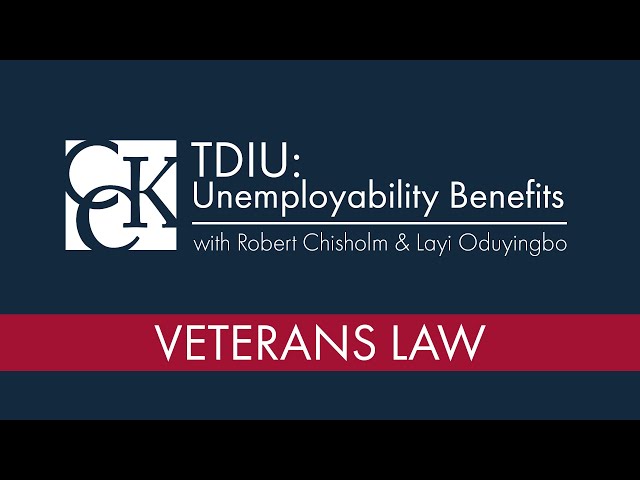 TDIU stands for a total disability rating based on individual unemployability.  Basically, when a veteran can show that service-connected limitations preclude them from substantially gainful employment, they may be entitled to a 100 percent rating.  So, for example, if the veteran has a service-connected back condition rated 70 percent disabling, and that back condition prevents them from working, they can be compensated at the 100 percent disability rating instead of the 70 percent schedular rating assigned for their back disability.
Two Paths to Eligibility for TDIU
Entitlement under Section 4.16(a)
Under the first path to eligibility, a veteran must show that they meet the schedular requirements – that is, they must meet certain disability rating requirements.  The law that governs entitlement to TDIU is found in the Code of Federal Regulations under 38 C.F.R. § 4.16.  The first part of the law, 38 C.F.R. § 4.16(a), requires a veteran to have either
one disability rated 60 percent or more, OR
multiple disabilities that combine to 70 percent or more AND one of those disabilities is rated 40 percent or more.
RELATED: Not sure what your combined disability rating is?  Try our Veterans' Disability Calculator! Or check out our video on VA Math and Combined Ratings.
Entitlement under Section 4.16(b)
Under the second path, if a veteran does not meet the schedular requirements above, they may still be entitled to TDIU benefits.  Under the second part of the law, 38 C.F.R. § 4.16(b) "Entitlement to TDIU on an extra-schedular basis," veterans can make their case for why their disability or disabilities prevent them from working or being employable even though they don't meet the schedular requirements of section 4.16(a).  If a veteran seeks entitlement to TDIU under this second part of the law, he or she will have to go through an additional step in the claims process: The VA Director of Compensation (rather than a regular VA claims adjudicator) will make an initial determination regarding whether the Veteran's service-connected limitations warrant entitlement to TDIU benefits.
SSDI and TDIU
Receiving Social Security Disability Insurance (SSDI) does NOT automatically entitle you to TDIU benefits.  SSDI and TDIU are completely separate processes.  Social Security documents, however, can often be useful in TDIU claims because the two government benefits are given for similar reasons.  Keep in mind, though, that if the SSDI was awarded for a disability that is not acknowledged by the VA as service-connected, the evidence likely will not be useful in a TDIU application.
Evidence for TDIU Claims
Veterans can use a variety of different types of evidence for these claims.  To apply for TDIU benefits, veterans should start by filling out VA Form 21-8940 Request for TDIU.  The form asks for information about the veteran's work history and education as well how the veteran's disabling conditions affect his/her ability to work.
To show that their service-connected disability or disabilities make them unemployable, veterans can submit lay evidence (statements by the veteran and/or their friends, family, or co-workers) that describe how their conditions limit their ability to do the tasks their job requires.  For example, a co-worker could write a lay statement that explains that the veteran, an administrative assistant, misses work frequently and often has to leave early because their back condition makes it painful for them to sit for long periods of time at a desk.
Another option for this kind of evidence is getting an opinion from a vocational expert.  Vocational experts can list what kinds of physical or mental limitations would make a person unemployable in a certain field.  They can give a comprehensive list of the required activities for certain types of work and then spell out how and why the veteran is not capable of performing these activities.
Similarly, VA will likely require a medical opinion.  That is, they will want to see a doctor's evaluation of the veteran's disability or disabilities and how those conditions limit the veteran's abilities in the workplace.
What if…
If a veteran is retirement age or has already retired but their disabilities still prevent them from working, they may still be eligible for TDIU.  The determination of eligibility is not based on age or the reason for leaving last employment.  The relevant question is whether the disabilities presently prevent the veteran from working.
If a veteran is currently working or can do some work, but earns wages below the poverty level, they may still be eligible for TDIU.  Veterans eligible for TDIU must have (a) condition(s) that make them unable to maintain "substantially gainful" employment.  So, when a veteran earns below the federal poverty level, the VA does not consider their employment "substantially gainful."  Instead, the VA calls this "marginal employment."
If a veteran works in a sheltered workshop, family business, or is given special accommodations at work because of their disability, they may still be eligible for TDIU.  These types of employment – referred to in VA law as "protected work environments" – are also considered "marginal employment."
Unfortunately, the VA has not yet created a definition for "protected work environment," so these cases can be difficult to argue.  But in a case argued by CCK attorneys before the Court of Appeals for Veterans Claims (the Court), the Court ruled in favor of CCK and ordered the VA to either define the term or create a list of factors for adjudicators to use.
RELATED: Want to learn more about TDIU? You're in luck.  Check out our articles on TDIU in general, the difference between TDIU and a 100% schedular rating, the difference between SSDI and TDIU, and take a closer look at what "protected work environment" really means.