ERISA Law
Long-Term Disability (LTD) Claims for Consultants
Consultants form a large part of the workforce, and their specialties span several industries.  As such, when a consultant develops a health condition that prevents them from working, they may need to file a long-term disability (LTD) claim.
However, this process can sometimes seem impossible to overcome.  In this article, we will answer some of the questions you may have about your LTD claim as a consultant.
Types of Consultants and the Importance of Long-Term Disability Benefits
Consultants are normally self-employed individuals, but they work in a wide variety of industries.  Businesses in every sector frequently hire consultants to help them solve problems ranging from management issues in a corporate office to reducing costs at a medical institution.  Some consultants are hired on a short-term basis, while others are needed for longer periods.
Consultants routinely have to travel between jobs, and their jobs are not always consistent; this is the nature of freelance work.  Therefore, many consultants are not only solving others' issues, but they are also marketing themselves to consistently bring in clients.
There are several types of consultants, and each have their own unique needs and specializations.  Some common types of consultants include:
Business consultants. Perhaps the most known type of consultant, these consultants normally offer expert advice to businesses who need help with operations, strategy, and other common business issues.
Management consultants. Management consultants are brought into a company to provide training and strategy implementation at the management level.
Medical consultants. Medical consultants work with healthcare facilities to implement new strategies designed to lower costs, increase revenue, and make operations run smoothly.
IT consultants. IT consultants offer technical support to their clients.  This can include analyzing any security threats the business may have; improving the efficiency of the system; and implanting strategies to streamline the use of the best IT software so that the business can succeed.
A medical condition can make the day-to-day life of a consultant strenuous.  If you are a consultant, regardless of industry, who is experiencing a medical condition or injury that prevents you from working, you should consider filing for long-term disability benefits.
Long-term disability benefits can cover a percentage of a person's pre-disability earnings so that they can focus on their health.  This is important because when a person is unable to work because of a condition, they normally would not get paid otherwise.  As a self-employed individual, a consultant may rely on these benefits extensively, especially since they have to find their own clients.
Any condition that impairs the physical and/or cognitive abilities of a consultant could be detrimental to their livelihood.  Consultants routinely must travel, operate different forms of technology, and communicate with their clients.  Focus is a topmost priority, but many disabling conditions can cause a person's focus to diminish.
For example, people who suffer from IBS will have numerous physical symptoms that can simultaneously cause stress.  A person who suffers from IBS will regularly have to go to the bathroom, which can be embarrassing and frustrating, which can lead to anxious thoughts, diminished focus, and increased stress. Another example is depression, which can distract a person throughout the day.  A consultant who suffers from depression is unlikely to think clearly, meaning they cannot provide the advice and expertise for which they are hired.
When a medical condition impairs a consultant, it is important that they determine whether they have long-term disability insurance.
How Can I Find Out More About My Long-Term Disability Coverage?
There are two primary ways in which a person obtains long-term disability coverage: either through their employer (a group policy) or directly from an insurance company (an individual policy).  Before you can begin the claim process, it is vital to determine what coverage you have so that you can read the corresponding policy associated with it.
Most consultants are self-employed and therefore will not have a group policy.  However, not all consultants are freelancers.  Some do work for consulting firms, who may or may not offer them a benefits package.
The process for discovering this is straightforward.  If you are a consultant that works for a consulting firm, you may have a group policy.  The best way to find out is to ask your employer directly.  Normally, a human resources employee is the best contact to reach out to.  If your firm does offer you a group policy, you can then request your plan's documents from them.
However, if you believe you believe you have an individual policy—or are not sure—you should first check your bank statements.  If you find premium payments to an insurance company, you most likely have an individual policy.  You can call your insurance company directly and request your policy's information.  Upon request, they will send you all the materials you need.
What Do I Need to Establish as a Consultant to Receive LTD Benefits?
Once you determine that you have LTD coverage, you must read the policy that comes with it.  This policy has a lot of invaluable information that is crucial for your claim.  By fully reading and understanding your policy, you put yourself at a better chance of approval.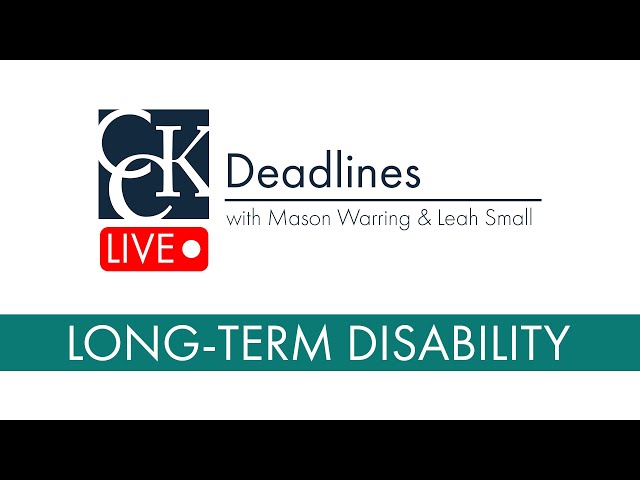 The information contained within your long-term disability policy includes your coverage's maximum benefit period, deadlines, and limitations that apply to your coverage.  Additionally, your policy will include a definition of disability, which is one of the most important pieces of information you will need.   It is this definition that you must prove you meet to receive your benefits.
Definitions of Disability
The definition of disability is a vital component of your policy and of your claim.  To establish that you are disabled under your policy, you must adhere to the definition your policy contains.
Most policies will include one of two common definitions of disability: the "own occupation" definition or the "any occupation" definition.  If you have a group policy, it is possible that it has a "hybrid" definition.  A hybrid definition means that it can change from "own occupation" to "any occupation" after a certain period.
Nonetheless, understanding what each definition entails will help you establish your disability claim.  The "own occupation" definition asks whether you can perform the duties of your specific job.  This definition is generally easier to prove than an "any occupation" definition because it is only concerned with your job as consultant.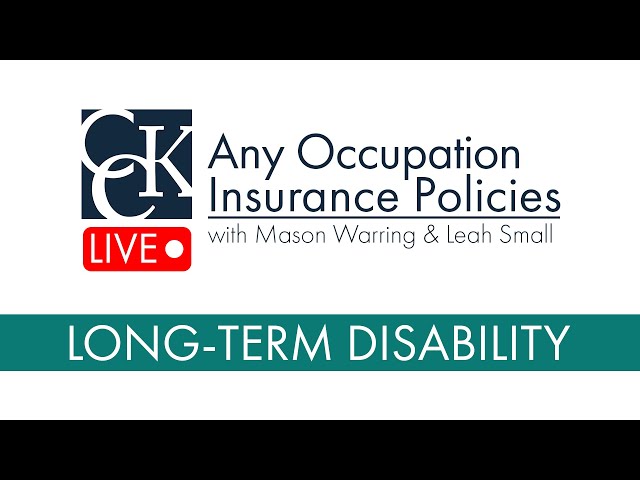 Conversely, the "any occupation" definition asks whether you can perform the duties of any job whatsoever—regardless of whether it is like consulting or not.  Therefore, it is more difficult to prove.  It is common that a medical condition may prevent you from consulting but not from working in an administrative role elsewhere—even if the pay and expertise are nowhere near your consulting career.
Some "any occupation" definitions include a gainful component, i.e., does your condition prevent you from working a job where you could still earn a certain percentage of your pre-disability earning (usually 60 to 70 percent)?  If your policy includes this component, it can make it a little easier to prove.
Establishing Your Claim
Once you have determined the definition of disability you must prove, it is time to establish your claim.  The first step is to submit a notice of claim to your insurance company.  The precise method of submitting this notice should be mentioned in your policy.  This notice of claim usually mentions what your disability is, when it began, and the cause of your disability.
Next, you must fill out claimant forms.  These forms require you to specify how your disability impairs you, your work history, and more.  Part of this process includes submitting evidence to prove that you are disabled as defined in your LTD policy.  Your primary source of evidence are your medical records, but these records are usually not sufficient by themselves to win a claim.
It is important to include supplemental evidence as part of your claim.  Supplemental evidence bolsters your claim and raises the chances of approval.  Insurance companies do not want to pay out claims if they can, so supplemental evidence can be crucial to winning your benefits.
Supplemental evidence can include specialized reports from treating physicians; witness statements from family members, close friends, and coworkers; and evaluations conducted by outside experts.
What Issues Might I Face as a Consultant Filing for Long-Term Disability Benefits?
There are myriad issues that a consultant may face when filing for long-term disability benefits.  Claimants must worry about a denial of a claim.  As mentioned, insurance companies try and avoid paying claims whenever possible.  Insurance companies tend to prioritize their financial needs over the health needs of their clients.  Therefore, if they can find a reason to deny a claim, they will.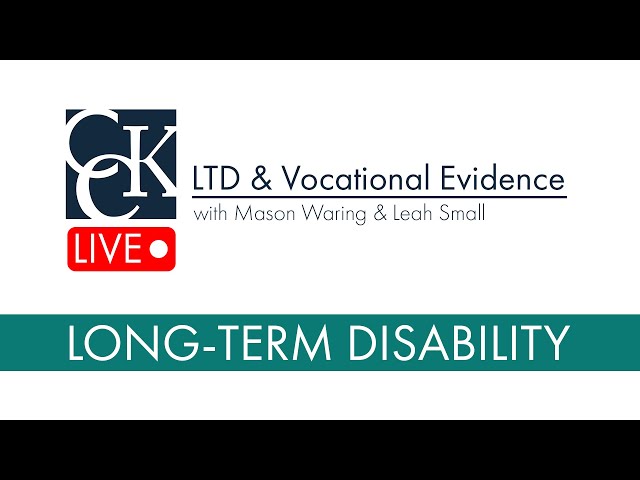 Consultants must demonstrate clearly and thoroughly how their condition impairs them from doing their job.  This is why supplemental evidence is vital.  However, this leads into another issue consultants may face when filing for LTD benefits: the insurance company using tactics—such as surveillance techniques—to disprove the claimant.
Insurance companies often hire private investigators to surveil claimants to see if they are "disabled."  These techniques are intrusive and often do not disprove the claimant's disability—even if the insurance company claims it does.  This leads to wrongful denials of claims that the claimant must appeal.
Additionally, insurance companies may require a claimant to submit to an independent medical exam.  However, these exams, while supposedly "neutral," are often administered by doctors that work for the insurance company.  This leads to inaccurate and biased results that could work against your claim.
Moreover, if a consultant works for a consulting firm and has a group policy, they will have to deal with ERISA law, which governs such policies.  ERISA law has strict deadlines and stringent rules.  If a claimant misses even just one deadline, it could lead to a denial of their claim.  Under ERISA law, the appeal stage is the last phase in which to submit new evidence.
What Other Benefits May Be Available to Me?
In addition to long-term disability benefits, a consultant may also be eligible for Social Security Disability Insurance (SSDI) benefits.  Though many consultants are self-employed, if they pay social security taxes, SSDI benefits are an option.
There are many rules that apply to SSDI claims.  Generally, if you unable to perform any substantial gainful activity; your disability is expected to last at least one year; or you may die because of your condition, you can apply for SSDI benefits.
The definition of disability, however, can differ with SSDI claims.  For example, you may meet the definition of disability under your LTD policy but not your SSDI policy, and vice versa.
What Do I Do If My Long-Term Disability Claim is Denied?
You have the right to appeal a denial (or termination) of your benefits.  There is a limited timeframe in which to submit such appeals.  Contacting a long-term disability lawyer is beneficial to help navigate the complexities of this process.
The experienced long-term disability attorneys at Chisholm Chisholm & Kilpatrick can help you obtain the benefits to which you are entitled.  Our team believes that you should not have to worry about dealing with your insurance company and keeping track of all documentation and evidence while also trying to focus on your health.  If you need assistance, regardless of where you are in the LTD claims process, please contact us today at 800-544-9144 for a free consultation and see if we can help.

About the Author