ERISA Law
Litigation and Long-Term Disability Insurance
Filing a long-term disability (LTD) claim is complex and overwhelming for many claimants.  While all claimants hope their insurance company approves their initial claim, this is not always the case.  When the insurance company denies an initial claim, the claimant has the right to appeal; but what happens when the appeal is denied, too?  The claim can then be brought to court for litigation, but what are the costs associated with this; and what else do claimants need to know?
The long-term disability lawyers at Chisholm Chisholm & Kilpatrick understand the frustration that comes with the long-term disability claim process, and we want to help you navigate it so that you may receive your benefits.  Call us today at (800) 544-9144 for a free consultation.
The Long-Term Disability Claim Process Overview
Before explaining the litigation process and costs, it is important to understand the long-term disability claim process.  When you develop a medical condition that prevents you from working, you should consider filing for benefits if you have LTD coverage.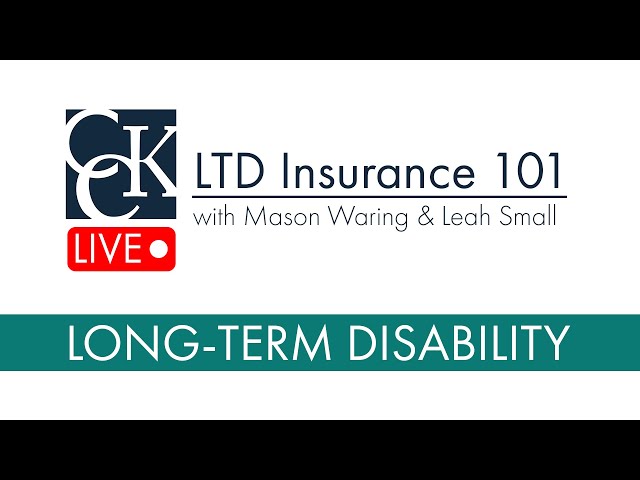 Long-term disability benefits can help protect your income and allow you the necessary time to focus on managing your condition and can make a big impact on a person's life.
While the long-term disability claim process can be complex, it can be broken down into three main steps: filing an initial claim; submitting an administrative appeal to the insurance company; and litigating the claim in court.  Let us break this down a bit further.
Step One: File a Claim. During this step, you would submit a notice of claim and file the initial claim to your insurance company.  If approved, you would receive your benefits.  If denied, it is beneficial to contact an attorney before moving forward.
Step Two: Submit an Administrative Appeal. If your initial claim is denied or your benefits are later terminated, you have the right to appeal the decision.  If your policy is ERISA governed, this is a critical stage of the process, because this is usually the last time you can submit new evidence.  Nonetheless, this stage might involve multiple appeals, depending on your policy.
Step Three: Litigate Your Claim in Court. If the insurance company denies your appeal, your last option is to bring your claim to court.  LTD litigation looks very different from other court cases, and if ERISA governs your policy, it can be very difficult to win, too.  If the court—usually a judge rather than a jury—denies your claim, you will receive no benefits.
Of course, this is a simplified overview of the long-term disability process, but it exemplifies why litigation is a crucial moment.  It is the last chance most claimants have to fight for their LTD benefits.  A long-term disability attorney is a vital part of navigating that process.
Why Do Insurance Companies Deny Claims and Appeals?
Insurance companies often prioritize their financial needs above the health needs of their clients.  This results in the frequent denial of benefits.  Insurance companies often do not want to pay claims, so they will try and find a reason to deny them at all stages of the process.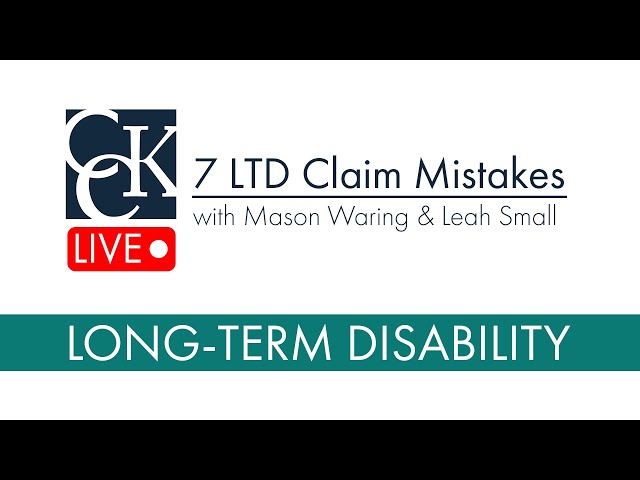 Here are some reasons insurance companies deny claims and appeals:
The definition of disability was not met: LTD policies typically have a definition of disability that the claimant must prove they meet to receive benefits. This typically includes an "own occupation" or "any occupation" definition.
Errors on the application: Something as simple as a minor error on the application can be interpreted as a "failure to disclose preexisting medical conditions" and could lead to a denial.
Policy exclusions and limitations: Not all LTD policies cover the same things. Some exclude certain conditions (e.g., depression), while others have limitations (e.g., a limited number of monthly benefits for conditions derived from mental illness).
Missed deadlines: ERISA has strict deadlines. If you miss a deadline, the insurance company may use it as a reason to deny a claim or appeal.  It is important to track all deadlines accurately to ensure you do not miss one.
Insufficient evidence: Medical records are usually a primary source of evidence, but they are not always enough to win a claim. Insurance companies may say you do not have enough objective evidence or that your condition is purely "self-reported" and not backed up by medical professionals.  Providing sufficient supplemental evidence is key to avoiding this issue.
Surveillance Tactics: Oftentimes, insurance companies will hire private investigators (PIs) to perform surveillance on claimants. This can include video surveillance; photographs; social media monitoring; and/or the PI staking out at the claimant's house.  If they find anything that can dispute the condition, they will cite it as evidence against the claim.
Independent medical exams (IMEs): Some insurance companies will conduct their own medical exams known as IMEs. These exams, however, are often biased as the doctors performing them are paid by the insurance company.
This is not an exhaustive list, but it represents some of the most common obstacles claimants face when filing (or appealing) LTD claims.
ERISA and Long-Term Disability Claims
The Employee Retirement Income Security Act of 1974, or ERISA, is a federal law that provides oversight to certain benefit plans.  This law typically applies to short-term and long-term disability benefit coverage that was obtained through your employment.  However, ERISA comes with its own strict deadlines and stringent rules that can make an already-complex process even more complicated.
ERISA stipulates that, upon written request, an employer must provide its employees with all plan documentation including the summary plan description (SPD).  This will have valuable information, such as an overview of specific deadlines, what benefits are included in the plan, and how to appeal a denied claim.
As mentioned, under ERISA, you typically cannot submit additional evidence after the appeal stage.  If you are appealing a denial, it is vital to submit all the evidence you want considered.
Litigation Under ERISA
When the insurance company denies your appeal, you have the right to fight for your benefits in court.  However, it is important to have an ERISA attorney to help navigate the process.
Most claimants take legal action against either their employer or their insurance company when they have a long-term disability plan governed by ERISA.  ERISA litigation typically happens in federal court and federal law will usually govern when it comes to employee benefit plans, which include long-term disability benefits.
Usually, the litigation process under ERISA does not resemble a "typical" courtroom scene.  For example, there is typically no jury during ERISA litigation and the decision is made by the presiding judge.  Additionally, the process usually consists of the claimant's paper record with cross-motions for summary judgment before the judge issues a final decision.
Moreover, the court may give deference to the insurance company's decision, i.e., the court will examine whether the insurance company had a reasonable basis for denying the claim, not whether the insurance company was right or wrong to deny the claim.  This can be a very difficult standard to argue against.
What Are the Litigation Costs for LTD Claims?
As with any court case, there will be fees.  The long-term disability insurance attorneys at Chisholm Chisholm & Kilpatrick want to alleviate the stress that comes with the long-term disability process so that you may focus on your health.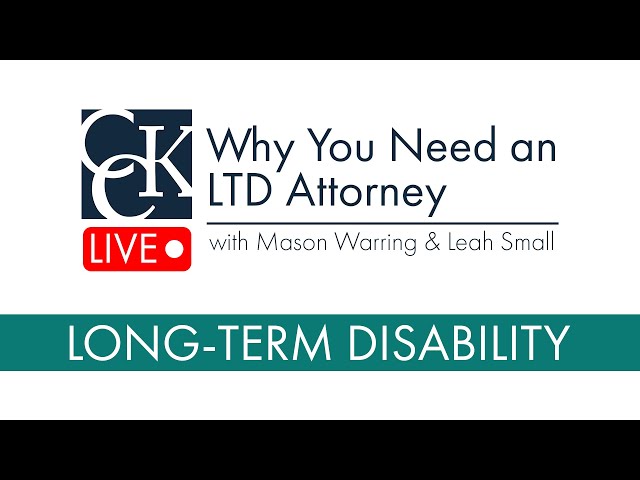 As such, we utilize different payment options.  These can include:
Contingency Fee Basis, whereby our attorneys receive a predetermined percentage of the benefits awarded should we win the case; or
Hourly Fee Basis, whereby invoices are sent directly to the client each billing cycle, and our attorneys are paid for any time spent working on the case.
The payment options we can offer vary from case to case.  Often, we can offer contingency fee representation, but each case is different.  Contingency fee plans do not require the claimant to pay money upfront.  The client will only owe money if we recover money for them.  This provides peace of mind while they are disabled as it is one less monthly bill they need to worry about.  In any case, we will draft an agreement for the client to sign that outlines fees and other terms of representation.
Certain additional litigation costs may include court filing fees, process server fees, postage, and other litigation fees.
For clients we are representing on a contingency basis, we often advance these case expenses.  This ensures that they do not have to pay out of pocket.  The client would simply reimburse CCK out of their share of the money recovered.
Contact CCK Today for a Free Consultation
The legal team at CCK is prepared to fight for your long-term disability benefits, even if it goes to litigation.  We understand how a debilitating medical condition can sideline you and how important these LTD benefits are for your day-to-day life.  If you file an appeal and it is denied, we can represent you and fight for your right to your benefits.
Call Chisholm Chisholm & Kilpatrick Today at (800) 544-9144 for a free consultation regarding your case and see if we are able to help you.

About the Author