Veterans Law
How to Get VA Medical Records
Medical evidence can be one of the most important aspects of your VA claim for disability benefits.  It is important to know how to obtain your medical records independently and with VA's help.
Types of Medical Records
Medical records can be crucial pieces of evidence to a veteran's claim showing that they have a current, diagnosed condition to prove (1) service connection, or (2) that their condition has worsened over time.  There are several different types of medical evidence a veteran can use to support their VA claim, including the following:
In-Service Medical Records
 These records include enlistment and separation examinations, as well as any hospital stays or sick calls during service.  Having in-service medical records can help veterans establish that a certain condition, or symptoms of a condition, began during service.
Private Medical Records
 Private medical records are those which come from a private healthcare provider (i.e., non-VA provider).  Private medical records are important because they can provide insight to the onset and progression of the veteran's condition.  Furthermore, VA might not have this information otherwise since the treatment took place outside of VA's healthcare system.  Therefore, private medical records can provide additional information that is pertinent to the veteran's claim.
VA Medical Records
 VA medical records are those which come from VA medical centers (VAMC) as opposed to private healthcare providers.  VA should always look at a veteran's VAMC medical records within its system when making a decision on their claim.  However, it may be beneficial for veterans to highlight any important findings or treatment notes.  VA medical records may also include Compensation & Pension (C&P) examination results and medical opinions from VA examiners.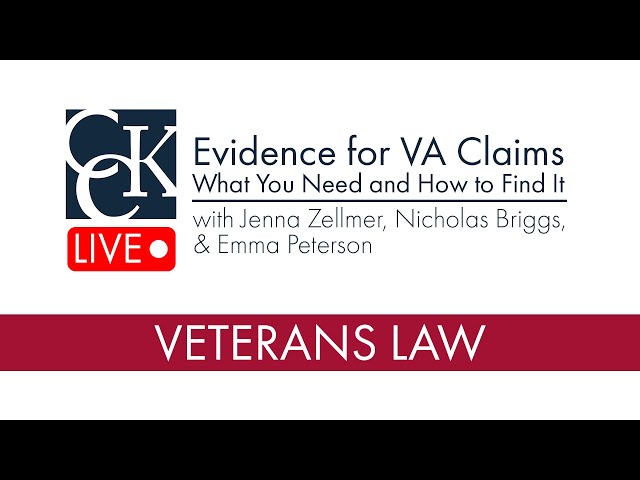 VA's Duty to Assist in Obtaining Medical Records
 The duty to assist requires VA to gather information that may help support the veteran's claim, such as service personnel records, service medical records, and VA medical records.
Legacy System
In the Legacy appeals system, VA is required to assist in the development of a claim for disability compensation.  Specifically, VA must assist the veteran by seeking evidence to substantiate their claim.  This includes obtaining all relevant VA medical records, service personnel records, service medical records, and any other relevant government or private records that may contain information that supports the veteran's claim.
VA will only make efforts to get the records that the veteran identifies for them or that VA knows to exist, but the veteran is still responsible for ensuring that VA receives the evidence.  Additionally, VA will only make "reasonable efforts" to obtain evidence.  In other words, if VA determines that the records either do not exist, or any further attempts to obtain them will be unsuccessful, it will not continue to try to obtain them.  In this case, VA has a duty to notify the veteran that it was not able to obtain the records.
Furthermore, in the Legacy appeals system, VA is required to remand a veteran's claim for any duty to assist errors that occurred at any time while their appeal was pending.  Here, duty to assist errors can include inadequate medical examinations or opinions, or a lack of compliance with previous remand orders.  Importantly, in the Legacy appeals system, remanded appeals may be returned to the Board following development or correction with the same docket number.
Appeals Modernization Act (AMA)
Under the Appeals Modernization Act (AMA), VA's duty to assist is limited insofar as it is only required when a veteran files an initial claim for benefits, or when a veteran files a supplemental claim with new and relevant evidence.  The duty to assist no longer applies to the Board, meaning the Board is no longer obligated to remand appeals for the purpose of developing additional evidence for the claim.
However, if the Board finds that the Regional Office made a duty to assist error, it can remand the case and instruct the Regional Office to fix that error.  Importantly, the only evidence that can be looked at for duty to assist errors under AMA must already be in the veteran's file prior to the initial decision.  It is important for veterans to be aware of these distinctions in VA's duty to assist so that they know to obtain medical records and other forms of evidence on their own.
Methods for Accessing and Obtaining VA Medical Records
There are many ways in which veterans can access and obtain their VA medical records, including the following:
VA Claims File
A VA claims file, often called a C-file, is a collection of records kept by VA in connection to veterans' disability claims.  When a veteran first files a claim for benefits, VA will request the veteran's service records and any medical records relevant to the claim.  This is the beginning of a VA claims file.  As a veteran's claim progresses, their claims file will grow.  Again, the claims file should include all of the veteran's VA medical records and therefore, represents one way in which veterans can access their medical records.
National Personnel Records Center
The National Personnel Records Center (NPRC) is an office and storage facility for the National Archives located in St. Louis, MO.  Specifically, the NPRC is the repository for millions of official military personnel files from all service branches and eras following World War I.  Medical records can be obtained from the NPRC usually at no cost.
Importantly, veterans must complete and submit Standard Form 180 (SF-180), which includes information regarding the veteran's name, social security number, date of birth, service (past and present), and documents requested (e.g., medical records).  SF-180 also indicates which location the form should be sent to based on the veteran's information and the documentation requested.  When in doubt, veterans can also contact the NPRC through mail at the following address: 1 Archives Drive, St. Louis, MO 63138, or by contacting the Department of Defense, a local VA office, or a Veterans Service Organization.
If you are unable to obtain SF-180, you may still submit a request for military records, including VA medical records.  However, requests must contain enough information to allow NPRC to identify the record from among the more than 70 million on file.  Veterans should strive to include the following information, at a minimum:
The veteran's complete name used while in service
Service number or social security number
Branch of service
Dates of service
Date and place of birth
Place of discharge
Last unit of assignment
Place of entry into the service (if known)
VA Blue Button
VA has created an online tool to help veterans view, organize, and share VA medical records and personal health information.  According to VA, Blue Button is a feature of the health management portal within My HealtheVet.  It lets veterans view, print, save, download, and share information from their VA medical records and personal health records.  This tool is intended to assist veterans in better managing their health needs and communicating with their health care team; however, it may also be useful in obtaining VA medical records for disability compensation purposes.  To be eligible to use all of the features of this tool, veterans must meet all of the requirements listed below:
Both of the following must be true:

Veterans are enrolled in VA health care; and
Veterans are registered as a patient in a VA health facility

Veterans must also have one of these free accounts:

An Advanced or Premium My HealtheVet account; or
A premium DS Logon account (used for eBenefits and milConnect), or
A verified ID.me account that veterans can create on VA.gov
NPRC 1973 Fire
On July 12, 1973, a fire broke out at the National Personnel Records Center (NPRC) in St. Louis, Missouri. The fire destroyed service records for veterans of the Air Force and Army. According to VA, 80 percent of the records for veterans discharged from the Amy between November 1, 1912 and January 1, 1960 were destroyed in the fire. Additionally, the VA states that 75 percent of the records for veterans discharged from the Air Force between September 25, 1947 and January 1, 1964 were destroyed with last names beginning with Hubbard, all the way to Z. Overall, the NPRC estimates that 16-18 million official military personnel files were destroyed.
What if the NPRC Cannot Find a Veteran's Records?
If the NPRC cannot find your records, they will attempt to reconstruct your military records by reaching out to other facilities that may have them. Unfortunately, there were no copies of the records destroyed in the St. Louis fire in 1973, so veterans who were impacted by the fire will not be able to get all of their service records. For veterans who are looking to reconstruct their service records, they will need to fill out the NA Form 13055, Request for Information Needed to Reconstruct Medical Data.
Additionally, the NPRC does not hold records of veterans recently separated from active duty who are in either active or inactive reserves. In this case, the veteran should reach out to appropriate facility to obtain these records.
VA Form 10-5345a – Individuals' Request for a Copy of Their Own Health Information
In many cases, VA can obtain medical records directly from the VAMC where the veteran receives treatment.  If a veteran wants to obtain these records themselves, they can request them directly from the VAMC by submitting VA Form 10-5345a, Individuals' Request for a Copy of Their Own Health Information.
Importance of Medical Records in Substantiating VA Claims
Again, medical records are very helpful when it comes to substantiating your claims for VA disability benefits.  Medical records can help provide an overview of both the presence and severity of the condition for which the veteran is seeking disability benefits.