Veterans Law
Disability Benefits Questionnaires (DBQs): Evidence for Your VA Disability Claim
What are DBQs?
As part of VA's Duty to Assist claimants in gathering information helpful for their disability cases, VA often conducts examinations called Compensation and Pension Examinations, also known as C&P Exams. To create a more uniform process, VA developed Disability Benefits Questionnaires (DBQs).
Disability Benefits Questionnaires (DBQs) are downloadable forms created for veterans' use in the evaluation process for VA disability benefits.  Specifically, DBQs are intended to speed up the processing of claims for service-connected compensation and give veterans more control over the disability claims process.  These forms were created to answer questions about important aspects of disability, including symptoms, severity, possible causes, and relation to other disabilities, and to capture information required under the VA Schedule of Disability Ratings found within the Code of Federal Regulations.
While veterans were previously able to access these forms (see below), they were not permitted to fill them out themselves.  Instead, veterans had the option of visiting a private healthcare provider or a VA healthcare provider who could complete the evaluation on their behalf.  When having a private healthcare provider complete a DBQ, it is important for veterans to do the following:
Access the form online through VA's website and download it (see changes below);
Have your private doctor or healthcare provider complete the form;
Review their findings and save a copy for your records; and
Submit the form to VA
The streamlined forms use checkboxes and standardized language so that the disability evaluation can be made quickly and correctly.  Specifically, healthcare providers will "check a box" next to descriptions that most accurately depict the disability in question.
The use of DBQs also provides veterans with an improved means to submit medical evidence to support their claims.  It is important for veterans to be honest about their symptoms in order to ensure that all documentation accurately reflects the level of impairment caused by the claimed conditions.
In some cases, a DBQ may even replace a Compensation & Pension (C&P) examination entirely.  This is helpful because C&P examinations often add to the long wait times experienced throughout the disability claims process.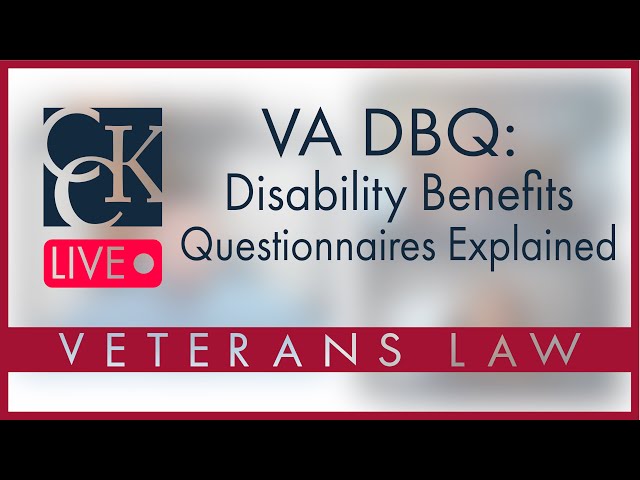 Medical Conditions Covered by DBQs
There are currently more than 70 DBQs covering a full range of medical conditions.  Some of the DBQs are specific to a single condition (e.g., hypertension, arthritis, prostate cancer), but most forms can be used for several related conditions (e.g., heart conditions, kidney conditions).
If there is no DBQ for your specific condition, VA will use the DBQ that is the most general and all-encompassing for that category.  For example, VA is looking for a DBQ that corresponds with your Generalized Anxiety Disorder.  There will be three different DBQs under the Psychological category: Eating Disorders, PTSD, and Mental Disorders (other).  Here, since Generalized Anxiety Disorder does not have its own DBQ, you would use the DBQ for Mental Disorders as it broadly covers the claimed condition.
Public Access to DBQs
Since 2010, VA has provided these DBQs directly on their website. Direct access to these DBQs allows veterans to request that their own providers, who were often specialized in a particular relevant area of medicine and familiar with the veterans' medical history and conditions, complete these forms. This allows veterans to submit DBQs in support of their application for benefits, or even with their application for benefits so that they could file a fully developed claim.
Submitting these completed DBQs may serve to eliminate months, and often years, of waiting for an exam for a number of veterans. It is also particularly useful for veterans living in rural areas or overseas who may experience longer wait times for exams or greater difficulty traveling the distance required to attend one of VA's exams.
Previous Discontinuance of Publicly Available DBQs
VA uses DBQs during C&P examinations conducted by the Veterans Health Administration and VA's contracted vendor clinicians.  However, without prior notice and amidst COVID-19 related closures at VA facilities, VA abruptly removed all of the public-facing versions of the DBQ form from its website. This has since changed as a result of the National Defense Authorization Act (NDAA), passed at the end of 2020. VA has since made these forms available again on its website.
Making DBQs publicly available demystifies some of the disability benefits process.  It gives veterans more insight into the examination portion of the claims process and allows private healthcare providers to gain access to the information that they need in order to evaluate a veteran's claimed condition(s).  Furthermore, publicly available DBQs increases efficiency while further engaging veterans and their families.
CCK Provides Access to DBQs Online
VA previously removed these forms from public view in the past because VA believed it had sufficiently expanded its own capacity to conduct these examinations. CCK has and will continue to provide DBQs for Veterans to access.
Find DBQ Forms Here
Access VA DBQ forms provided by CCK here:
We make no claims as to how helpful these may be in the outcome of a veteran's case nor are we providing advice; we are simply providing access to this resource to allow veterans the greatest choice and control over the VA claims process.