Video
C&P Exams: Delays, Denials, & Dysfunction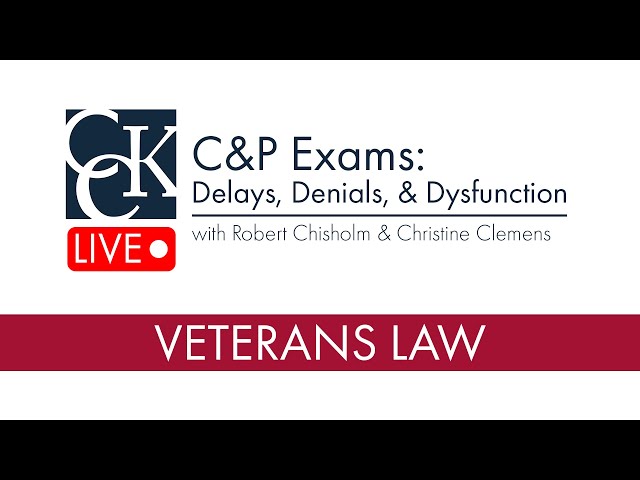 Video Transcription:
Robert Chisholm: Good afternoon. This is Robert Chisholm from Chisholm Chisholm and Kilpatrick. Joining me today is Christine Clemens. Today, we are going to talk about compensation and pension exams. 
Christine Clemens: To start, compensation and pension examinations are conducted by the Veterans Affairs (VA) or by one of their contracted providers. They assist the VA in determining elements that are essential in them by deciding veterans' claims. Not all veterans' claims need to have a compensation and pension examination but a large number of them do. There is a critical point for veterans to be able to quite frankly access benefits for VA to make favorable decisions on their cases.
Robert: Historically, the VA conducted these examinations in person at VA medical centers around the country. Over the last, I think I want to say at least ten years, they started to use VA contractors. Department of Veterans Affairs has entered into contracts with many different providers to do these examinations.
Robert: In March, the VA shut down in-person VA compensation and pension examination, so what has that happened as a result of that?
Christine: As a result, there have been several delays on adjudicating veterans cases. There are some case where these examination are necessary for VA to make their determination. Those cases are a large number and just waiting on examination. Other cases, VA did integrate their Telehealth examination. It is essentially a virtual kind of similar to what we are doing in screening with somebody who will conduct an examination but cannot be used for every disability type. They are only limited. There are some challenges with it as well. VA has tried to make sure that people are still having some examination. Therefore, they are not shut down.
Christine: There are also what we called, Acceptable Clinical Evidence or ACE examination. It can be used in certain claims where they can be decided based on evidence of record. They are typically what we would refer to as,  record review cases where somebody would look at the records of a veteran's file. They would be asked specific medical questions and make determinations on those. A large number of these examinations have just stopped. That means, delays, as I mentioned. In some cases, there have been denials of veterans claims improperly. We did say that if somebody was scheduled for an examination and they missed it during that period, they would not be penalized. That case has not happened.
Robert: We have seen cases where the VA denied a claim saying that a veteran did not show up for the examination. When in fact, the examination had been canceled. We had learned from other people that they have experienced the same thing around the country. If that happens realistically, what is someone to do in that kind of a situation?
Christine: There are many things that someone can do. We see a lot of times people will call VA and say "Hey, what happened? I got this denials in the mail. It says that I had an exam but I was not supposed to have an exam." That communication is supposed to be documented within their file if they have a representative. Their representative might be able to reach out to someone within the regional office. To see if they can have a conversation about what has happened. The person in the regional office may be able to go back into the case, and sort of fix in the file that denial. I think, a lot of veterans are going to need to file appeals on these denials. Their basis for appeal would be their examination was canceled. Even if their examination was not canceled, if they did not receive a notice of cancellation, VA will publicly made statements that exams during this period would be canceled. The facilities would not be open and they also made several public statements that veterans would not be penalized. I think, that is the key. There were examination that are needed on a veteran's case. VA should not be denying for failure to attend during a period when it is not safe to go to a facility for a period when they had canceled exams across the board. The veteran and their appeal would cite that.
Robert: We would strongly urge them not to accept a denial under these circumstances. Particularly, make sure that they either reach out as you suggested to the regional office and get a corrective or choose one of the paths to appeal their case.
Christine: Absolutely.
Robert: The other thing we are learning is that the backlog is increasing. Let us talk a minute about the backlog because there has been this historic backlog of legacy cases. The VA is plowing right through the COVID-19 pandemic but this is the backlog that is now increasingly under the new appeal system. As of November, the backlog was sixty-four thousand cases. The backlog means in this context is that over a hundred and twenty-five days for the VA to decide on a claim. We now understand as a couple of weeks ago, June 4th, that backlog has increased a hundred nineteen thousand and we learned that from an article in stars and stripes. We believe this is in large part due to the challenge of VA conducting these compensation and pension examinations.
Christine: Absolutely.
Robert: Okay. The other impact that is hit the a is the Blue Water Navy cases. In January, the VA started adjudicating and making decisions on veterans who served within 12 nautical miles of the country of Vietnam. There is a technical term that I am not going to get into. The right line of along the islands, 12 nautical miles out from that but VA got a lot of claims. These are now presumptive on the agent orange act claims but they still need to conduct examinations. It is the combination of being hit with COVID-19 and not being able to conduct these examinations with the impact of these claims coming in the dark. That is really put the VA a little bit in more of a delay because of the impact of it, I guess.
Robert: Unfortunately, these Blue Water Navy veterans may have to wait even longer to get their claims adjudicated because of this backlog. We also want to talk a little bit about dysfunction. Historically, the VA has provided up until a couple of months ago their examinations on their website. These examinations are called DBQs, Disability Benefits Questionnaires. Then in the middle of the pandemic, the VA decided, they are not going to provide these anymore for anyone to use. What was the rationale for that, Christine?
Christine: There were a few things that the VA had said and some of it was based on an office of the Inspector General report. They felt that they did not need to have these public-facing examinations because they could see people in person. That includes people who are living in rural areas and living abroad.
Christine: Some of their concerns, they thought that people were utilizing these disability benefits questionnaires in ways that were less reliable than VA's providers. Some of the things that they cited were that the disability benefits questionnaires were being completed by people who had not seen the veterans in person or who perhaps had practices in states that were different from the state in which the veteran lived.
Christine: They no longer felt that thought. It was necessary for the adjudication of veterans cases for them to be able to access these disability benefits questionnaires. As they had sort of initially felt in need certainly when people were filing fully developed claims. The disability benefits questionnaires were often used and touted as a great way for people to be able to file fully developed claims on their cases. There were a number of reasons that all seemingly made little sense at the time and perhaps make even less sense now. In light of the fact that VA is now utilizing Telehealth examinations themselves, they have been seeking ways to lessen any restrictions that they conduct these examinations to ensure that veterans have the necessary medical evidence in support of their claims.
Robert: One of the advantages of having these DBQs available is that there are a lot of them in other words for every condition that VA rates. There is an examination in the form of a DBQ. The veteran who files a claim for an ankle injury would be able to download that examination form, take it to a private doctor to complete, and then that evidence could be used to support a claim. It also leads to transparency. "What is it the VA's looking at when they examine me?". The examination would give the veterans an idea of what VA is looking at, what their rating for, and this hides the ball mentality is not good in my mind, especially given what is happening now.
Robert: As you note Telehealth medicine, these Telehealth examinations were taking place if the veteran is filing for a condition for which they can get a Telehealth medical examination. Their claims are going to be decided more quickly than other conditions. Unfortunately, I am thinking of neurological or orthopedic where you need an in-person examination in order to get it rated.
Robert: How does all this relate to the idea of access to the veterans' claims file? One of the challenges is how do we know whether an exam was actually scheduled and an exam has been received? What was communicated to the veteran? How does access relate to all those things?
Christine: Yeah, so access to the veteran's file, specifically, access for attorneys and accredited agents, who are representing veterans with access. Allows the representative to go into the VA system. Look at their client's file and see if there is an examination request or in cases where they knew that there was a previous exam request. They can see that it has questions that are being asked of the provider. They can see if it is something where VA had identified it as a case where they could conduct a Telehealth examination. One of these exams – ACE exams based on the evidence of record and they can also see if the exams are canceled which is important in light of the discussion we had a little bit earlier with people being denied.
Christine: The notice to the veteran does not come through the VA's system. That is not always in the veterans' file. The representative is able to track when and where the exam is scheduled and they can stay on top of what is supposed to happen with the examination. Once that is completed, it gets uploaded into the file. The representative can see that examination. They can make arguments based on the examination. For example, it supports a grant of service connection. It is critical to be able to represent veterans effectively and to provide them with a lot of information that right now is so hard for them to obtain.
Christine: The other thing is that especially now, with VA having removed these disability benefits questionnaires from what are called public-facing questionnaires from their own website is within the VA system. The representative can find these previous disability benefits questionnaires. In a case where a veteran has an orthopedic condition, and their exam has been canceled because it is not something that the VA is able to conduct via Telehealth. Maybe that person is seeing their provider. They would be able to take that disability benefits questionnaire and have their provider complete it. Access allows the representative to assist their client in doing that even though the disability benefits questionnaires are not on VA's website anymore.
Robert: Let us transition to a little bit of good news because we understand as of June 8, certain VA medical centers are now beginning to conduct in-person via examinations again. That says that it is a step in the right direction but it is my understanding. This is not a nationwide policy but it is depending on the individual state. What the restrictions are or not may permit these kinds of examinations.
Christine: Correct but I think one thing to know and not to put a damper on your positive news, is that some veterans still have concerns with going to VA Medical Centers. Some of them have many conditions that make them high risk of COVID-19 and it make them more susceptible. They maybe have been told by their providers to avoid large medical facilities. While some people are being scheduled and are comfortable going for these examinations, other people are still not comfortable going. They can let VA know and be able to reschedule these examinations. That is important for people to know if they are uncomfortable with it. They should notify VA if they have been advised by their physicians not to be in this type of setting.
Robert: The other thing we have recently learned that VA is asking for some legislative fixes that would help them lower the backlog. We know that they went to Congress after getting buy-in from all the constituents of the VA claims to change the appeals process to eliminate the backlog and they are asking for a little assistance. One of the things they want to do is give doctors the ability to see patients across state lines. They also want to give nurse practitioners the authority to conduct examinations. Well, nurse practitioners do conduct examinations presently. I do not know where they need to go to Congress for that. What would the impact of either one of these things have on generally in your view on the claims process?
Christine: Yeah. I mean, I think the goal is to ensure that veterans are having these exams that are necessary for their claims and are to reduce this backlog at least concerning examinations. I do not know how long it is going to take for a congressional fix. The time that it takes to get this, we do not know how long that could be. I think in the meantime, every day, some veterans cases are filing claims. They are developing worsening conditions and they are going to be new cases of people having to wait and on these examinations. I think these are attempts to expand the C&P examination and catch up a little bit.
Christine: One thing for veterans claims is that if they do have private providers of they are working with, that are outside of the VA, who are willing to talk about their condition, write a letter on their behalf. Describe what is going on and its relation to its impact on a person's life. Then the veteran is still always in the right to submit information to VA. In support of their claims and appeals, certainly, it does not have to be on these disability benefits questionnaires. That is something that they may want to consider if there is a substantial delay in them getting scheduled for these exams.
Robert: I think that is a really good point because a veteran can describe his or her symptoms to the physician then the physician can write a report. It does not have to be on the DBQ form. In the VA, it is required to review that in making his decision. Before we finish up, I did want to share that CCK is in the process of obtaining the DBQ examinations. When we do, we are going to post them on our website. They are not there now. We will let folks know through social media, especially Facebook. So stay tuned for that.
Robert: Any final words, Christine? Before we a…
Christine: Just a recap, if somebody's claim has been denied because they missed an exam during this period of COVID, they can certainly file an appeal. They may want to work with an attorney who is accredited by VA or an accredited representative to do that. There is a recourse that does not give up hope. I think also to let people know that they may be waiting a little bit longer. If they are waiting on an examination, things are starting to open up. VAs are posting on their website. We keep posting on our website as we have any information on C&P exams in that process. Keep on checking and if they can reach out to a provider who is able to provide information about their disability, then they are certainly welcome and encouraged to do that.
Robert: Well, Christine, I wanted to thank you for joining us this afternoon. This is Robert Chisholm from Chisholm Chisholm and Kilpatrick and Christine Clemens. Thank you for joining us this afternoon.