Qualifying Conditions
Getting Veterans (VA) Disability for Knee Replacements
Knee problems are some of the most common health issues experienced by military veterans. If you developed knee problems as a result of your military service, and needed to have your knee replaced, you might be eligible to receive veterans (VA) disability for knee replacements.
Even with a serious medical issue such as a knee replacement, it can still be challenging to receive a grant of benefits from the VA. The threshold for approval is high, requiring significant evidence that you not only have a currently diagnosed medical condition, but that your condition is at least as likely as not (at least 50 percent likely) caused by or the result of an event, injury, or illness that happened during your military service.
For years, our veterans advocates have been helping disabled veterans obtain the benefits they deserve, including those who have undergone knee replacement surgery.
What Do I Need to Prove to Obtain Disability Benefits for My Knee Replacement?
The success of every disability benefits claim or appeal hinges on one thing: proving your condition is a result of an event, illness, or injury that occurred during your military service.
If you cannot prove your need for a knee replacement stemmed from an in-service injury, illness, or event, you will not be eligible for benefits.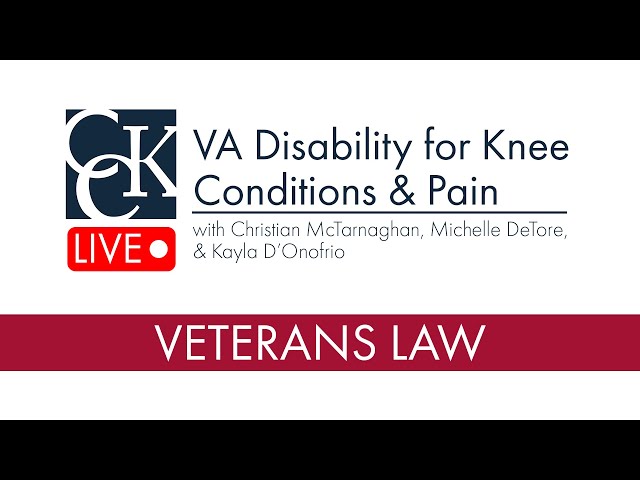 How Do I Prove My Knee Replacement Is Service-Connected?
There is no presumed service connection for knee injuries or knee replacement surgeries. Presumed service connection means that the VA assumes certain conditions stem from particular events or from service during specific times or in specific areas. For example, the VA presumes service connection for certain medical conditions for former prisoners of war.
No presumed service connection means that you must prove service connection by citing substantial evidence that draws a link.
This evidence could include your medical diagnoses, surgical records, doctor's statements, as well as your military history, which can be used to identify the specific event from which you can draw a causal link to your knee injury and resulting surgery.
What Compensation Will My Knee Replacement Get Me?
The VA rates knee replacements under 38 C.F.R. § 4.71a Code 5055. The rating criteria ranges from 100 percent to 30 percent disabling. The 30 percent rating is the minimum rating for a knee replacement, meaning if you had a knee replacement and it is service-connected, you will be rated at least at 30 percent.
On the other side of the scale, 100 percent is the maximum rating for knee replacements. For the one year following knee replacement surgery, veterans will be rated at 100 percent.
Following that one year, you will be reevaluated based on pain, limited range of motion, and weakness of your knee. For the 60 percent rating, there are two separate criteria that veterans can fall under. These are:
Prosthetic replacement of the knee joint "with chronic residuals consisting of severe painful motion or weakness in the affected extremity"
Prosthetic replacement of knee joint with "intermediate degrees of residual weakness, pain, or limitation of motion rate by analogy to" ankylosis of the knee, limitation of extension of the leg, or impairment of the tibia and fibula
As of December 1st, 2022 the VA disability rate benefit amounts are as follows:
0 percent disability rating: $0.00 per month
10 percent disability rating: $165.92 per month
20 percent disability rating: $327.99 per month
30 percent disability rating: $508.05 per month
40 percent disability rating: $731.86 per month
50 percent disability rating: $1,041.82 per month
60 percent disability rating: $1,319.65 per month
70 percent disability rating: $1,663.06 per month
80 percent disability rating: $1,933.15 per month
90 percent disability rating: $2,172.39 per month
100 percent disability rating: $3,621.95 per month
For a Free Consultation, Call Chisholm Chisholm & Kilpatrick LTD at 800-544-9144
Our accomplished legal team is ready to assist in your fight for VA disability. Let us put our years of experience to work for you. Call today: 800-544-9144.