Long-Term Disability (LTD) Attorney Serving Brookline, MA
If you become disabled and are no longer able to work, you will likely need to file a long-term disability (LTD) claim.  This can be stressful, especially when paired with the burden of dealing with your medical condition.  The process can be made even more trying if your claim is denied by your insurance company, or if they later decide to terminate your benefits.  Filing for long-term disability benefits can be long and difficult, but Chisholm Chisholm & Kilpatrick is here to help you wherever you are in the process.
Whether you are filing your initial claim or appealing a wrongful denial, attorneys serving Brookline, MA from Chisholm Chisholm & Kilpatrick LTD are available to navigate this process with you.  Call today for a free consultation with one of our experienced professionals at 800-544-9144.
Why You Should Contact an Attorney for Help with your Long-Term Disability Claim
Claimants can handle their long-term disability claims on their own, but there are numerous advantages to having an attorney involved.  Unfortunately, insurance companies do not always act in the sole interest of the claimant, and often put their own interests first.  Oftentimes they are looking to pay claimants as little as possible, which means that guidelines for getting long-term disability benefits can be rigorous and require close attention.
The legal team at Chisholm Chisholm & Kilpatrick has over three decades of experience working with insurance companies.  We understand the detailed evidence that insurance companies expect to receive from claimants, and are able to help you build the strongest possible case for your disability.  We work to guarantee that the insurance company is treating your claim fairly and by the law, whether you are filing an initial claim or appealing a wrongful denial of benefits.
Deadlines for long-term disability claims are of utmost importance, and an attorney from the CCK legal team can help you keep track of these deadlines to make sure that they are met.  If you miss deadlines, you could potentially lose your rights to LTD benefits.  This is particularly essential in ERISA-governed long-term disability claims, as the administrative appeal is often your last chance to get evidence into the record.  CCK will manage the deadlines so that you are able to focus on taking care of your medical condition.
Our Attorneys Will Prove That You Are Entitled to Long-Term Disability Benefits
To receive long-term disability benefits, you need to meet the definition of disability as defined in your policy.  The legal team at CCK can analyze your LTD policy to make sure you submit the records that prove you meet the terms of disability set by your insurance company's definition.
While medical records are often the leading source of evidence for your claim, they can be supplemented by other types of information in order to build a stronger case.  This can include reports from treating physicians, impact statements from personal contacts, and outside expert opinions.
Treating physician reports can be conducive to your claim because medical records do not always fully document your physician's observations of your condition. Obtaining a report of these observations from your physician can highlight symptoms that might affect your day-to-day functioning.
Statements from family, friends, and coworkers can bolster your claim because they are witness accounts of how your condition affects your everyday life. These people can attest to how your disability has hindered your ability to work and provide further evidence of symptoms that may not be completely recorded in your medical records.
Outside expert opinions are sometimes needed to strengthen your claim, even with all the documentation above. CCK works with experts in various fiends that can perform supplemental evaluations to prove your disability.  These examinations include functional capacity, neuropsychological, and vocational evaluations.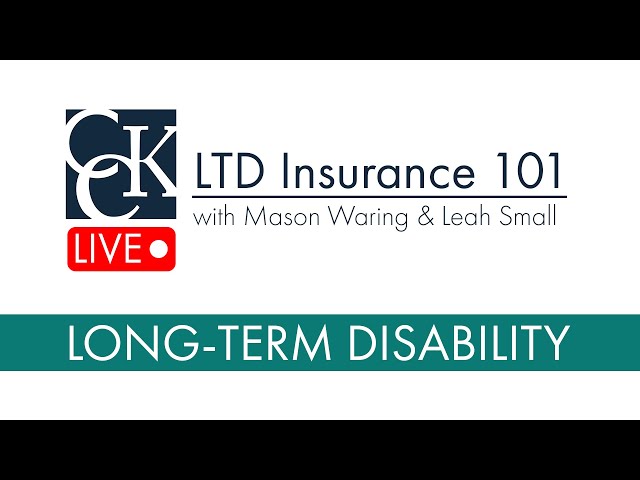 Chisholm Chisholm & Kilpatrick Will Shoulder the Burden of Dealing with the Insurance Company
Chisholm Chisholm & Kilpatrick knows that filing for long-term disability can be a difficult process on top of dealing with your medical condition.  This is why our legal team wants to ease your burden as much as possible.
We know that claims do not always go smoothly and that insurance companies can add to the stress, even though they claim to be working in your interest.  They will often seek to avoid paying claims wherever possible, and these factors can lead to wrongful claim denials or repeated requests for additional information even after you are approved.
Chisholm Chisholm & Kilpatrick can get the work done in order to satisfy the needs of your insurance company and prove your disability.  If you need to file an initial long-term disability claim, we are prepared to gather the necessary evidence for your claim.  If you need to file an appeal, we will analyze and examine your insurance company's policy and gather the records that will allow us to write an appeal explaining why you are qualified to receive LTD benefits.  Our goal is to make the long-term disability process as smooth as possible for you.
Call CCK Today for a Free Consultation on Your LTD Case
If you are unable to work due to a medical condition, you likely want to focus on your health instead of handling the difficult long-term disability claim process.  Chisholm Chisholm & Kilpatrick is here to help you file an initial claim or appeal a wrongful loss of benefits.
No matter where you are in the long-term disability process, CCK can help.  We are prepared to fight for you and help you obtain the benefits to which you are entitled.  Contact us at 800-544-9144 today for a complimentary initial consultation.