Veterans Law
What Is the VA Disability 5-Year Rule?
What Is the VA Disability 5-Year Rule?
The VA disability rating 5-year rule states that the U.S. Department of Veterans Affairs (VA) cannot reduce a veteran's disability rating if it has been in place for five years or more unless the condition shows sustained improvement over time.  In this situation, the veteran's rating is considered a stabilized rating.
How Does the VA Disability 5-Year Rule Help Veterans?
VA's 5-year rule is intended to protect veterans from unfair reductions in disability benefits.  According to VA, a stabilized rating is considered a protected disability rating.  Generally, protected disability ratings are VA disability ratings that cannot be reduced or revoked by VA in the future.
Sometimes VA will wrongly assume a veteran's condition is improving and thus reduce or discontinue their benefits.  The VA disability 5-year rule eliminates this issue by not requiring reexaminations if a veteran has had the same rating for five years or more.
Can VA Reduce a Rating After 5 Years?
After five years, a disability rating can only be reduced if VA obtains medical evidence indicating the veteran's condition is substantially improving over time on a sustained basis.  Essentially, VA must provide an explanation for why it is reasonably certain that the veteran's condition will continue to show sustained improvement.
If a rating is considered stabilized, two things must be evidence before VA can propose a reduction:
VA must show that the improvement is not just temporary through a Compensation and Pension (C&P) re-examination and medical records; and
VA must provide evidence that the veteran's claims file demonstrates sustained improvement.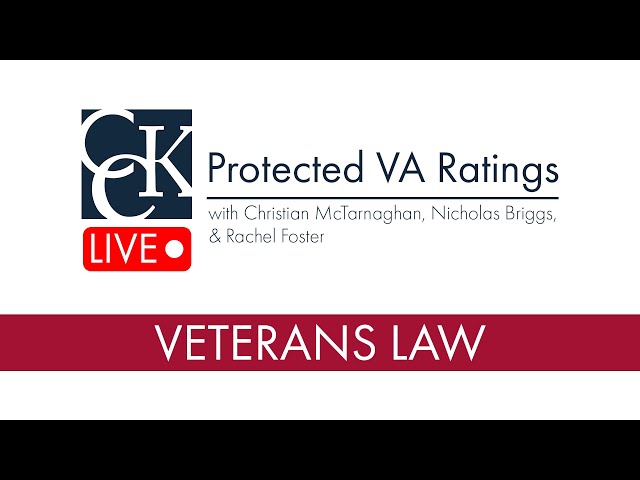 Other Protected VA Disability Ratings
In addition to stabilized ratings, there are several other types of protected ratings, including:
100% VA Ratings
If a veteran is assigned a 100 percent rating, VA cannot reduce the rating unless material evidence shows a significant improvement in the veteran's ability to function on a day-to-day basis.
VA's Disability 10-Year Rule
According to the VA disability 10-year rule, while VA can reduce a veteran's rating after 10 years—provided substantial medical evidence suggests steady improvement over time—it can only fully terminate benefits if there is evidence of fraud.
VA's Disability 20-Year Rule: Continuous Ratings
Service-connected conditions rated at or above a certain disability rating for 20 years or more are considered continuous.  According to the VA 20-year rule, VA cannot reduce a continuous rating below its original disability rating unless the rating was based on fraud.
For example, say a veteran was initially rated a 50 percent for a service-connected disability and over 20 years it fluctuates between 50 and 70 percent disabling.  After the 20-year mark, VA must continue to rate the veteran's condition at least 50 percent for the remainder of their life.
Permanent and Total (P&T) Disability Ratings
VA grants Permanent and Total disability, or P&T, to veterans whose service-connected conditions are considered total (rated 100 percent disabling) and permanent (zero or close to zero chance of improvement).
If VA determines a veteran's condition is permanent and total, they are protected from the possibility of a reduction and will continue to receive disability compensation at the 100 percent rate for the rest of their life.
Veterans Over Age 55
Veterans who are over the age of 55 are often protected from VA rating re-evaluations in many situations. This is a case-by-case determination.
When Can VA Reduce a Disability Rating?
Veterans under the five-year mark with service-connected conditions not deemed stabilized or permanent by VA may be scheduled for a C&P exam to determine if a rating reduction is necessary.
If VA anticipates that a veteran's condition may improve over time, the veteran will be reevaluated to ensure they are being compensated for their current level of disability.  VA uses C&P exams to reevaluate service-connected conditions based on the severity of symptoms and their impact on daily life.
Following a scheduled C&P reevaluation, VA may reduce a veteran's rating if their condition has improved.  VA outlines the criteria for reducing ratings in 38 CFR § 3.105(e), which states that a reduction may only take place if:
VA has reviewed the veteran's entire medical history;
The veteran undergoes a thorough C&P examination; and
VA finds sustained improvement in the veteran's ability to function in daily life.
It is important to note that "sustained improvement" cannot be circumstantial or related to mitigating factors (i.e., temporary or episodic improvement, a less thorough exam, or temporary alleviation following prolonged rest).
Challenging a VA Rating Reduction
If VA determines that a rating reduction may be warranted, they must issue a notice of the proposed reduction.  The veteran then has 30 days to request a hearing and 60 days to submit evidence.
If a veteran chooses to request a hearing, VA cannot issue a new rating decision until the hearing is held.  This allows the veteran additional time to submit new evidence.  However, requesting a hearing is not necessary to challenge a VA proposed rating reduction – veterans can also simply submit new evidence within 60 days.
If, after this process, VA sends a final decision that reduces the veteran's disability rating, the veteran can appeal VA's decision by requesting a Higher-Level Review, submitting a Supplemental Claim, or filing a Notice of Disagreement.
How CCK Can Help if VA Reduces Your Rating
Appealing a VA decision or a proposed rating reduction can be challenging.  If VA reduced your rating even though your service-connected condition has not improved, Chisholm Chisholm & Kilpatrick LTD may be able to help.  The knowledgeable and experienced veterans' advocates at CCK know how to navigate VA's appeal process.
Reach out to CCK today to schedule a complimentary case evaluation.
About the Author