Veterans Law
VA Extends Gulf War Presumption Deadline to 2026
The U.S. Department of Veterans Affairs (VA) has extended the deadline for Persian Gulf War veterans with certain presumptive conditions to receive disability benefits.  The deadline, which was previously set to expire on December 31, 2021, has now been extended to December 31, 2026.
Gulf War veterans with eligible chronic disabilities from undiagnosed illnesses may qualify for presumptive service connection if their symptoms began anytime between their active duty in the Southwest Asia theater of military operations and December 31, 2026.
This new presumption deadline intends to more fairly administer benefits established by Congress.  Veterans who have not yet experienced symptoms, and veterans who have experienced symptoms but have not yet documented their symptoms with a medical provider, will benefit from this extension.
Understanding VA's Gulf War Presumption
Beginning in 1990, veterans who served in the Southwest Asia theater of military operations were exposed to numerous hazardous toxins and harmful environmental conditions.  As Gulf War veterans returned from service, they began to experience unexplained illnesses and symptoms.  These conditions were collectively referred to as "Gulf War Illness" or "Gulf War Syndrome."
In an effort to streamline the claims process, VA established presumptive service connection for Gulf War Illness under 38 CFR § 3.317.  To qualify for presumptive service connection, a Persian Gulf War veteran must have experienced symptoms for at least six months, and the symptoms must be at least 10 percent disabling.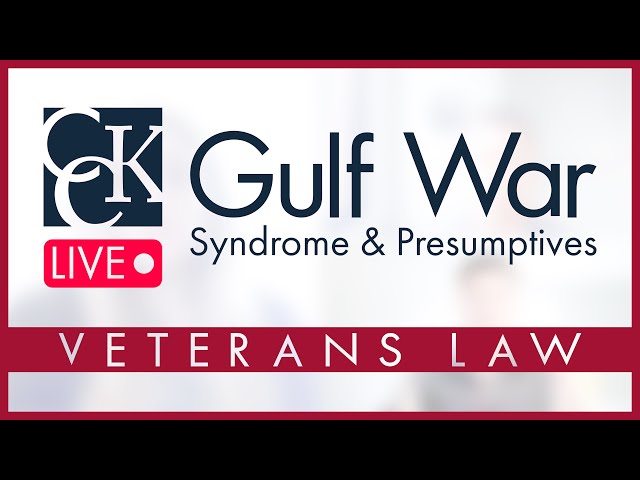 Qualifying Presumptive Conditions
VA's Gulf War presumption includes medically unexplained chronic multisymptom illnesses (MUCMIs), undiagnosed illnesses, and certain infectious diseases.
MUCMIs
Medically unexplained chronic multisymptom illnesses, or MUCMIs, are diagnosed conditions without conclusive pathophysiology or etiology that are characterized by clusters of symptoms.  Some examples of MUCMIs include chronic fatigue syndrome (CFS), fibromyalgia, and functional gastrointestinal disorders (e.g., irritable bowel syndrome, functional dyspepsia, and functional abdominal pain syndrome).
Undiagnosed Illnesses
Undiagnosed illnesses, which are indicated by a cluster of chronic symptoms, do not fit into any known medical diagnosis.  Common symptoms include fatigue, muscle and joint pain, headaches, memory problems, and sleep disorders.  Other symptoms may be present as well.
Infectious Diseases
VA's presumption also includes certain infectious diseases.  This part of the presumption differs from MUCMIs and undiagnosed illnesses because it includes veterans who served in Afghanistan.  The infectious diseases VA covers under the presumption include:
Brucellosis
Campylobacter jejuni
Coxiella burnetii ("Q fever")
Malaria
Mycobacterium tuberculosis
Nontyphoid Salmonella
Shigella
Visceral leishmaniasis
West Nile virus
Was Your Gulf War Illness Claim Denied?
According to a 2017 Government Accountability Office report, the rate of approval for Gulf War Illness Claims is three times lower than all other types of claims, despite the existing presumption for Gulf War veterans.  VA often mistakenly denies Gulf War Illness claims because evidence of a specific event or injury causing the disability was not provided, despite that not being a requirement.
If VA denied your claim for a medically unexplained illness, the experienced and knowledgeable veterans' advocates at Chisholm Chisholm & Kilpatrick LTD may be able to help.  Contact CCK today to schedule a free consultation.

About the Author