Veterans Law
Camp Lejeune Lawsuit: Offsets and Effect on VA Benefits
When pursuing legal action for exposure to Camp Lejeune toxic water under the Camp Lejeune Justice Act, it is important to know that compensation is subject to offsets for federal benefits (e.g., VA disability benefits or Medicare).
Read on to learn more about Camp Lejeune litigation and what it means for your disability benefits.
What to Know About Camp Lejeune Litigation
Veterans or their families who were stationed at or lived on Camp Lejeune in North Carolina between August 1, 1953 and December 31, 1987 for at least 30 cumulative days and developed certain cancers or other conditions may be eligible for compensation.  Importantly, those who meet these requirements can now file a settlement claim in the U.S. District Court for the Eastern District of North Carolina due to the Camp Lejeune Justice Act.
The Camp Lejeune Justice Act requires that claimants complete the following steps:
Claimants must first submit an administrative claim to the Department of the Navy in order to qualify for compensation. The Department of the Navy can then resolve or deny the claim at the administrative level before litigation.
Next, if the claimant does not receive compensation at the administrative level, a lawsuit may be filed in the U.S. District Court for the Eastern District of North Carolina.
If appropriate, the case may proceed to trial.
How Long Do I Have to File?
The Camp Lejeune lawsuit has a time limit.  Claimants have two years from the date of enactment (August 11, 2022) to file a claim under the Camp Lejeune Justice Act.  If claimants do not take action soon, they will lose their rights to any potential award.  It is essential to act quickly to recover compensation for your injuries or illnesses caused by Camp Lejeune water contamination.
Can I File a Camp Lejeune Administrative Claim on My Own?
Although possible, it is very difficult to file an administrative claim to the Department of Navy on your own behalf.  While the Camp Lejeune Claim forms seem straight forward, there are several hidden nuances that may prevent or limit recovery.  It is important that you have your claim written and reviewed by an attorney so they can ensure you follow the procedural requirements and maximize your potential recovery long term.
Does Filing a Camp Lejeune Claim Affect My VA Benefits?
Simply filing a Camp Lejeune administrative claim does not mean you lose VA disability benefits.  However, if Camp Lejeune compensation is granted, it is subject to offsets for federal benefits for the claimed condition, such as VA or Medicare benefits.
Importantly, if the government offers you a settlement, you will have the opportunity to evaluate the settlement and any potential offsets to your VA benefits.  If it is not a good deal for you, you do not have to accept it.
How Do VA Offsets Work?
Essentially, if a claimant wins a certain amount of compensation in a Camp Lejeune settlement, this amount will be subtracted from their VA disability benefits or other federal benefits.  However, offsets for federal benefits only apply to the conditions VA has connected to Camp Lejeune toxic water exposure.  Based on the Camp Lejeune Justice Act, this offset cannot be applied to any percentage disability that is not related to Camp Lejeune exposure.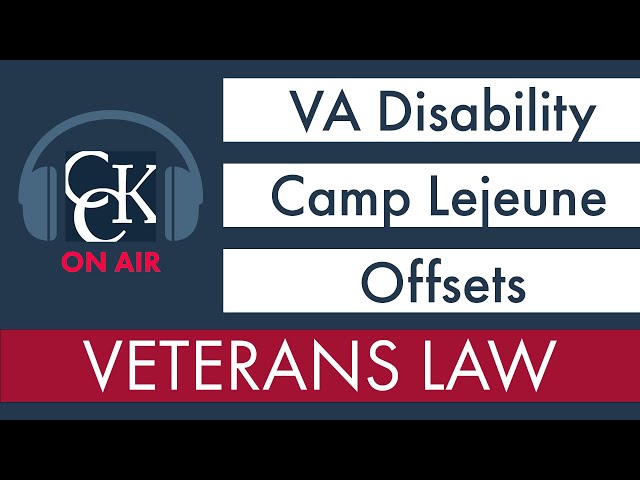 Additionally, this offset only applies to economic damages.  It will not apply to noneconomic damages (i.e., pain and suffering, loss of enjoyment of life).
As of now, nobody knows for sure how the offsets will work.  What is clear is that (1) claimants must file within two years and (2) claimants are in control of their own settlements, meaning they can decide whether to accept a settlement or reject it.
File Your Claim for Camp Lejeune Compensation Today
Again, it is important to act quickly to ensure you receive the Camp Lejeune compensation you deserve.  If the time limit expires, you will never know how much compensation you may have recovered for your injuries.  Do not wait until the last minute to begin the process because it will take time to investigate and prepare your claim.
Chisholm Chisholm & Kilpatrick, a national leader in Veterans Law, is working with the law firm of Levin Papantonio Rafferty, nationally recognized leaders in Mass Tort law, to help those exposed to the toxic water at Camp Lejeune receive the compensation they deserve.  Attorneys at CCK and L&P compile and organize your necessary documentation to prove exposure to contaminated water at Camp Lejeune.  We will work to navigate the offset issues.
Reach out to CCK today to see if we may be able to help you.