Veterans Law
VA Unemployability Income Limits
Veterans who are prevented from working because of their service-connected disabilities are eligible for specific unemployability benefits, known as TDIU.  However, veterans who make marginal income are still eligible for TDIU.  Continue reading to learn more about the income limits for veterans receiving VA unemployability.
What Unemployability Benefits Does VA Offer?
As mentioned above, VA offers TDIU, or total disability based on individual unemployability, to veterans who are prevented from working because of their service-connected disabilities.  Veterans who receive TDIU will be compensated monthly at the 100 percent rating level.
There are two forms of TDIU: schedular and extraschedular.
Schedular TDIU – Veterans must have one condition rated at 60 percent minimum OR two conditions that can be combined to reach 70 percent, where one condition is at minimum 40 percent.
Extraschedular TDIU – Veterans who do not meet the necessary criteria for schedular TDIU may be eligible for extraschedular TDIU.  For this form of TDIU, veterans must prove that their condition(s) uniquely hinder their ability to maintain substantially gainful employment.  Extraschedular TDIU is rated under 38 CFR § 4.16b.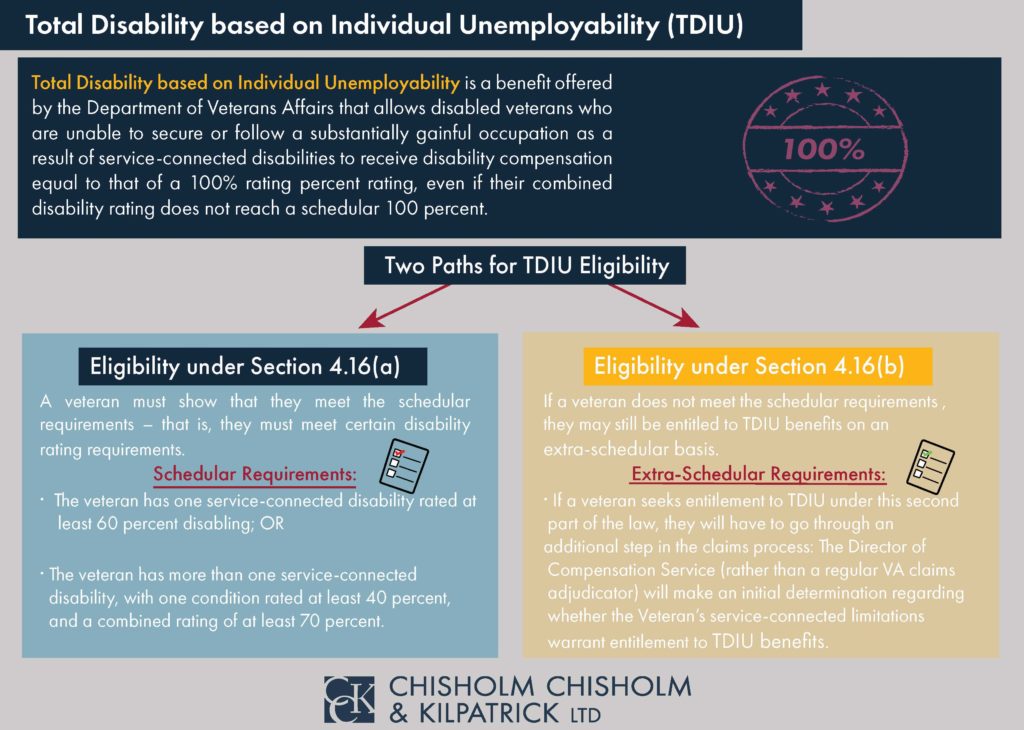 How to Apply for TDIU
To apply for TDIU, VA requires that veterans complete VA Form 21-8940.  The purpose of this form is to provide VA with additional information about the veteran, such as their level of education and employment history, to supplement the request for TDIU.
VA Form 21-8940 can be submitted to VA in the following ways:
Online – using VA's eBenefits platform
By mail – directed to the Department of Veterans Affairs, Evidence Intake Center, PO Box 4444 in Janesville, WI 53547-4444
In person – bringing a completed VA Form 21-526EZ to a VA Regional Office near you
With a legal representative – completing the form with a Veterans Service Organization (VSO) or a VA accredited agent or attorney
Can Veterans Continue to Work if They Have Been Awarded TDIU?
There are certain circumstances in which a veteran can continue to work and still be granted entitlement to TDIU.  If a veteran is working in a marginal capacity (i.e., marginal employment), meaning that they are making less than the federally established poverty threshold, they can still receive TDIU benefits.  This is regardless of whether a veteran works part-time or full-time.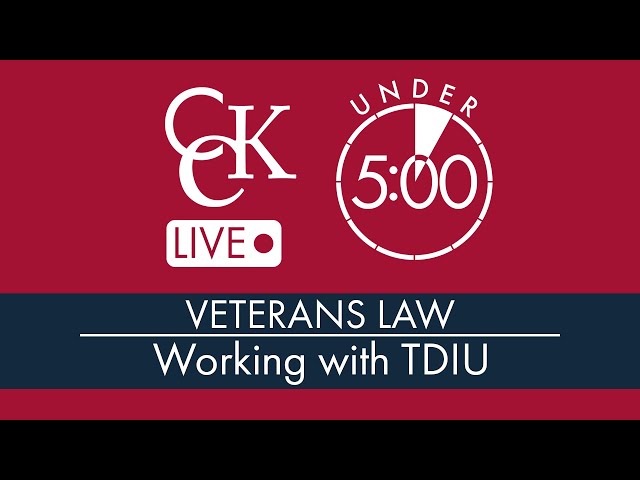 VA Unemployability Income Limits: How Much Can Veterans Make and Still Receive TDIU?
As of January 2022, the federal poverty threshold for one person is $13,590.  This means that veterans who make less than this amount can still receive TDIU benefits, even if they are working.  If the veteran has dependents, this amount could be higher.
| | |
| --- | --- |
| People per Household | Poverty Threshold |
| 1 | $13,590.00 |
| 2 | $18,310.00 |
| 3 | $23,030.00 |
| 4 | $27,750.00 |
| 5 | $32,470.00 |
| 6 | $37,190.00 |
TDIU and Protected Work Environments
There are additional circumstances in which the veteran can earn above the poverty threshold and still qualify for TDIU benefits.
Veterans may still be considered unable to work if their employment is only maintained because it is in a protected work environment.  VA's regulation does not exactly define what a protected work environment is, it simply provides examples.
What is a Protected Work Environment, According to VA?
At the most basic level, a protected work environment is a situation where a veteran's excused from the critical functions of their job due to their service-connected conditions.  They are generally less productive and reliable than other employees, and they may not be penalized for certain behavioral issues or mistakes that might get other employees fired or reprimanded.
Importantly, the veteran may still be paid a similar or equal amount to other employees despite the accommodations and protections.  Protective work environments represent a recognition on the employer's part that, if not for those accommodations, the veteran would not be able to work.  In those situations, VA should still be granting the veteran entitlement to TDIU.
A work environment can still be considered "protected" if the veteran earns a salary that is above the poverty threshold or even if they work full-time. 
Whether or not a work environment is considered "protected" is established on a facts-found basis, meaning that VA will make a judgment on the facts in each individual case.  There is no blanket policy that recognizes certain types or work or certain accommodations as creating a protected environment.
Two examples of a protected work environment: a family business and a sheltered workshop.  Though not all employment at a family business or sheltered workshop automatically qualifies as "protected work environment," these are examples of job environments in which the veteran can be excused from the standard work requirements.
Do You Need an Accredited Representative to Help with TDIU Benefits?
If you are a veteran seeking TDIU benefits and VA has previously denied your claim, the skilled veterans' advocates at Chisholm Chisholm & Kilpatrick may be able to help.  Call our office today for a free case consultation.