Veterans Law
VA Disability Ratings for Eosinophilic Esophagitis
What Is Eosinophilic Esophagitis?
Eosinophilic esophagitis is a chronic allergic condition affecting the esophagus.  The esophagus is tube-like organ that serves as part of the digestive system to pass food from the mouth to the stomach.  A person with this condition has large numbers of white blood cells, or eosinophils, in the inner lining of the esophagus.
Symptoms of Eosinophilic Esophagitis
Eosinophils can cause inflammation in the esophagus, as well as decreased appetite, abdominal pain, vomiting, and difficulty swallowing.  Eosinophilic esophagitis may also cause food to become lodged in the esophagus, in some severe cases, as the esophagus narrows when it becomes inflamed.  When food becomes stuck in the esophagus, it can be a serious medical emergency, and is sometimes called "food impaction."
Diagnosing Eosinophilic Esophagitis
Typically, an upper endoscopy and biopsies are necessary to diagnose eosinophilic esophagitis.  Importantly, there is a significant link between eosinophilic esophagitis and allergic disorders.
Most people who are diagnosed have one or more allergic disorders.  Allergic disorders associated with eosinophilic esophagitis include asthma, allergic rhinitis, eczema, and food allergies.  Additionally, exposure to environmental allergies, such as pollens, animals, dust mites, and mold could also worsen a person's condition.
One of the main causes of eosinophilic esophagitis is adverse immune responses to food.  After eating some foods, people may experience hives and vomiting within minutes of eating.  Allergy tests can be used to determine some triggers, however, conventional tests often fail to detect sensitivity to foods that cause eosinophilic esophagitis.
Treating Eosinophilic Esophagitis
Some forms of diets may be used to help limit symptoms of eosinophilic esophagitis.  These diets can include:
Food Test-Directed Elimination Diets—Removing specific food sensitivities from one's diet once the sensitivities have been determined
Empiric Elimination Diets—Empiric elimination diets can be used to eliminate major food allergens, such as dairy, wheat, soy, nuts, and shellfish. The foods can then be added back one at a time to determine which specific food allergen is contributing to the eosinophilic esophagitis.
Elemental Diets—This strict form of an elimination diet removes all sources of allergens from the person's diet. A person on this form of diet will get their nutrition from an amino acid formula or one to two simple foods that are unlikely to trigger eosinophilic esophagitis
Currently, there is no medication approved by the U.S. Food and Drug Administration, or FDA, to treat eosinophilic esophagitis.
VA Service Connection for Eosinophilic Esophagitis
To establish service connection for eosinophilic esophagitis, veterans will typically need three things:
A current diagnosis of eosinophilic esophagitis
An in-service event or stressor—To prove an in-service event, veterans might use service treatment records, as they will have documented any injury or illness, if it was treated during active duty.  If the veteran's condition was caused by exposure, they may also want to submit a lay statement indicating how they were exposed.
A medical nexus between the eosinophilic esophagitis and the in-service event—A statement from a qualified healthcare professional affirming that they believe your condition was "at least as likely as not" caused by your military service can serve as a medical nexus.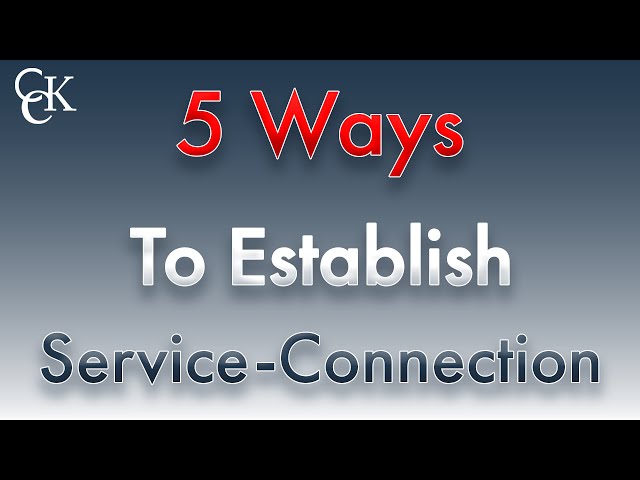 Secondary Service Connection
As previously mentioned, a person who has an allergic disorder may be more susceptible to developing eosinophilic esophagitis.  As such, veterans who are already service-connected for an allergic disorder, such as asthma or eczema, may be able to establish secondary service connection, if it was caused or aggravated by the allergic disorder.
To establish secondary service connection for eosinophilic esophagitis, the veteran will generally need to submit the following to VA:
A current diagnosis
Medical evidence showing the relationship between their allergic disorder and eosinophilic esophagitis
VA Disability Ratings and Benefits for Eosinophilic Esophagitis
Eosinophilic esophagitis is rated under Diagnostic Code 7346, which is the same diagnostic code used to rate hiatal hernias.  Below are the criteria for each rating:
60%–The veteran experiences pain, vomiting, material weight loss and hematemesis or melena with moderate anemia; or other symptom combinations productive of severe impairment of health.
30%–The veteran experiences persistently recurrent epigastric distress with dysphagia, pyrosis, and regurgitation, accompanied by substernal or arm or shoulder pain, which is productive of considerable impairment of health.
10%–Veterans given the 10 percent rating experience two or more of the symptoms listed at the 30 percent rating, but with less severity.
Compensation and Pension (C&P) Exams for Eosinophilic Esophagitis
When a claim for eosinophilic esophagitis is filed, whether for primary or secondary service connection, VA will often request a compensation and pension exam (C&P).
Compensation and pension exams are performed in order to determine if service connection is warranted, and to gather evidence to determine a rating for the condition if service connection is warranted.  The exams are usually performed by a VA examiner or a VA contracted examiner.  The exam may include a physical examination or consist of an interview where the examiner may ask questions regarding the veteran's service or their condition.
It is important to attend any C&P exams that VA requests, even if they request two exams: one for the allergic disorder and one for eosinophilic esophagitis.  Though the exams may seem redundant, it is crucial that the veteran attends because VA may deny the claim if they do not.  If the veteran must miss a C&P exam, they should contact VA as soon as possible to try to reschedule.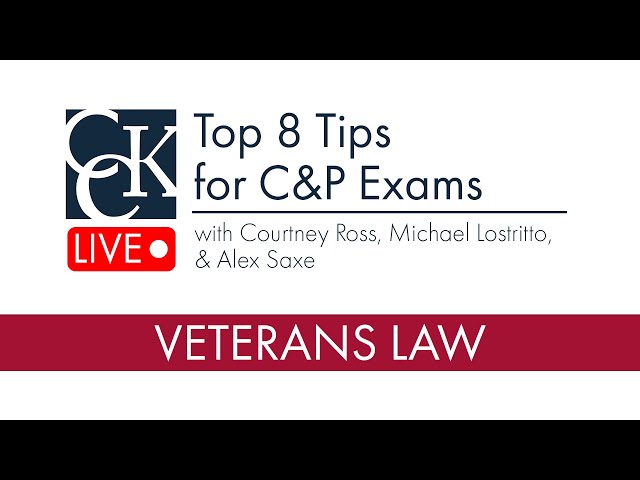 VA Individual Unemployability (TDIU)
Veterans with severe eosinophilic esophagitis may be prevented from working or maintaining employment because of their condition.  As such, veterans who find themselves in this situation do have benefits available to them.
Total disability based on individual unemployability (TDIU) is a monthly benefit that compensates veterans at the 100 percent rate, regardless of their actual combined rating.
There are generally two ways that a veteran's eosinophilic esophagitis may qualify for TDIU:
For schedular TDIU, veterans must meet the criteria listed under 38 CFR § 4.16a.  The criteria stipulate that veterans must have one condition rated at 60 percent minimum OR two conditions that can be combined to reach 70 percent, where one condition is at a minimum of 40 percent.  With eosinophilic esophagitis, a veteran may be eligible if they are awarded the 60 percent rating, OR if their rating for eosinophilic esophagitis helps them reach a combined rating of 70 percent.
Veterans who do not meet these qualifications may be eligible for extraschedular TDIU.  For this form of TDIU, veterans must prove that their condition(s) uniquely hinders their ability to maintain substantially gainful employment.  Extraschedular TDIU is rated under 38 CFR § 4.16b.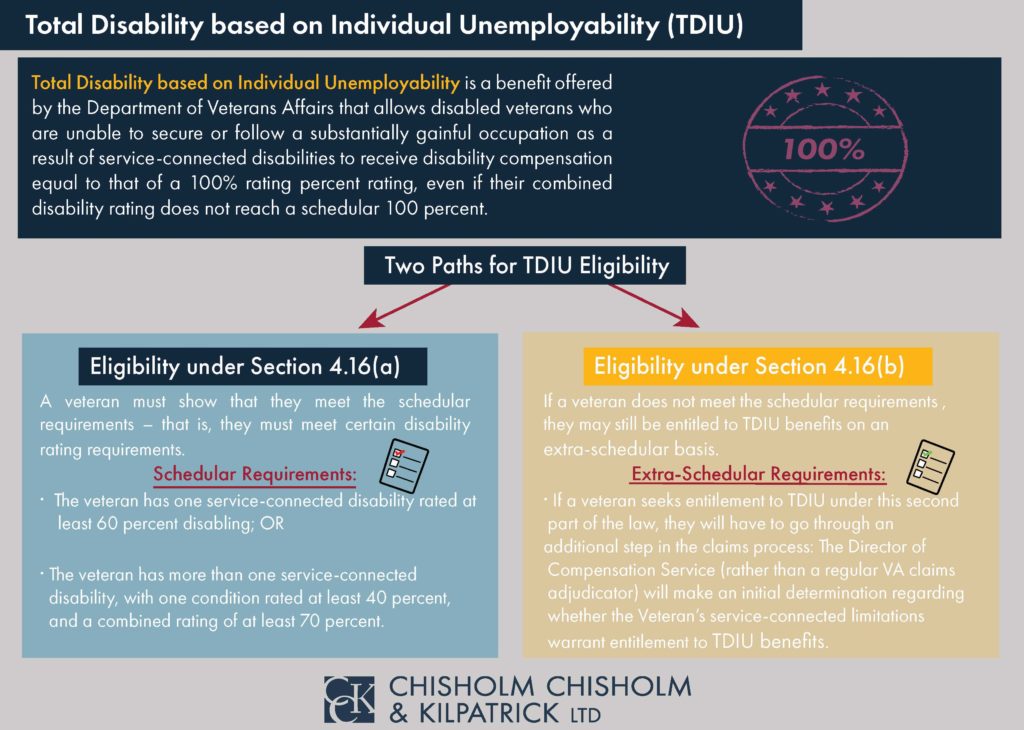 Get Help with Your Denied VA Disability Claim
Veterans seeking VA disability compensation for eosinophilic esophagitis can often benefit from accredited representation in the VA claims and appeals process.  Several factors complicate benefits for this condition, such as the fact that it does not have its own diagnostic code and must be rated analogously to other conditions and that it is often secondary to allergic disorders.
If you need accredited representation to help guide you through your appeal for VA disability benefits for eosinophilic esophagitis, Chisholm Chisholm & Kilpatrick may be able to help.  Our experienced team has helped many veterans win the benefits they deserve.  Call today for a free case evaluation at 800-544-9144.
About the Author