Veterans Law
VA Disability for Arthritis in the Hands
Arthritis can be a very painful condition that commonly affects the joints of the hand.  Since many people use their hands frequently with everyday life, having arthritis in the hands can often be extremely debilitating.  If you are a veteran whose arthritis is connected to your military service, you may be eligible for disability compensation benefits.
What Type of Arthritis Affects the Hands?
There are two types of arthritis which may affect a veteran's hands: degenerative arthritis (osteoarthritis) and rheumatoid arthritis.
Degenerative Arthritis (Osteoarthritis)
Degenerative arthritis, or osteoarthritis, is a type of arthritis that limits the range of motion of the affected joints.  With the hands, degenerative arthritis usually affects three specific areas: the base of the thumb, the joint closest to the fingertip, the middle joint of any finger.
While degenerative arthritis may not have one specific cause, certain injuries such as fractures and dislocations can lead to degenerative arthritis, as well as other joint injuries caused by overuse, infection, or loose ligaments.
Symptoms of Degenerative Arthritis
Pain, such as morning stiffness
Loss of motion
Crepitus, or grinding, clicking, or cracking sensations
Swelling
Nodules, or bony lumps at the joints of the finger
Joint deformity
Weakness
Rheumatoid Arthritis
Rheumatoid arthritis is a form of arthritis that can commonly affect the hands.  Rheumatoid arthritis occurs when the immune system does not function properly and instead attacks the lining of the joints, which causes inflammation and pain.
Rheumatoid arthritis is categorized as an autoimmune disease.  Usually, the same joint on both sides of the body will be affected if a person has rheumatoid arthritis, so it will often affect both hands.
Symptoms of Rheumatoid Arthritis
Joint pain
Tenderness in areas around the joints
Swelling or stiffness
Fatigue
Fever
Small lumps in the skin
Low red blood cell count
Severe inflammation that can last for varying periods of time
Service Connection for Arthritis in the Hands
If arthritis in the hand is suspected, doctors will typically start with a medical history to gather information about the condition.  They will ask when you first noticed your symptoms, where you feel pain, and how the symptoms affect your life.  In addition, they will check for signs of the condition, such as swelling and tenderness.  Other tests assess which type of arthritis in the hand may be present, including imaging tests (e.g., X-ray, MRI).  Imaging tests can not only help confirm a diagnosis, but also determine the extent of the damage.
Treatment for Arthritis in the Hands
While there is unfortunately no cure for the condition, certain treatments can help to relieve pain and improve function:
Nonsteroidal anti-inflammatory drugs (NSAIDs) – Over-the-counter medications, such as Advil and Aleve, as well as prescription NSAIDs can help relieve pain and swelling in the joints.
Oral corticosteroids – Quick-acting medications that help stop inflammation and are often used to manage flares in rheumatoid arthritis.
Steroid injections – In certain cases, steroid injections can help relieve inflammation.
Topical creams – Over-the-counter topical pain relievers (e.g., rubs, balms) are an alternative form of treatment.
Braces – A brace can help limit pressure and increase stability in the joint.
Service Connection for Arthritis in the Hands
If you have either degenerative arthritis or rheumatoid arthritis in your hands that is connected to your military service, you may be eligible to receive VA disability compensation.
There are multiple ways that service connection can be established for arthritis in the hands:
Direct Service Connection
To establish direct service connection for arthritis in their hands, veterans must prove that the condition is linked to an event that occurred during their time in service.  In-service injuries, or overuse of the joints, make it very possible for a veteran to develop arthritis later in life, since the condition tends to progress over time as the cartilage wears down.  It is important note that the in-service injury does not need to be traumatic.
A doctor can look at a veteran's in-service injuries or overuse and determine if there is a causal relationship to their arthritis.  If VA agrees that there is a link between the two, service connection may be granted.
For direct service connection, veterans will need to submit:
A current diagnosis of arthritis in the hands, and
Evidence of an in-service event or stressor, and
A nexus linking the veteran's stressor to their condition
Presumptive Service Connection
Both degenerative arthritis and rheumatoid arthritis are conditions that may be eligible for presumptive service connection.
Under 38 CFR § 3.309, arthritis is characterized as a chronic disease.  VA holds that if symptoms appear within one year of discharge from military service to a degree of 10 percent disabling, then the presumption of service connection will apply.  This is very important as it allows veterans to establish service connection even if they do not otherwise have medical evidence that links their currently diagnosed arthritis to a particular incident or injury during service.  Here, the presumption under § 3.309 serves as a shortcut to service connection.
Secondary Service Connection
If a veteran's arthritis in their hands is caused by an already service-connected condition, then secondary service connection may be warranted.  For example, if a veteran has a service-connected hand injury that caused arthritis to develop, the veteran may be eligible for service connection for arthritis secondary to the hand injury.
Importantly, arthritis can be the source of secondary conditions as well.  For example, arthritis in the hands may cause depression if the condition prevents you from partaking in the same physical activities or completing the same tasks that you used to do.  If VA determines that your service-connected arthritis is at least as likely as not to have caused your depression, then secondary service connection will be awarded.
Compensation & Pension Exams for Arthritis in the Hands
If you file a claim for VA disability benefits for arthritis in your hands, VA may request a Compensation & Pension exam.  A Compensation & Pension (C&P) exam is an exam that VA uses to evaluate the veteran's claimed condition and determine if service connection is warranted.  During the exam, the examiner will also collect evidence to assign a rating if service connected is granted.
The examiner is usually a VA physician or a VA contracted physician.  Importantly, they must be qualified to examine the condition, meaning that an orthopedic doctor will usually examine arthritis in the hands.  Prior to the exam, the examiner will also need to review the veteran's c-file so they are familiar with the veteran's case.
Following the exam, the examiner will write up a report that includes a review of the exam's findings, any clinical test results, and any medical literature used to determine the cause or origin of your condition.
If the examiner is trying to determine whether service connection is established, they will write up a medical opinion that states one of two things: (1) it is "at least as likely as not" that the arthritis in your hands was incurred in or aggravated by service, or (2) it is "less likely than not" that the arthritis in your hands was incurred in or aggravated by service.
How Does VA Rate Arthritis in the Hand?
Once service connection is granted, VA will assign a disability rating depending on the severity of the condition.  This condition can be rated in several ways, based on the type of arthritis.
For osteoarthritis in the ankle, the rating criteria under 38 CFR § 4.71a, Diagnostic Code 5003 are as follows:
20% – with X-ray evidence of involvement of two or more major joints or two or more minor joint groups, with occasional incapacitating exacerbations
10% – with X-ray evidence of involvement of two or more major joints or two or more minor joint groups
VA rates rheumatoid arthritis in the ankle under 38 CFR § 4.71(a), Diagnostic Code 5002.
To be rated under this code, there are three specifications:
(1) The arthritis must be active;
(2) It must be affecting at least two joints; and
(3) The veteran must submit a definitive diagnosis.
The ratings range from 0 to 100 percent disabling and depend mostly on the number of incapacitating episodes a veteran experiences due to their rheumatoid arthritis.  The rating criteria are as follows:
100% – with constitutional manifestations associated with active joint involvement, totally incapacitating
60% – with weight loss and anemia productive of severe impairment of health or severely incapacitating exacerbations occurring four or more times per year, or a lesser number of prolonged periods
40% – symptom combinations productive of definite impairment of health objectively supported by examination findings or incapacitating exacerbations occurring three or more times per year
20% – one or two exacerbations a year in a well-established diagnosis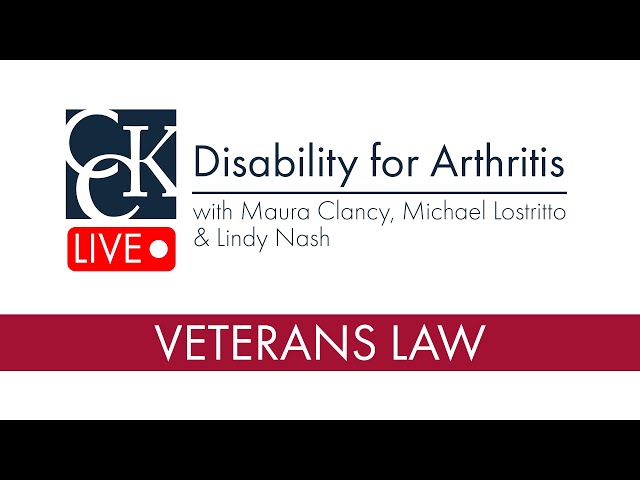 TDIU for Arthritis in the Hand
Veterans who experience arthritis in their hands often face many challenges in their day-to-day lives and may have difficulty obtaining or maintaining employment, since use of the hands is integral to many forms of employment.  If a veteran faces these circumstances, a monthly benefit called TDIU, or total disability based on individual unemployability, may be available to help.
TDIU compensates veterans at the 100 percent rating level, even if their combined disability rating is less than that.
In order to be eligible for TDIU, veterans must meet the rating criteria for either schedular or extraschedular TDIU.
To be eligible for schedular TDIU, veterans must have:
One condition rated at 60 percent at least; OR
Two conditions that can be combined to reach 70 percent, where one condition is rated at minimum 40 percent.
If veterans do not meet the above criteria, they may still be eligible for extraschedular TDIU.  For this form of TDIU, veterans must prove that their condition(s) uniquely hinder their ability to maintain substantially gainful employment.  Extraschedular TDIU is rated under 38 CFR § 4.16b.
Getting an Accredited Representative to Help with VA Benefits for Arthritis in the Hands
If you have previously been denied VA disability benefits for arthritis in your hands, help may be available to you.  An accredited representative can help you navigate the claims and appeals process by supplementing your claim with evidence and crafting skilled arguments.
The accredited representatives at Chisholm Chisholm & Kilpatrick have helped many veterans win the benefits they deserve, including benefits for arthritis.  If you need an accredited representative to help you, call our office today for a free case evaluation.