Veterans Law
Tips to Complete VA Form 21-4192: Employment Information
What Is VA Form 21-4192?
The Department of Veterans Affairs (VA) uses VA Form 21-4192, Request for Employment Information in Connection with Claim for Disability Benefits, to obtain information on a veteran's employment history.
The form is intended to get basic employment information, such as dates of employment.  It also requests information about when the veteran stopped working, why they stopped working, how much they worked prior to leaving, whether the veteran was experiencing issues at work, and so on.
Veterans typically use this form alongside VA Form 21-8940 when applying for Total Disability based on Individual Unemployability (TDIU).
What Is TDIU?
TDIU is a benefit that offers disability compensation equal to a 100 percent rating to veterans who are incapable of working due to a service-connected disability.  Specifically, a veteran must show that they are unable to obtain and maintain substantially gainful employment due to their service-connected condition(s) to qualify for TDIU.  VA outlines TDIU regulations under 38 CFR § 4.16, which includes subsections (a) and (b).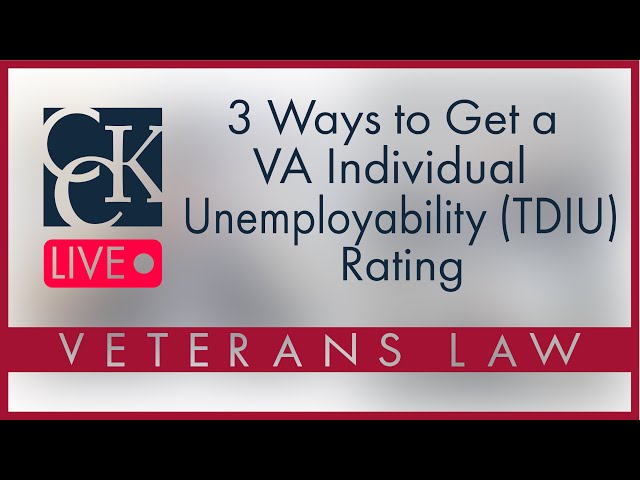 How to Fill Out VA Form 21-4192
If you receive VA Form 21-4192 from VA, you should fill out the identification information in Section I (e.g., their name, VA file number, date of birth, and social security information).  You should also write in the name and address of your former employer in box 1, followed by the address of VA's Evidence Intake Center in box 2.
You then send the form to your former employer, and they will fill out the remainder of the information.  VA will also send this form directly to any employers listed on your VA Form 21-8940.
The former employer must then complete Sections II, III, and IV and return to the Evidence Intake Center.
Section II: Employment Information
In Section II of VA Form 21-4192, the employer must fill out the following information about the veteran:
Beginning date of employment
Ending date of employment
Type of work performed
Amount earned during the 12 months preceding last date of employment (before deductions)
Time lost during these 12 months due to disability
Number of hours worked a day
Number of hours worked a week
Concessions made to veteran/employee by reason of age or disability
The reason for termination of employment
Date of last payment
Gross amount of last payment
Any lump sums given
Section III: Reserve or National Guard Duty Status
Section III only needs to be completed if the claimant is currently serving in the Reserve or National Guard.  If so, the following information must be filled out by the employer:
The veteran's current duty status
Whether the veteran has disabilities that prevent them from performing their military duties
Section IV: Information on Benefit Entitlement and/or Payments
In Section IV, the employer must list any benefits the veteran receives as a result of their employment.  This includes:
Type of benefit the veteran is receiving or is entitled to receive (e.g., sick or retirement pay)
Gross monthly amount of benefits
Date benefits began
Date benefits will stop (if known)
Any other remarks
In boxes 23A and 23B the employer must certify that the document is accurate by providing their signature and the date signed.  Once complete, the document is ready to be sent to VA's Evidence Intake Center.
Important Tips for Completing VA Form 21-4192
There are some things to keep in mind when it comes to VA Form 21-4192.  Many times, veterans applying for TDIU have been out of work for a while and their former employer could be out of business.  In this case, VA will still send a 21-4192 to the employer but the veteran will also receive a copy.  If you are a veteran in this circumstance who knows that their former employer is no longer in business, it is in your best interest to inform VA that this information is unavailable.
It is also important to keep in mind that some employers will not readily release this information without your consent.  If you are aware that your former employer is still in business after recently applying for TDIU, consider calling them to ask if they will need a consent form signed.
If VA is unable to obtain this information, it will usually notify the veteran.  In this case, sending a letter to VA explaining the circumstances behind the situation can be helpful.  Informing VA of these circumstances can prevent further delay in the adjudication of a claim, as VA will no longer spend time seeking this information.
It is important to note that VA cannot deny a veteran's claim for TDIU if VA Form 21-4192 is not returned.
Do You Need Assistance with VA Form 21-4192?
The claims process can be confusing and difficult, and staying on top of all the required forms can be overwhelming.  If you would like assistance with completing this form – or with the entire claim or appeal process – you can request help from a Veterans Service Organization (VSO) or an accredited attorney or claims agent.
The experienced accredited attorneys and claims agents at Chisholm Chisholm & Kilpatrick LTD may be able to help you secure the individual unemployability benefits you deserve.  Reach out to CCK today to schedule a free consultation with a member of the team.