Veterans Law
Entry Level Separation and VA Benefits
There are certain criteria VA follows when determining if a servicemember will be eligible for VA benefits upon discharge.  If a veteran is discharged during basic training, this can raise questions as to whether they are eligible for VA disability benefits.  Continue reading to determine if you may qualify for benefits upon separation.
How Does VA Determine Eligibility for Benefits?
In order to be eligible for VA benefits, a person must first qualify as a veteran.  VA defines a veteran as somehow who:
Participated in active military service
Was discharged or released under conditions other than dishonorable
Generally, those with bad conduct or dishonorable discharges do not meet VA's definition of "veteran" for VA benefit purposes.
Importantly, veterans who served in the United States Army, Navy, Air Force, Marine Corps, Coast Guard, and those ordered to active duty by the federal government while in the Reserves or National Guard are eligible for veteran status.
How Does VA Determine that a Veteran is NOT Eligible?
Again, veterans who have been dishonorably discharged are not eligible for VA benefits.  Dishonorable discharge is typically issued by a court-martial, which therefore bans a servicemember from benefit eligibility.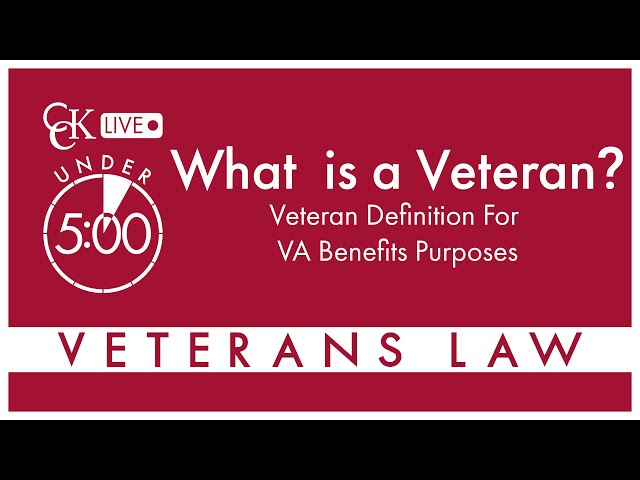 Types of Military Discharge
A military discharge is simply defined as a service member's release from their obligation to continue service in the armed forces.  When discharged, a service member also receives a "characterization of service" which appears on their DD-214 and usually falls into one of five categories: honorable, general under honorable conditions, other than honorable, bad-conduct, or dishonorable.
Honorable Discharge
An honorable discharge is by far the most common with over 85 percent of veterans receiving this type of discharge.  Veterans with an honorable discharge are entitled to all VA benefits (e.g., disability compensation, educational, healthcare, vocational).
General Discharge Under Honorable Conditions
General discharge means that you met the requirements of service, likely with some minor disciplinary actions, or failure to meet certain standards.  However, overall, your military performance was considered satisfactory.  Veterans who receive general discharges under honorable conditions are entitled to all VA benefits, except for GI Bill education benefits.
Other Than Honorable (OTH) Discharge
An OTH discharge is typically an undesirable discharge.  It means you had some serious departures from the conduct, protocol, and performance expected of a service member.  Examples of situations that might result in an OTH discharge include security violations, serious misconduct that endangers other members of the military, or use of deliberate force to seriously hurt another person.
In these cases, VA will conduct a character of service determination to assess eligibility for benefits.  Therefore, an OTH discharge does not mean you are definitely barred from getting VA benefits.  Instead, VA must determine based on the facts of your case whether you are allowed to receive benefits based on the statutes and regulations.  OTH discharge characterizations are made administratively rather than through court-martial proceedings.
Bad Conduct Discharge
A bad conduct discharge is a punitive, or disciplinary, discharge that is imposed by a court-martial.  A court-martial is a criminal trial conducted by the military when there is a violation.  If you receive a bad conduct discharge by a special court-martial (reserved for serious charges considered misdemeanors in civilian court), rather than a general court-martial (reserved for more serious felonies), you might still qualify for certain benefits.  In these cases, VA will determine eligibility through a character of service determination.  If you receive a bad conduct discharge that was issued by a General Court, you are not eligible for any benefits.
Dishonorable Discharge
This type of discharge status is usually reserved for veterans who have committed a very serious offense such as desertion, rape, or murder.  Dishonorable discharges are only issued if you are convicted at a general court-martial that calls for dishonorable discharge as part of the sentence.  Thus, if you receive a dishonorable discharge, you are immediately ineligible for all VA benefits.
Other Bars to Benefits
Statutory Bars
VA is prevented from granting entitlement to benefits if the reason for the veteran's discharge constitutes a "statutory bar to benefits." That is, if the incident(s) that led to separation or discharge are any of the following:
Sentence of a general court-martial
Being a conscientious objector who refused to perform military duty, wear the uniform, or otherwise comply with lawful orders of competent military authority
Desertion
Resignation by an officer for the good of the service
Absence without official leave (AWOL) for a continuous period of 180 days or more, without compelling circumstances to warrant such prolonged unauthorized absence (as determined by VA)
Requesting release from service as an alien during a period of hostilities
Regulatory Bars
In addition to the statutory bars, there are also regulatory bars found under 38 CFR § 3.12(d).  An individual's character of discharge is considered to have been issued "under dishonorable conditions" if they were released under any of the following circumstances:
Acceptance of an undesirable discharge to escape trial by general court-martial
Mutiny or spying
An offense involving moral turpitude (generally including the conviction of a felony)
Willful and persistent misconduct, or
Homosexual acts involving aggravating circumstances or factors affecting the performance of duty (e.g., child molestation, homosexual prostitution, homosexual acts or conduct accompanied by coercion or assault, and homosexual acts or conduct when a service member has taken advantage of his or her superior rank, grade, or status)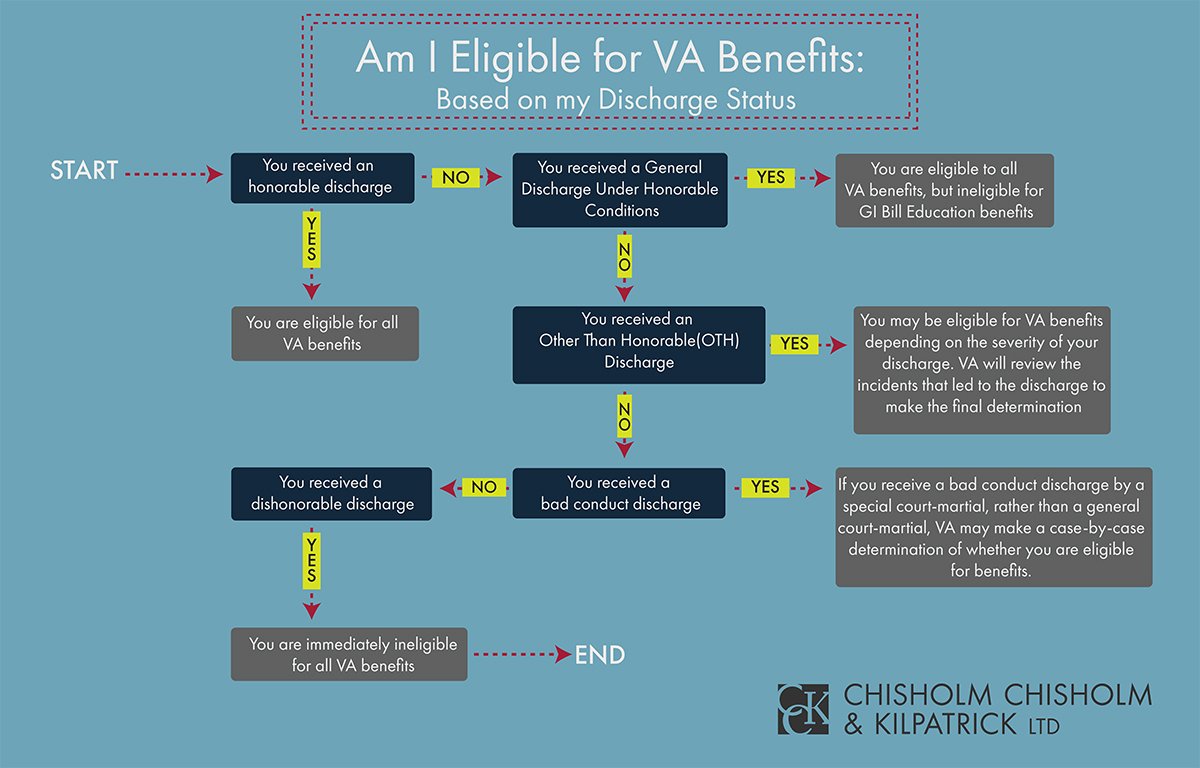 How Can Veterans Tell What Form of Discharge They Received?
Regardless of what branch of service the veteran served, the best way to determine the form discharge is to look at the DD-214 Form.  A DD-214, or Certificate of Release or Discharge From Active Duty, will indicate much information about a veteran's service, such as branch of service, date of entry, time served, service abroad, and more.
If you need to locate a copy of your DD-214, veterans can obtain free copies of their DD-214 via the National Archives.
What is Entry Level Separation?
Entry Level Separation, or ELS, refers to individuals who serve less than 180 days.  Often this is viewed as an uncharacterized discharge because, while it is not a dishonorable discharge, is also not an honorable discharge.  ELS cases are usually considered an administrative discharge.
Upon enlisting, a military service member qualifies for entry level status during:
The first 180 days of continuous active military status; OR
The first 180 days of continuous active service after a service break of more than 92 days of active service
A servicemember with a reserve component, such as a National Guard or Reserve member, who is not on active duty or who is serving under a call or order to active duty for 180 days or less begins entry-level status as soon as they enlist in a reserve component.  However, entry-level status for reserve component service members can be terminated in the following instances:
180 days after training if the servicemember is ordered to active duty for training for one continuous period of 180 days or more; OR
90 days after the beginning of the second period of active-duty training if the servicemember is ordered to active duty for training under a program that splits the training into two ore more separate periods of active duty.
Entry Level Separation and Exceptions to the Rules
According to VA, entry-level separation is recognized as an uncharacterized discharge, except in the following instances:
When an Other Than Honorable characterization is authorized under the reason for separation and is warranted by the circumstances or the case.
The Secretary concerned, on a case-by-case basis, determines that a characterization of service as Honorable is clearly warranted by the presence of unusual duty.
An entry-level separation of reserve component service member for cause authorizes a discharge under honorable conditions, under other than honorable conditions, or drop from the rolls.
Are Entry Level Separation Veterans Entitled to VA Benefits?
If an individual had an uncharacterized discharge under early separation, they are still entitled to VA benefits.  These benefits could include VA disability benefits, dependency benefits, certain health care benefits, and more.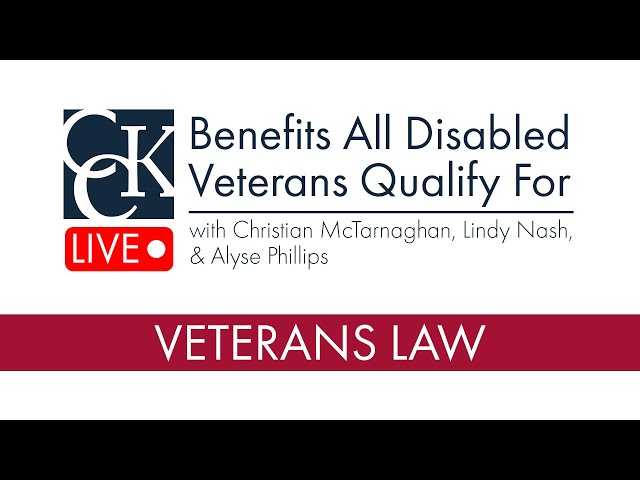 Does CCK Assist with Discharge Upgrades?
If you were found not entitled to VA disability benefits because of the status of your discharge or because of the nature of your separation, you may be able to upgrade your discharge status.  While discharge upgrades are not something that CCK typically handles, there is help available.  Contact a VSO or find more information through the Department of Veterans Affairs.
However, if you need help with an appeal for VA disability benefits, CCK's team of accredited representatives may be able to help.  Our veterans' advocates can gather evidence and craft persuasive arguments to support your appeal.  Call our office today for a free case review.