VA News
Veterans Affairs (VA) Introduces New Automated Forms Replacing Statement in Support of Claim
The Veterans Benefits Administration (VBA) is an agency within the Department of Veterans Affairs (VA) that is responsible for providing financial and other forms to assist veterans and their dependents when applying for VA disability benefits.  It has been making continuous improvements to the claims processes to help veterans and their families receive the benefits to which they are entitled in a more timely and efficient manner.
As part of these improvement efforts, VBA is standardizing current VA forms and creating new forms.  VA aims to make it easier for veterans to communicate their intentions or submit supporting statements by providing more specific forms for different types of requests.  Specifically, VA has introduced five new forms to replace the current VA Form 21-4138, Statement in Support of Claim.
What is VA Form 21-4138?
The Statement in Support of Claim form, also known as a "buddy statement" when completed by other service-members, is officially called VA Form 21-4138.  A Statement in Support of Claim is a VA form that veterans, their families, friends, or former service members can use to provide information to corroborate a claim for VA benefits.  This form allows for:
Veterans to submit firsthand accounts of the in-service incident that led to their current disability, as well as how their condition impacts their daily life;
Friends, family, or coworkers to provide statements supporting the veteran's claim and verifying the physical or social limitations the veteran suffers because of their disability; or
Statements from former servicemembers who served with and may be able to corroborate the events that caused a veteran's disabling condition.
New VA Forms to Replace Form 21-4138
Until now, VA Form 21-4138, Statement in Support of Claim was the only form veterans could use to submit a variety of statements or make certain requests.  In order to address the gap in forms, VBA has created five new forms to be used in lieu of VA Form 21-4138.  These new forms will be tailored to specific requests, and will make it easier for veterans to communicate with VA.  Additionally, the new forms will help VA to expedite the claims process.  The creation of these forms will allow for greater use of computerized optical character recognition, or the automated processes by which VA computers read, organize, and store information provided by veterans.  Updating forms so that they can be processed automatically allows VA to process claims more quickly, meaning veterans will get their benefits faster.
The five new forms created to replace VA Form 21-4138, Statement in Support of Claim are:
VA Form 28-10212 – Chapter 31 Request for Assistance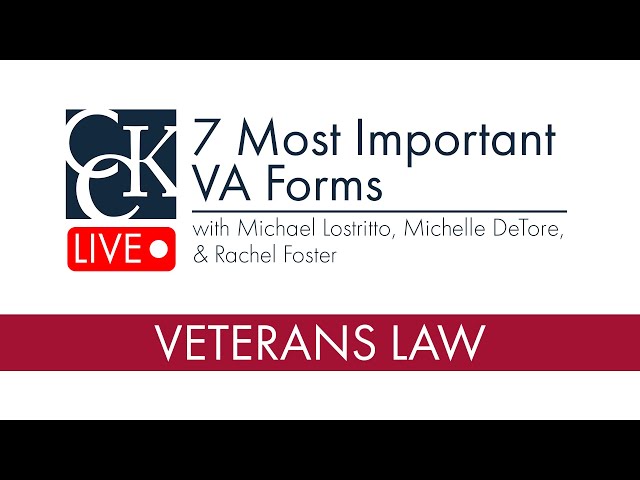 VA Form 20-10206 – FOIA/Privacy Act Request
VA Form 20-10206 allows claimants to submit a Freedom of Information Act (FOIA) or Privacy Act (PA) request.  A FOIA request is a request submitted to a federal agency asking for agency records on any topic.  FOIA requests can generally be made by any person to any federal agency, with a few exceptions.  Alternatively, the Privacy Act allows individuals to seek records about themselves that are maintained by the Department of the Interior (DOI).  Claims files, educational loan information, and beneficiary records are some of the most commonly requested PA records.
This form is four pages long, including an instruction page that explains each type of request and outlines where completed forms should be sent.  To complete the form, the requester must: provide their contact information and identifying details; specify the records they are requesting; acknowledge and agree to pay any potential fees; and include their signature (or the signature of an authorized representative or third-party if the form is being filled out on someone else's behalf).
VA Form 20-10207 – Priority Processing Request
A Priority Processing Request (VA Form 20-10207) allows claimants to submit a request for priority processing (i.e., asking VA to address their claim in a more expedient manner) due to certain circumstances or status supported by additional information or evidence.  The form is five pages total, including instructions.  It outlines what evidence eligible claimants need to submit, if not already on file with VA, if they are:
Experiencing extreme financial hardship
Terminally ill
Diagnosed with Amyotrophic Lateral Sclerosis (ALS), also known as Lou Gehrig's disease
Very seriously ill/injured or seriously ill/injured during military operations (defined as a disability resulting from a military operation that will likely result in discharge from military service)
Age 85 or older
A former Prisoner of War
A Medal of Honor or Purple Heart Award recipient
VA Form 20-10208 – Document Evidence Submission
VA Form 20-10208 must be filled out and sent to VA along with any documents a claimant wishes to submit as evidence.  This straightforward two-page form asks for the veteran's identifying information, as well as the claimant's identifying information (if the claimant is someone other than the veteran), and the veteran/claimant's signature.  There is also a section in which the claimant must specify the document(s) or evidence they are submitting to support their claim.  This might include:
Birth certificate
Dependency information
Financial information
Medical treatment records
Military personnel records
Death certificate
Divorce decree/marriage certificate
Court papers/documents
Service treatment documents
VA Form 21-10210 – Lay/Witness Statement
The Lay/Witness Statement form, or VA Form 21-10210, gives veterans a place to submit a formal statement in support of their VA disability benefits claim.  These statements are important because they allow veterans to describe the impact of their condition(s) on their daily life, ability to work, relationships, etc. in a more detailed manner.
Additionally, VA Form 21-10210 can be used by friends, family, members, coworkers, fellow servicemembers, or other witnesses who want to submit a statement on the veteran's behalf.   If a veteran wants to submit more than one statement (i.e., they want to submit their own statement and have at least one witness writing on their behalf), a separate VA Form 21-10210 should be used for each statement.
VA Form 20-10212 – Chapter 31 Request for Assistance
VA Form 20-10212 is for veterans who require assistance with their Chapter 31 benefits claims.  The Chapter 31 program, also known as the Veteran Readiness and Employment, assists qualified veterans with service-connected disabilities and an employment handicap to prepare for, find, and maintain a job.  This two-page form asks veterans to provide their contact information and select the reason(s) for which they are requesting assistance.  There is also a section for the veteran to describe or explain their reasoning in greater detail.
A veteran might need assistance with their Chapter 31 benefits claim if they want to:
Withdraw their application for Chapter 31 benefits
Request to discontinue their Chapter 31 program and close their case
Request a revolving fund loan
Request supplies or equipment needed for their rehabilitation program
Request a reimbursement
Discuss an issue/concern regarding their rehabilitation services
Notify VA of mitigating circumstances for reduction or complete withdrawal from training