Veterans Law
How to Expedite VA Disability Claims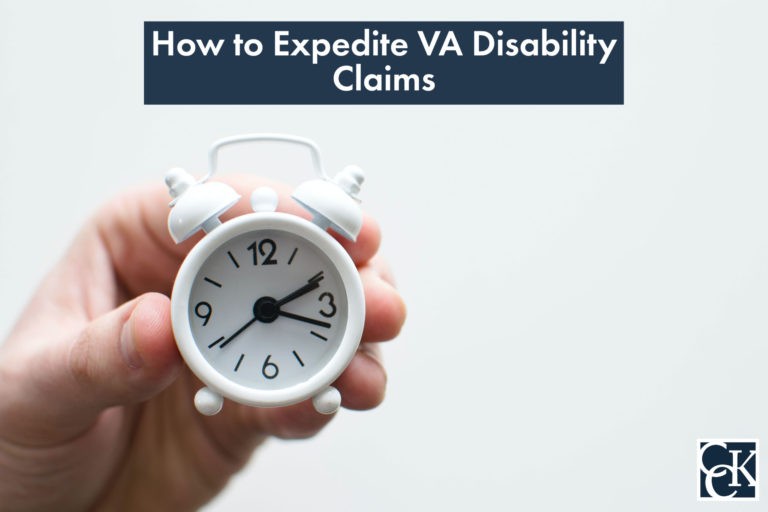 As veterans know, the VA disability claim process can be lengthy and frustrating, and it often takes multiple years to obtain a decision on disability benefits.  This leads many veterans to ask the question: how can I make my VA claim go faster?
While VA does not operate on a timeline when handling veterans' claims, there are several situations in which veterans may be eligible to have their VA disability claim expedited.
Who Is Eligible to Have Their Case Expedited?
In some instances, certain veterans can have their cases expedited by VA.  However, even if you are eligible, the process can still be lengthy and does not guarantee that VA will grant your claim.  Below are examples of situations in which veterans may be eligible to have their case expedited:
#1: Financial Hardship and Homelessness
Extreme Financial Hardship
Veterans can request to expedite a VA disability claim if they are experiencing extreme financial hardship.  Financial hardship can take different forms, and veterans can use certain types of evidence to support their request.  Useful evidence to submit might include:
Eviction notices
Past due bills, such as utilities or medical bills
Collection notices
If VA looks at the evidence you submitted and determines it is sufficient to show you are experiencing financial hardship, it will "flash" your file in its electronic system.  By flashing a veteran's file, VA employees are able to see when a particular claim should be handled with expeditious treatment.
Expedited Claims for Homeless Veterans
If a veteran is homeless, VA can expedite their claim for benefits. VA uses the legal definition of homelessness outlined in 42 U.S.C. § 11302, which states that a person is considered "homeless" if they:
"Lack a fixed, regular, and adequate nighttime residence;" or
Have a "primary nighttime residence that is a public or private place not designated for or ordinarily used as a regular sleeping accommodation" such as a parking lot, vehicle, public transportation station, or abandoned building; or
Live in a shelter
VA will also flash a veteran's file if they are at imminent risk of becoming homeless.  Claims submitted by homeless veterans will get "priority processing."
#2: Advanced Age
The age requirement to expedite a veteran's claim is different at the Regional Office and Board of Veterans' Appeals levels.  At the Regional Office, a veteran must be 85 years of age or older in order to have their claim expedited.  For the Board of Veterans' Appeals, veterans must be 75 years of age or older for their claim to be advanced on the Board's docket.
Veterans should note, for example, that a 77-year-old veteran may have their case advanced on the Board's docket, but the file will not be flashed for expeditious treatment at the Regional Office due to the older age requirement.
#3: Terminally Ill
VA is instructed to prioritize claims in which the claimant is terminally ill.  A veteran can request that VA expedite their claim based on a terminal illness but will need to submit evidence of this illness in order to qualify.
Evidence of a terminal illness can take the form of a treatment note, medical opinion, or a note from a treating physician that states your diagnosis and that it is terminal. When VA receives the evidence and finds it sufficient to support that you are terminally ill, it should flash your file and treat your claim expeditiously.
#4: Diagnosed with Amyotrophic Lateral Sclerosis (ALS/Lou Gehrig's Disease)
ALS is a rare, progressive neurogenic disease which causes the neurons that control voluntary muscles to die.
Symptoms of ALS can include:
Abnormal fatigue of the arms or legs
Slurred speech
Muscle cramps and twitches
Frequently tripping or dropping things
As ALS involves progressive muscle weakness, the symptoms will usually worsen over time.  Eventually, the breathing muscles can become affected, making it difficult to breath on one's own.
Because of the nature of the condition, veterans diagnosed with ALS are therefore eligible to have their claims expedited.  To do so, veterans will need to submit a diagnosis or evidence showing their ALS if not already on file with VA.
Veterans can submit a completed VA Form 21-4142 to request that VA obtain any private treatment records pertaining to their ALS.  Private treatment records refer to any treatment outside a VA Medical Center.  Submitting these records can help indicate to VA that the veteran's case should be expedited.
#5: Very Seriously Ill or Injured During Military Operations
Although many veterans who submit claims to VA are very seriously ill or injured, VA specifically notes that veterans who were very seriously injured or made ill during military operations can file to have their claims expedited.  VA specifies that to be eligible, the veteran must have "a disability resulting from a military operation that will likely result in discharge from military service."
In order to apply under this category, veterans should submit a copy of military personnel records relating to their discharge, such as a determination from the Department of Defense.  Veterans will also need to submit medical evidence indicating a severe injury or illness.  To request that VA obtain your private medical records, specifically any records relating to treatment outside of VA Medical Centers, veterans should fill out VA Form 21-4142.
#6: A Former Prisoner of War
Former Prisoners of War are also eligible to have their claims expedited.  To apply, veterans should submit a copy of military personnel records as evidence of their former POW status.
Other documents that can be submitted as evidence include the veteran's DD Form 214, Certificate of Release or Discharge from Active Duty, or records containing information such as service number, branch, dates of service, dates and location of internment, detaining power, or any other information relevant to internment.
#7: A Medal of Honor or Purple Heart Award Recipient
Veterans who received the Medal of Honor or Purple Heart Award can apply to have their claims expedited as well.  For documentation, they can submit a copy of their military personnel records, such as DD Form 214, or any other information indicating that the veteran received the Medal of Honor or Purple Heart Award.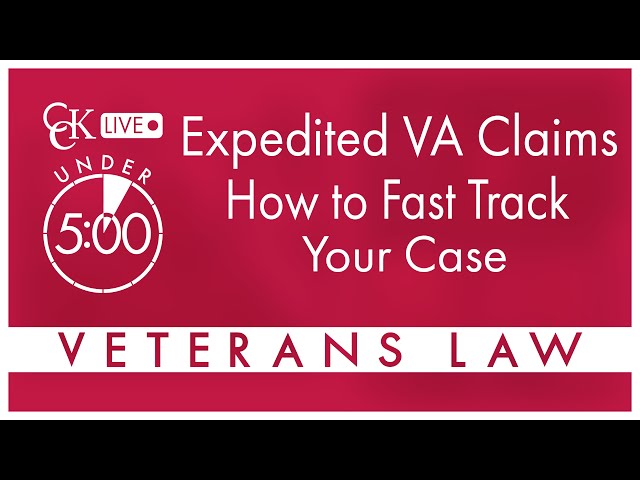 How Do I Expedite My VA Claim?
If you fall into one of the categories listed above, you can apply to have your case expedited.  To do so, you will need to fill out a Priority Processing Request via VA Form 20-10207.  The five-page form contains instructions for applying to have your claim expedited.
How Fast Will Expedited VA Disability Claims Be Decided?
While there is no accurate way to predict how must faster a claim will be decided when it is expedited, VA does outline procedures it must follow when handling an expedited claim.  For instance, VA employees are instructed to handle "priority" claims before "non-priority" claims.
It is true that an expedited claim will be handled before those claims that are not expedited, however, when a veteran's claim is expedited, it will enter a queue of other expedited claims, meaning the veteran will still have to wait in line.
Advancing on the Board's Docket
The procedure is slightly different for claims that are advanced on the Board's docket versus those that are expedited at the Regional Office.  First, it should be noted that in the Legacy appeals system (as opposed to the New VA Appeals Process), the Board has a single docket.  On this docket, appeals are heard based on the date a Veteran submits a VA Form 9, the appeal to the Board of Veterans' Appeals.  What this means is that all veterans are waiting in the same line to have their case reviewed by the Board, and they must wait in the order in which their appeals were submitted.
For a veteran's case to be heard by the Board sooner, the case must be advanced on the Board's docket, meaning it will skip part of the line and be heard before it would have been otherwise.  To have their claim expedited, a veteran must file a Motion to Advance on the Board's docket.  These requests must be written and must identify the reason the veteran's claim should be expedited.
There are three main reasons for a veteran's case to be advanced on the docket:
The veteran is 75 years of age or older
The veteran is terminally ill
The veteran is experiencing severe financial hardship
When a request for advancement on the docket is granted, a veteran's case will go to the top of the list for cases to be heard. However, veterans will still wait for a decision with those who are also advanced on the Board's docket.
How Can a VA Claims Advocate or Representative Help Me?
Accredited representatives can be very useful to veterans who need to have their claims expedited because they have experiencing filling out the necessary forms and submitting the appropriate documents to VA.  Accredited representatives understand what proof veterans need to provide to show their eligibility.
If you need an accredited representative to help you file a motion to expedite your VA disability claim, contact Chisholm Chisholm & Kilpatrick today for a free case evaluation.
About the Author