Veterans Law
Inside the Veterans Benefits Management System (VBMS)
What Is a VA Claims File?
A VA claims file, often called a c-file, is a collection of records kept by VA in connection to your VA disability claims.  When a veteran first files a claim for benefits, VA will request the veteran's service records and any medical records that are relevant to the claim.  As your claim progresses, your claims file will grow.  Furthermore, any additional claims you file will be added to your existing c-file as well.  Claims files can be anywhere from hundreds to thousands of pages long, and typically varies from veteran to veteran.  Generally, the longer a case has been pending, the larger the file due to the amount of evidence and appeals involved in the case.  When an initial claim is filed, the c-file is usually small due to the lack of evidence and materials that have been gathered at that point.
VA Experienced Issues with Paper-Based Claims Files
Until the 1990s, VA claims files were entirely paper-based.  All of a veteran's service records, medical records, claims, and appeals were gathered together and used to create a hard-copy claims file.  These c-files were not organized in chronological order or any specific format.  Therefore, veterans and their representatives were required to go through each document to annotate and make sure it was relevant to the veteran's claim, which proved to be a very time-consuming process.  Additionally, VA experienced issues with the paper-based claims files when veteran's claims and appeals were being transferred from the Regional Office (RO) to the Board of Veterans' Appeals.  Specifically, when a veteran's claim went from the RO to the Board, the entire c-file had to physically change locations as well.  During this process, many files were misplaced, lost, or took a while to be rediscovered and associated with the appropriate veteran.
VA recognized that paper c-files were a major problem and, as a result, began to digitize everything.  Although this transition to electronic files took a substantial amount of time, it was a significant improvement from before.  Now, when veterans or their representatives request a copy of a claims file, it comes on a compact disc (CD) in its entirety.
Veterans Benefits Management System (VBMS)
Upon digitizing all of its claims files, VA also created the Veterans Benefits Management System (VBMS).  VBMS is essentially an online database comprised of veterans' electronic claims files.  It is a depository of all the information related to a specific veteran and his or her compensation claim.  While it is supposed to contain all of a veteran's files, VA has been inconsistent when it comes to scanning in medical records, vocational rehabilitation records, and overpayment/financial records.  VA is more thorough in regards to veterans' compensation claims, as the majority of those are scanned in; however, it is not always done properly.  Here, VA often mislabels documents related to a veteran's claims or appeals.  For example, Rating Decisions are sometimes labeled as Statements of the Case, making it difficult for adjudicators and representatives alike to determine where a veteran's claim is procedurally.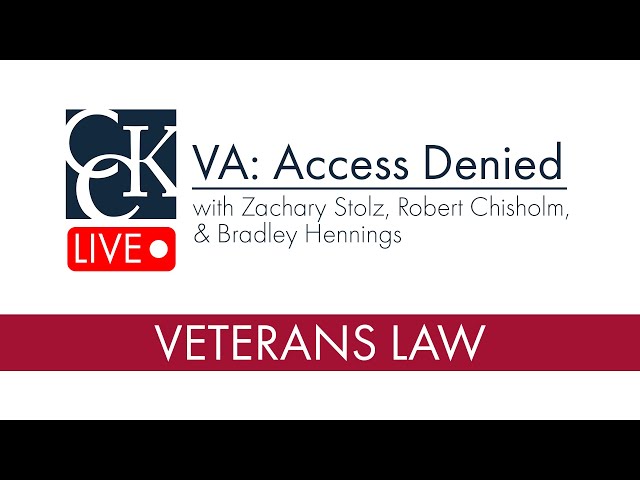 Who Has Access to VBMS?
As indicated above, both VA adjudicators and veterans' advocates have access to VBMS.  When accessing VBMS, adjudicators and advocates must log in and search for a specific veteran within the system.  They will then get a list of all of the documents in the veteran's c-file.  In order to go through the claims file, they must click on each individual document to see what it is.  Therefore, while VBMS provides better access to this information through an online platform, it is still very time-consuming.  However, it is very important for veterans' advocates to have access to VBMS because it is dynamic.  This means that a veteran's file is updated every time a new document, such as a decision, is added.  For example, advocates can log into VBMS and find out if a veteran has received a Rating Decision.
In order to access VBMS, advocates must use a Personal Identity Verification (PIV) card.  Unfortunately, like most processes in VA, getting a PIV takes a while and there are many hurdles involved.  Advocates must be practicing attorneys, or VA accredited agents, go through an extensive background check (often lasting months), get their fingerprints taken, and set up an e-mail account with VA.  If all of these tasks are not completed by VA within a certain period of time, the advocate's fingerprints will expire and the process must begin all over again.  Once this initial process is complete and advocates receive their PIV cards, they will still need to go through additional steps to gain access to the system, causing additional delays.  PIV cards expire every couple of years and must be renewed.
Other VA Online Databases
In addition to VBMS, VA also uses online systems known as Veterans Appeals Control and Locator System (VACOLS), Caseflow, and E-Folder Express.  It is important to note that only VA adjudicators at the Regional Office and Board level have access to these databases (veterans' advocates do not).
VACOLS
VACOLS is the online system VA has historically used to track veterans' appeals at the Regional Office and the Board of Veterans' Appeals.  It provides information about exactly where an appeal is, both in terms of physical location and procedural status.
Caseflow
Caseflow is the new electronic filing record system that is designed to replace the functionality of VACOLS.  The new system, introduced with the Appeals Modernization Act, is intended to keep track of the status of veterans' cases going back and forth between the Regional Office, Board of Veterans' Appeals, and Court of Appeals for Veterans Claims (CAVC).  However, it is important to note that the CAVC does not currently use any of these systems as a veteran's file is static once it gets to the Court.  This means that veterans cannot supplement the record through the submission of additional evidence.  Instead, the Court can only review the veteran's record as it existed the date the Board made its decision.  The CAVC goes through the electronic filing process only to review some of the documents listed in the parties' briefs.       
E-Folder Express
E-Folder Express is a component of Caseflow that allows for one-click downloads from VBMS, or one-click downloads of electronic claims files.
Why is VBMS Access Important?
VBMS access is important for veterans' advocates because they need to be aware of what is going on with veterans' claims.  At the Regional Office and Board levels, the evidence of record is active and always changing.  VBMS is the only way advocates can see what is going on in the case in real-time.  This levels the playing field between advocates and VA adjudicators.  Previously, VA was able to operate in isolation and advocates were only able to find out what was happening after the fact.  Now, advocates can see the same things the adjudicators can see.  Additionally, it improves the level of communication between veterans and their advocates as advocates are now able to provide current updates as to the status of veterans' claims.
VBMS access is also beneficial in regards to giving advocates enough time to submit argument and evidence on a veteran's behalf.  Currently, it can take anywhere from three to six months (can be longer) for VA to send a veteran's claims file to his or her representative.  The length of time it takes to receive a claims file and subsequently go through it often cuts into the appeal period.  Instead of waiting this significant amount of time just to get the evidence, VBMS access gives advocates more of that time to use for development, and check for any upcoming deadlines.
CCK Argues for VBMS Access for Paralegals
CCK is currently pursuing a case at the CAVC that addresses paralegals' access to PIV cards.  Specifically, CCK is arguing that paralegals should be able to get PIV cards without first having to become accredited.  Initially, VA denied both this request and the right to appeal its decision.  In response, CCK filed a writ to have the Court step in to allow an appeal of VA's decision.  In March of 2016, CCK delivered an oral argument and the CAVC decided VA's decision could be appealed.  The case went through VA's legacy appeals system once again and the Board found that paralegals could not get access to VBMS without first becoming accredited.  Nevertheless, CCK appealed to the Court for a second time, where the case will be decided again.  Overall, CCK continues to push for the access that will ultimately benefit the veterans' community as a whole.
About the Author