Veterans Law
How VA Will Process Blue Water Navy Veterans' Claims
Congress recently passed a law stating that veterans who served within 12 nautical miles seaward of the demarcation line of Vietnam are eligible to receive the same presumption of exposure to herbicides as veterans who served on the landmass of Vietnam.  Below, CCK breaks down how VA is going to adjudicate Blue Water Navy veterans' claims.
Temporary Stay on Blue Water Navy Veterans' Claims
Shortly after the passage of the Blue Water Navy Vietnam Veterans Act of 2019, VA Secretary Wilkie announced a stay on adjudication of Blue Water Navy veterans' claims in order to prepare for the anticipated influx.  During this stay, VA was expected to develop the tools necessary to adjudicate these claims properly and fairly.  However, this means that no work has been done on these cases since the passage of the legislation.  This applies to both veterans who have already filed a claim and are in the appellate process (i.e., appealed a denial from VA) and veterans who filed initial claims after the new law was passed.  As a result, many Blue Water Navy veterans are left wondering whether they should file a claim now or wait until VA starts the adjudication process.  CCK encourages these veterans to file their claims now, because they will be placed in VA's queue.  Therefore, when VA eventually begins processing claims, they will already be in the system.
What Presumptions Have Changed Under the Blue Water Act?
Again, this new law extends the same presumptions that veterans who served boots-on-the-ground in Vietnam have had for many years.  Any of the conditions that are on VA's list of conditions associated with herbicide exposure (see below) can now be service-connected on a presumptive basis for Blue Water Navy veterans.  Essentially, if a Blue Water Navy veteran develops a presumptive condition, VA should presume it was caused by herbicide exposure and award benefits.  Importantly, Blue Water Navy veterans include those that served on a Navy vessel that went within 12-nautical miles seaward of the demarcation line of Vietnam between January 9, 1962 and May 7, 1975.
VA's List of Presumptive Conditions
AL Amyloidosis
Chronic B-cell Leukemias
Chloracne
Hodgkin's Disease
Ischemic Heart Disease
Multiple Myeloma
Non-Hodgkin's Lymphoma
Parkinson's Disease
Peripheral Neuropathy
Porphyria Cutanea Tarda
Respiratory Cancers
Soft Tissue Sarcomas
Number of Blue Water Navy Veterans
 VA does not know the exact number of veterans that will benefit from the Blue Water Act.  However, VA recently indicated that it is mailing letters to upwards of 77,000 veterans who have previously filed claims for these types of conditions that now might have this presumption extended to them.  As such, it is at least around that number of veterans to whom the new law could apply.
How Will VA Place Ships Within 12 Nautical Miles?
One of the challenges for VA in its adjudication process is going to be how it determines whether a veteran's vessel went within 12 nautical miles seaward of the demarcation line of Vietnam.  VA has stated it is working on new technology called a "Blue Water Tool" to help make that determination as to where a veteran was during a particular time period.  This digital tool incorporates Navy deck logs to pinpoint the locations of the Naval vessels that were traveling within 12 nautical miles of Vietnam.  VA has asserted that this will enable faster decisions in which a Blue Water Navy veteran's entire claims process should only take several weeks.  If the tool is unable to locate a particular Blue Water Navy veteran, then VA indicates that it is going to consult a records research team who will attempt to manually figure out whether the veteran was within 12 nautical miles seaward of the demarcation line.  If the records research team is unable to confirm, then VA will send the veteran's information to the Joint Services Research Center (JSRC) for additional records research.
After this new law passed, VA obtained all of the Navy deck logs and is using three points of time during the day (8 am, 12 pm, 8 pm) to show where the different vessels were (according to the deck logs).  VA has aggregated data for about 700 vessels thus far.  Importantly, vessels did not have to remain within 12 nautical miles for any amount of time.  As long as the vessel crossed over into the 12 nautical mile radius, the presumption of exposure should apply.
What if Your Blue Water Navy Claim Gets Denied?
If your claim gets denied, you should file an appeal and send in all of the information and evidence you have to support your claim to VA.  Such evidence may include lay statements indicating that you could see the shore from your vessel, military personnel records, newspaper articles, or anything else that will help place you within the 12 nautical miles.  It may be beneficial to work with a Veterans Service Organization (VSO), VA accredited agent, or VA accredited attorney during this process.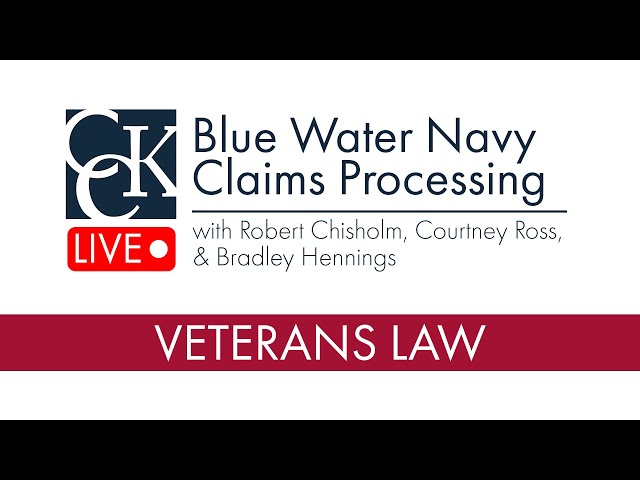 What Forms to Use to Apply for Blue Water Benefits
Similar to other claims for benefits, veterans will be required to submit certain forms with their Blue Water Navy claims.  However, the forms used will depend on whether you are applying for these benefits for the first time or following a previous denial.
Previous Denials
If a veteran previously filed a Blue Water Navy claim and got denied, they will have to submit a supplemental claim form (i.e., VA Form 20-0995).  This form will also require veterans to submit new and relevant evidence in support of their claim.  This can include the name of the vessel they were on, lay statements describing where the vessel traveled, updated medical information, etc.
Although the supplemental claim form requires the submission of new and relevant evidence, there has been some debate surrounding whether the Blue Water Act itself is new and relevant evidence.  It may be more accurate to say that this situation constitutes a reconsideration of previously denied claims, and that therefore, new and relevant evidence should not be required.  As such, it will be very interesting to see how VA handles that going forward.  However, VA has stated that you must file a claim and submit a form in order to be considered for benefits.
New Claims
If a veteran has never filed for these conditions before, they will use VA Form 526-EZ, which does not require the submission of new and relevant evidence.
How Will Denied Claims Be Processed?
If a Blue Water Navy claim is denied, all appeals will be processed under the Appeals Modernization Act (AMA).  When filing an appeal, veterans will have three options to deal with the unfavorable decision: (1) file a supplemental claim with the addition of new and relevant evidence; (2) request higher-level review by a more experienced claims adjudicator; or (3) file a Notice of Disagreement and appeal to the Board of Veterans' Appeals.
Effective Dates for Blue Water Navy Claims
If Blue Water Navy veterans applied for service connection for presumptive conditions many years ago and got denied, their effective date should go back to the original date the claim was filed.  VA stated it will adjudicate effective dates on a case-by-case basis, but it should go back to the date of the initial claim thereby resulting in retroactive benefits, or back pay.  Importantly, these favorable effective date provisions are included in the Blue Water Navy legislation itself. This is a great tool for veterans and veterans' advocates to utilize when making arguments in favor of Blue Water Navy claims.
Service on Submarines and Helicopters
Blue Water Navy claims filed by veterans who served on submarines will be handled differently than ones made by those who served on vessels.  The Navy deck logs kept on submarines were not part of the 22 million pages that VA scanned to incorporate into the new digital tool.  As a result, VA has developed a separate process to review classified submarine records.  Specifically, VA has a subgroup of people that are responsible for handling that process.  Marines on helicopters that may have landed on a ship within 12 nautical miles should also have the presumption of exposure afforded to them.  However, this will likely be another challenge for VA going forward, as those records are not going to be part of the new digital tool either.  Therefore, veterans and advocates are going to have to look elsewhere for evidence and information to show that the helicopters landed on certain vessels and were within those 12 nautical miles.
Overall, it is important to realize that the Blue Water tool is not going to have all of the answers.  In those situations, veterans must still obtain evidence to win their claims.
How VA Has Prepared for Blue Water Claims and CCK's Concerns
CCK has learned that there will only be 50 people that have access to the Blue Water Tool, plus 10-15 additional people for quality assurance.  This means that only 50 VA personnel will be handling potentially 77,000 Blue Water Navy claims with the hope of getting each claim turned around within several weeks.  This is a very low number of personnel considering (1) the number of potential claims, and (2) the large number of adjudicators employed throughout the Veterans Benefits Administration.  Specifically, VA is assigning 800 experienced claims processors, trained at 8 Regional Offices, to handle these cases, yet only 50 of them can use this digital tool.  Blue Water Navy claims are not going to be handled at every Regional Office either.  Instead, there are only 8 specialized centers – the ones that previously handled Nehmer claims and have some specialized knowledge in this area.
Why Might a Veteran Get Denied?
There are many reasons why a Blue Water Navy veteran may get denied; however, one of the obvious answers is that VA is unable to place the veteran within 12 nautical miles.  Again, it is important to remember that there are other ways for veterans to show that they served within that required distance (e.g., lay statements, buddy statements, etc.).  Furthermore, if veterans can identify military records or other types of evidence, they should ask VA to go and get those records.
Blue Water Claims Currently Pending at the Board and CAVC
Veterans' cases that are currently pending at the Board and Court of Appeals for Veterans Claims (CAVC) will be adjudicated as soon as VA begins processing Blue Water Navy Claims.  However, VA will remand or send back these cases to the Regional Offices to use this new Blue Water Tool and the new procedures to try to verify where their ship was.  Since facts have to be found in the first instance at the agency level (i.e., Regional Office), neither the Board nor the CAVC will have immediate jurisdiction.  Presumably, all of these cases will then be recycled back to the Regional Office and filtered through this new tool.  This could produce even more delay as now an even greater number of cases are being processed through an untested tool and untested procedures.