Veterans Law
How to File a VA Claim for PTSD
Overview of Post-Traumatic Stress Disorder (PTSD)
Post-traumatic stress disorder (PTSD) is a mental health condition that occurs due to experiencing a distressing, shocking, or otherwise traumatic event.  Many veterans develop PTSD from events they witnessed or experienced during their military service.
While symptoms and severity of PTSD can vary from person to person, the most common symptoms are:
Intrusive Thoughts – Those with PTSD may experience repeated, involuntary memories, distressing dreams, or vivid flashbacks of the trauma.
Avoidance – A person with PTSD may feel moved to avoid people, places, activities, or situations that could trigger memories of their trauma.
Negative thoughts and feelings – PTSD can cause a person to feel overwhelmed with negative emotions or beliefs about oneself.  A person with the condition may also experience feelings of perpetual fear, horror, anger, guilt, or shame.  They may feel detached from others and lose interest in activities they previously enjoyed.
Arousal and reactive symptoms – Those with PTSD may experience irritability and angry outbursts.  They may also behave in a reckless or self-destructive way, could be easily started, and may have difficulty concentrating or sleeping.
VA Service Connection for PTSD
Veterans who experienced a distressing or traumatic event during service and have PTSD symptoms as a result may qualify for U.S. Department of Veterans Affairs (VA) disability compensation.  To qualify for VA benefits for PTSD, veterans must have evidence of the following three things:
A current diagnosis of PTSD by a medical professional;
An in-service event, injury, or illness that led to the development of PTSD; and
A medical opinion, or nexus, linking the in-service event to the veteran's current diagnosis.
VA refers to these PTSD-causing events as "stressors."  Stressors are categorized as combat-related or non-combat related by VA.  Some examples include exposure to death or injury, the threat of great peril, or assault.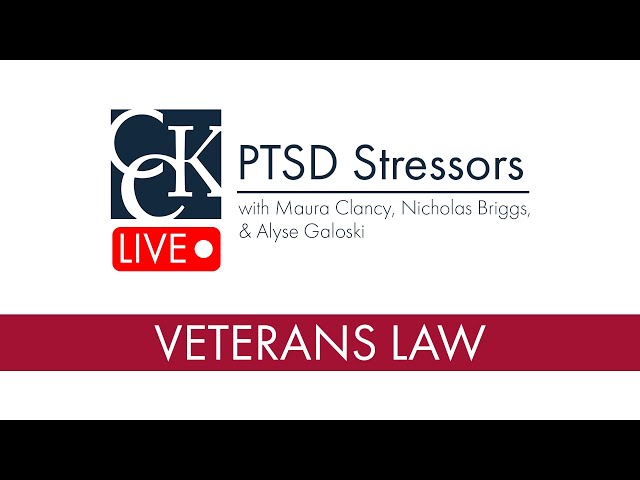 How to File a VA Disability Claim for PTSD
To get disability compensation, veterans should submit a PTSD claim with VA.  First, veterans can download and fill out VA Form 21-526EZ.  This can be submitted via mail to the Claims Intake Center, in person at the closest VA Regional Office, or electronically through VA's website.
In addition to this form, VA also requires that veterans specifically seeking PTSD benefits fill out and submit either:
VA Form 21-0781 – A Statement in Support of Claim for Service Connection for Post-Traumatic Stress Disorder; OR
VA Form 21-0781a – A Statement in Support of Claim for Service Connection for Post-Traumatic Stress Disorder Secondary to Personal Assault
Tips for Your PTSD VA Claim
Medical and Service Records
VA has a "duty to assist" veterans in developing their claims.  This means that VA is required to gather evidence on their behalf.  Examples of evidence include service personnel records, service medical records, and VA medical records.
To speed up the claim process, veterans can also submit this evidence themselves as part of a fully developed claim.
Lay Evidence
Another form of evidence for disability claims is lay evidence.  Lay evidence (i.e., personal statements written by a veteran or someone familiar with the veteran's situation) can be valuable in proving a VA claim for PTSD.
Veterans can detail their PTSD symptoms in a lay statement to strengthen their claim for benefits.  Lay statements can also be used to fill in gaps and better illustrate the severity of a veteran's PTSD.
Compensation and Pension (C&P) Exams
After filing a VA disability claim for PTSD, VA typically schedules the veteran for a compensation and pension (C&P) exam.  VA uses C&P exams to determine if a nexus exists and to evaluate the severity of a veteran's symptoms to decide a disability rating.
It is essential to go to every scheduled C&P exam, as VA may deny a veteran's claim if they fail to attend an exam.  If a veteran is unable to attend an exam, they should inform VA as soon as possible.  If they accidentally miss an exam, they should be sure to contact VA to try to reschedule.
Medical Nexus Letters
While VA may use a C&P exam to determine a nexus for PTSD, veterans can also fulfill this requirement by having a medical professional write a nexus letter for their claim.  Nexus letters can be submitted with a veteran's initial claim, during claim development, or during the appeals process.  Nexus letters can also be beneficial if a veteran received a negative C&P exam.
A strong nexus letter should be written by a licensed professional in the appropriate field and reference the veteran's service medical records, personnel records, and medical history.  The nexus letter must also address whether it is "at least as likely as not" that the veteran's PTSD was incurred during or caused by service and include rationale supporting the determination.
VA Ratings for PTSD
PTSD is rated under the General Rating Formula for Mental Disorders, 38 CFR § 4.130, diagnostic code 9411.  PTSD ratings are based on the level of social and occupational impairment, as well as the frequency, duration, and severity of symptoms.
VA rates PTSD at a 0, 10, 30, 50, 70, or 100 percent – the more severe the symptoms are, the higher the disability rating.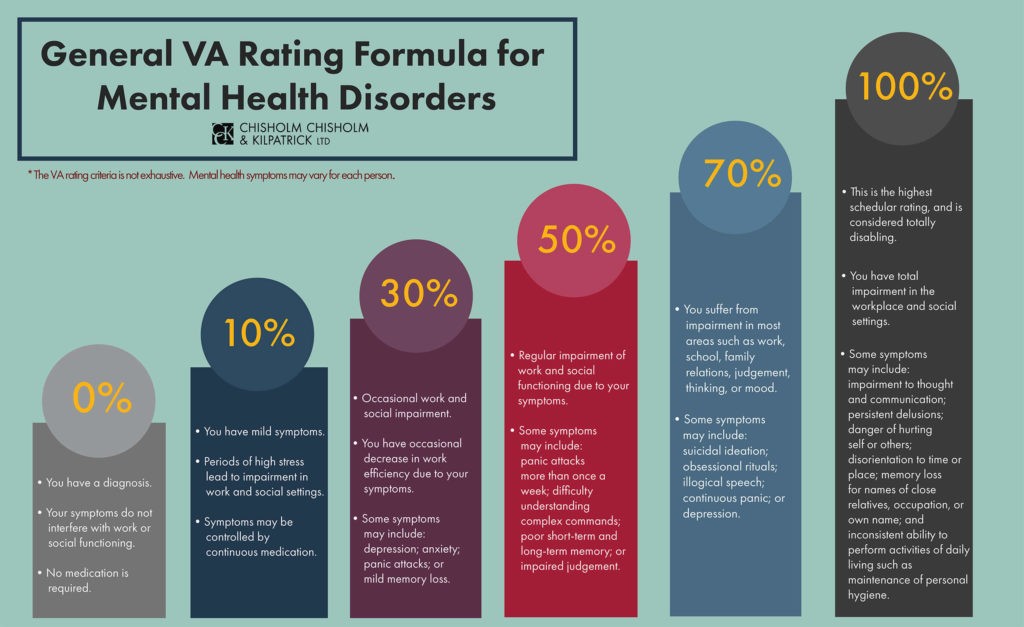 Did VA Deny Your PTSD Disability Claim?
If you are suffering from PTSD due to your military service, Chisholm Chisholm & Kilpatrick LTD may be able to help you secure the disability benefits you deserve.  CCK has years of experience fighting denials and low rating assignments and may be able to assist you with your VA appeal.  Call CCK today for a free case evaluation.