Video
VA Provisions in the New COVID-19 Relief Bill (American Rescue Plan Act 2021)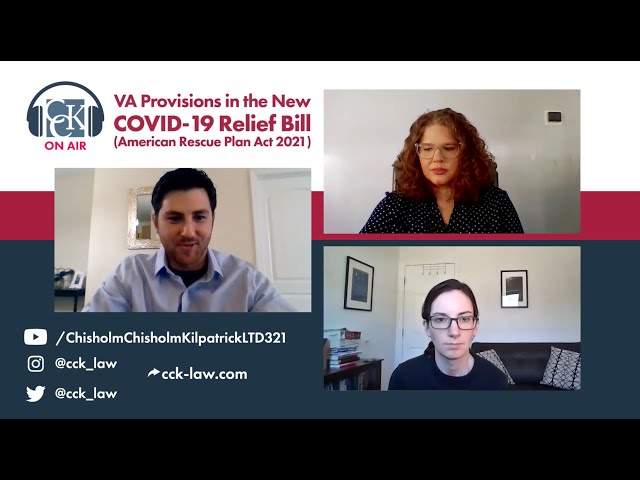 Video Transcription:
Michael Lostritto: Welcome everyone and thanks for tuning in. My name is Michael Lostritto. I am an attorney here at CCK. Today, I am joined by Bethany Cook, an accredited VA claims agent. And also, Amy Odom, an attorney here at CCK. Today, we are going to be discussing some of the provisions particularly with respect to how they impact veterans that are contained in the recently passed COVID relief bill on March 11th of this year. The president signed into law the American Rescue Plan Act of 2021 known as the ARP. Actually, this is a 1.9 trillion-dollar COVID-19 relief package that is aimed at providing economic relief to hundreds of thousands of people all across the country including the veteran's community. Although its aim is to provide relief specifically for those individuals most impacted by the pandemic, it includes a number of different provisions that will impact veterans more specifically.
Michael: How will this bill specifically impact and help veterans? The ARP act includes approximately seventeen billion dollars for the VA for veterans to have continued access to healthcare. It helps fund several different types of assistance programs. Some of which will speak to in this recording and it includes other protections against COVID-19 for the veteran community. They are really like I said, there are a number of provisions in this bill. It is a
wide-ranging bill, but maybe we can get started with you, and maybe you can talk to us a little bit about some ways in which the bill impacts VA healthcare and also the processing of benefit claims and appeals.
Amy Odom: Yeah, Mike, there is just so much in here. The largest portion of VA relief money is about fourteen point five billion dollars and that is going to be directed towards healthcare services for veterans including support for COVID-19 vaccine distributions, so important. Mental healthcare services also really so important. Some Telehealth options so that folks do not need to actually go to a VA healthcare center, they can get care at home just through Zoom or whatever platform they will be using for Telehealth options. Suicide prevention always so important even more so now. Women's health, homeless veterans, and those in danger of becoming
homeless also so important and especially now. Those are all the healthcare kind of initiatives that these four-point five billion dollars will be used for but it is also going to help VA to process benefits claims and appeals much faster. Since the pandemic began, there is been a backlog of two hundred and twelve thousand appeals in claims that are waiting for processing. There was a backlog before the pandemic of seventy-six thousand, but now it is increased more than double of two hundred and twelve thousand dollars.
Amy: And this is really hard in these times were a lot of people are going through economic disadvantages because this is slowing down the delivery of benefits and services to disabled veterans, but the money that is coming through the American Rescue Plan will help the VA to move those appeals and claims out, and help us to get some benefits and services to veterans. VA has now estimated that it is going to process over a hundred thousand claims by September 2022. So that is really great. Great news. It will also reduce the pending benefits hearings and intake requests for the Board of Veterans Appeals, which is great. The board is going to get about ten million dollars to decrease the board of veterans appeals hearing requests, which are now like eighty-seven thousand hearing requests sitting at the board of veterans appeals. It is also going to help decrease the thirty-five thousand appeals backlog at the board of veterans appeals. So that is really great. Bethany, what else other kind of direct benefits are going to veterans?
Bethany Cook: So one of the more immediate benefits is the stimulus checks. With the stimulus checks, individual eligible veterans who are individuals that are reported seventy-five thousand dollars or less and adjusted gross income and did not file a 2018 or 2019 tax return could receive up to fourteen hundred dollars. These have already started going out. If you have your direct deposit information with the IRS and that might have already been deposited, but if you have not received it yet you can use the IRS tracker tool online. If you are receiving a paper check or Visa debit card with the money that might be still coming at a later date.
Bethany: One of the other benefits available is job retraining. The bill has allocated an additional three hundred and eighty-six million dollars for veterans who are unemployed due to the pandemic and do not have other veteran education benefits like the GI bill. Under this program, you may be eligible for up to twelve months of rapid retraining assistance program benefits for high-demand jobs and a monthly housing allowance. Another kind of immediate impact is the waiving or reimbursing a VA co-pays. So the VA has allocated an additional one billion institute dollars to waive co-pays towards for VA healthcare and prescriptions during this pandemic. So, co-pays were suspended. Now, there is a permanent reprieve of co-pays and forgiving medical debts. This also applies to reimbursements for payments starting April 6, 2020, through at least September 30th, 2021.
Michael: Great, thanks. That is great, Bethany. Thank you. Another area that is included in this bill that will really improve veteran's lives I think is that there is a bunch of money being allocated to improve veterans' homes. So there is approximately seven hundred fifty million dollars allocated whether it be construction grants or repayments or payments that are going to be distributed to States veteran's homes to improve living conditions for our nation's most vulnerable veterans who live there. That is a welcomed improvement and the funds are much needed for that particular area. They are also going to be some changes to the GI bill that are contained within this COVID relief package. The changes are going to close what is known 90/10 loophole in order to protect the integrity of the GI Bill and veterans in receipt of their well-earned education benefits will continue to have these protections in this COVID relief bill really helps ensure that. Specifically, schools that receive federal funding are required to get ten percent of income from elsewhere. GI bill money will not count towards that ten percent goal as of 2023 and this is really meant to prevent [inaudible] in schools from taking advantage of the veterans' GI Bill benefits.
Michael: So all good things. Lots of money going to those areas. And again, I think specifically with the veterans' homes, this is an area that is much needed in order to help combat homelessness, which is really a huge problem. And so, I think this is a welcomed improvement. So, Amy, turning back to you. There are really several additional benefits that are contained within this law that will additionally help veterans in different ways. Maybe you could walk us through some of these additional benefits and describe these provisions for us.
Amy: Yeah, sure. So some of the other initiatives that are really going to help out veterans in this bill include providing emergency funding to community investments to ease challenges experienced by many Native Americans and their families. Many of whom have been hit especially hard by this pandemic. The bill also allocates eighty million dollars to establish the Department of Veterans Affairs employee leave fund which provides funds for pay leave for COVID-19 related causes. This is so important because thirty percent of VA's workforce is veterans and they will all benefit from this initiative. Additionally, veterans with kids are going to potentially benefit from additional stimulus payments and an increased child tax credit, and expanded child care tax benefits, all really important to those of us who have kids out here know how the childcare can get pretty expensive. Also, improves a VA supply chain system so important because that is going to help VA get more of that PPE and it is just veteran and non-veteran communities disproportionately impacted by the pandemic. Lastly, veteran restaurant owners are going to get priority for the restaurant revitalization grant, which is also a really, really great benefit for veterans.
Michael: Yeah, thank you, Amy, and thank you, Bethany. There really is a lot to unpack in this new law and as you can tell we are just very briefly going through some of the more important I think provisions of the law as they relate to Veterans, but it is a huge bill. There are a lot of different tentacles so to speak and there is a lot of funding that is provided specifically to the veteran community which is great. So, we hope the information was helpful and that the legislation has a positive and meaningful impact on our clients and veterans at large. Hopefully, keep up with us on social media for the latest information and updates on veteran-related topics and until next time we will see you then, and thanks for tuning in.