Video
Camp Lejeune Class Action Lawsuit: PACT Act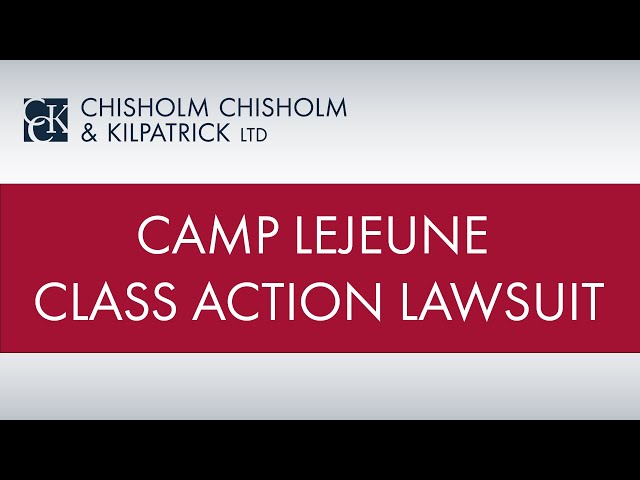 Video Transcription
Emma Peterson: Hello and welcome to a special edition of CCK Live. My name is Emma Peterson and I'm joined today by founding partner Robert Chisholm. And we're going to be discussing some soon-to-be passed legislation – the PACT Act – which will affect veterans, family members of veterans, dependents, and those who lived and served at Camp Lejeune between 1953 and 1982, who may have been exposed to contaminated water.
If you were stationed or lived at the United States Marine Corps Base Camp Lejeune in North Carolina, it's possible that you were exposed to toxic chemicals which existed in the tap water. Although officials were aware of the contamination, they never addressed the problem. So Robert, what were some of the chemicals that were present in the water sources at Camp Lejeune?
Robert Chisholm: Before I get to that, Emma, I just wanted to share with everyone that this is going to be a very different law because usually, when Congress has passed a law for benefits, it's just for the veterans. But this is going to cover family members who also lived on the base. And so, the important thing here is that there were chemicals in the water.
And so, testing found drinking water sources at Camp Lejeune had some of the following things: Benzene, Trichloroethylene, which is also TCE, Tetrachloroethylene, Perchloroethylene, and Vinyl Chloride. All of these chemicals are carcinogenic, which means they can cause cancer.
Emma: So, what are some of the conditions that are linked to exposure to toxic water at Camp Lejeune?
Robert: So, here are some of the conditions that have been linked to these chemicals. The first is Acute Myeloid Leukemia (AML), bladder cancer, brain cancer, breast cancer, Central Nervous System cancer, cervical cancer, esophageal cancer, Hodgkin's Lymphoma, kidney cancer, leukemia, liver cancer, lung cancer, multiple myeloma, myelodysplastic syndrome, Non-Hodgkins Lymphoma, ovarian cancer, prostate cancer, and rectal cancer.
Additionally, if you or a family member were stationed at or lived at Camp Lejeune and went to develop one of these serious health conditions, your health condition may be linked to exposure to contaminated water at Camp Lejeune. So, these are some of the other conditions: cardiac defect, epilepsy, fatty liver cancer, female infertility, immune disorders, kidney damage, miscarriage, again the myelodysplastic syndromes, nerve damage, neurobehavioral effects, Parkinson's disease, renal toxicity/toxicity disease, and scleroderma.
So if you or a family member were stationed at Camp Lejeune, under this new PACT Act, and you were there for at least 30 days and developed one of the conditions we just listed, and we will have this up on our website for those that want to peruse the different conditions, if you developed one of these, compensation may be available to you. So, what does the PACT Act do, Robert? How does it make this compensation available?
Robert: So, the PACT Act is a piece of legislation that was recently passed and signed into law which expanded presumptions for toxic-exposed veterans, including those who have been exposed to herbicides, burn pits, and more. And within the PACT Act is the Camp Lejeune Justice Act, which creates a new federal cause of action for any individual including veterans who resided, worked at, or otherwise were exposed to Camp Lejeune's water for a period of at least 30 days between August 1st, 1953 and December 31st, 1987.
Essentially, what this means that anyone meets this criteria may bring a lawsuit in the United States district court for the Eastern District of North Carolina to obtain compensation for harm that was caused by this exposure to the toxic water. Compensation will also be subject to offsets for federal benefits the individual receives for the claim conditions such as VA or Medicare benefits for a condition caused by the Camp Lejeune exposure.
Emma: So, Robert, how long do folks have to act after the passage of this legislation?
Robert: So, the statute of limitations is two years. So, you have a two-year window after the passage of the PACT Act, or 180 days after the claim has been denied under title 28 USC 2675, whichever is later. Which means it's important to act fast to pursue potential compensation for damages related to this Camp Lejeune exposure.
Emma: So, I know a lot of folks out there watching probably have benefits from under VA for their various conditions due to Camp Lejeune. How is the PACT Act different than VA disability cases? Because I think that's the really important distinction here.
Robert: Essentially, what happens is the PACT Act enables those exposed to the Camp Lejeune's toxic water and their family members – that's the important piece, family members – to seek damages from the federal government. This is different from the process to secure VA benefits, because VA benefits only covers veterans who served, it does not cover the family members.
While VA benefits can provide veterans with compensation for service-connected disabilities, damages from Camp Lejeune lawsuits may include such things as the cost of medical care, lost wages, pain and suffering, diminished enjoyment of life, and also diminished earning capacity. So, it's a much broader remedy.
Emma: A lot more available options than just VA disability benefits. Can veterans have a VA disability claim for compensation for Camp Lejeune service-connected conditions at the same time they have a case against the federal government?
Robert: Yes, they can. The short answer is yes. That's mentioned. The PACT Act enables those exposed and their family members to seek damages from the federal government which is separate from VA disability claims and appeals process. This means that veterans can still pursue their VA disability claims for Camp Lejeune at the same time they're pursuing damages under this new federal PACT Act.
Emma: And are there any offsets? Can veterans double-dip, get VA benefits and damages under this PACT Act?
Robert: They cannot. There's going to be an offset for VA benefits, for Medicare, Medicaid, and I also believe they will be an offset for Social Security disability as well if it's for the same condition.
Emma: So, for example, if a veteran is service-connected for bladder cancer residuals and they're getting VA disability compensation for that, and then damages are awarded under this PACT Act, they're in an offset of the VA disability compensation they're already receiving for whatever damages they get but potentially, there might be even more because there will pain and suffering, lost earning wages, things to that nature. I know a lot of people are probably concerned about this. Will pursuing damages against the federal government hurt someone's VA disability claim?
Robert: No, claims against the federal government are separate from claims against the VA and will have no effect on any pending VA disability claim aside from the potential of an offset.
Emma: So, I think what everyone wants to know Robert is, how can CCK help with this PACT Act legislation passage?
Robert: Good question, Emma. And so, CCK has a lot of experience representing veterans in Camp Lejeune disability claims against the VA and we're excited to be partnering with the premier mass tort firm Levin Papantonio and Rafferty to help those people exposed to toxic water at Camp Lejeune receive the compensation that they deserve. Levin Papantonio, as I said, has a lot of experience with mass tort litigation and CCK has extensive expertise with respect to veteran toxic chemical injuries.
So, contact us today by using the number on the screen or the link below this video to determine if we are able to assist you.
Emma: Well thanks, Robert. And for all those watching, please be sure to subscribe to our YouTube channel, follow us on social media and visit our website for more information.