VA News
VA Appeal Forms Wrongly Rejected by Board of Veterans' Appeals
The Board of Veterans' Appeals recently admitted that some veterans may have had their appeal forms improperly rejected.  Specifically, many veterans who filed VA Form 10182, Decision Review Request: Board Appeal (Notice of Disagreement) with the Board were notified that their forms were untimely and thereby would not be accepted.
What is VA Form 10182?
As part of the Appeals Reform, VA introduced several new forms that correspond with the new appeal lanes.  VA Form 10182, Decision Review Request: Board Appeal (Notice of Disagreement), is the form veterans must use when they wish to appeal a denied issue to the Board of Veterans' Appeals.
Commonly referred to as a Notice of Disagreement, this form allows veterans to identify the specific issue(s) with which they disagree.  It also gives veterans the option to submit additional evidence or request a hearing before the Board, though neither is required.  The main sections of the form include the following:
Personal information, such as the veteran's full name, Social Security number, date of birth, current mailing address, and telephone number.
Board Review Option, or which of three Board dockets they want their appeal processed under (1) direct review by a Veterans Law Judge; (2) evidence submission reviewed by a Veterans Law Judge; or (3) hearing with a Veterans Law Judge.
Specific Issue(s) to be appealed at the Board, along with the date of the unfavorable VA decision notice. The "opt-in from SOC/SSOC" checkbox appears at the end of this section as well.
Certification, signature, and date to finalize the appeal.
Impact of BVA Error on Veterans' Appeals
Under the Appeals Modernization Act, a Rating Decision will still be issued after every claim is filed.  If the veteran disagrees with VA's decision, they have three lanes for appeal: Higher-Level Review lane, Supplemental Claim lane, and Notice of Disagreement lane.  By selecting the Notice of Disagreement lane, veterans can appeal their cases directly to the Board following a decision from the RO, or an unfavorable decision in either the higher-level review or supplemental claim lanes.
Veterans have one year following the date of receipt of the initial Rating Decision to file an appeal using VA Form 10182 (Notice of Disagreement).  In turn, veterans expect that the Board will process all NODs promptly to ensure they have time to fix any errors or provide additional information if necessary.
However, in many cases, the Board waited until the end of the year-long appeal period to notify veterans that their appeal forms were untimely.  As a result, these veterans did not have a chance to remedy the alleged mistake..  While they still have the option to file a new appeal, this means that they may lose their original effective date and any retroactive benefits they may have been owed.
How to Determine if the Board Rejected Your VA Form 10182
As a precautionary measure, the Board of Veterans' Appeals is sending out a notice to any veteran potentially impacted by this error.  However, veterans can also pursue the matter on their own.  Veterans who filed VA Form 10182 with the Board between February 19, 2019, and March 23, 2021, can send a letter to the Board if they believe their form was improperly rejected as being untimely.
In the letter, the veteran must clearly state that they are asking the Board to recalculate timelines.  Veterans should also include their full name, claim number, or Social Security number, the date the initial decision was appealed to the Board, and the date the original Notice of Disagreement (VA Form 10182) indicating intent to appeal was submitted.
These letters can be sent to the "Clerk of the Board" by mail at P.O. Box 27063, Washington, DC 20038 or via fax to 1-844-678-8979.  The deadline to send this letter is March 1, 2022.
Need Assistance? CCK Can Help
If you believe the Board made a mistake regarding your appeal, Chisholm Chisholm & Kilpatrick LTD may be able to assist you.  Our accredited attorneys and claims agents have years of experience handling appeals involving VA errors.
Contact us at 800-544-9144 for a complimentary consultation to see if we can help.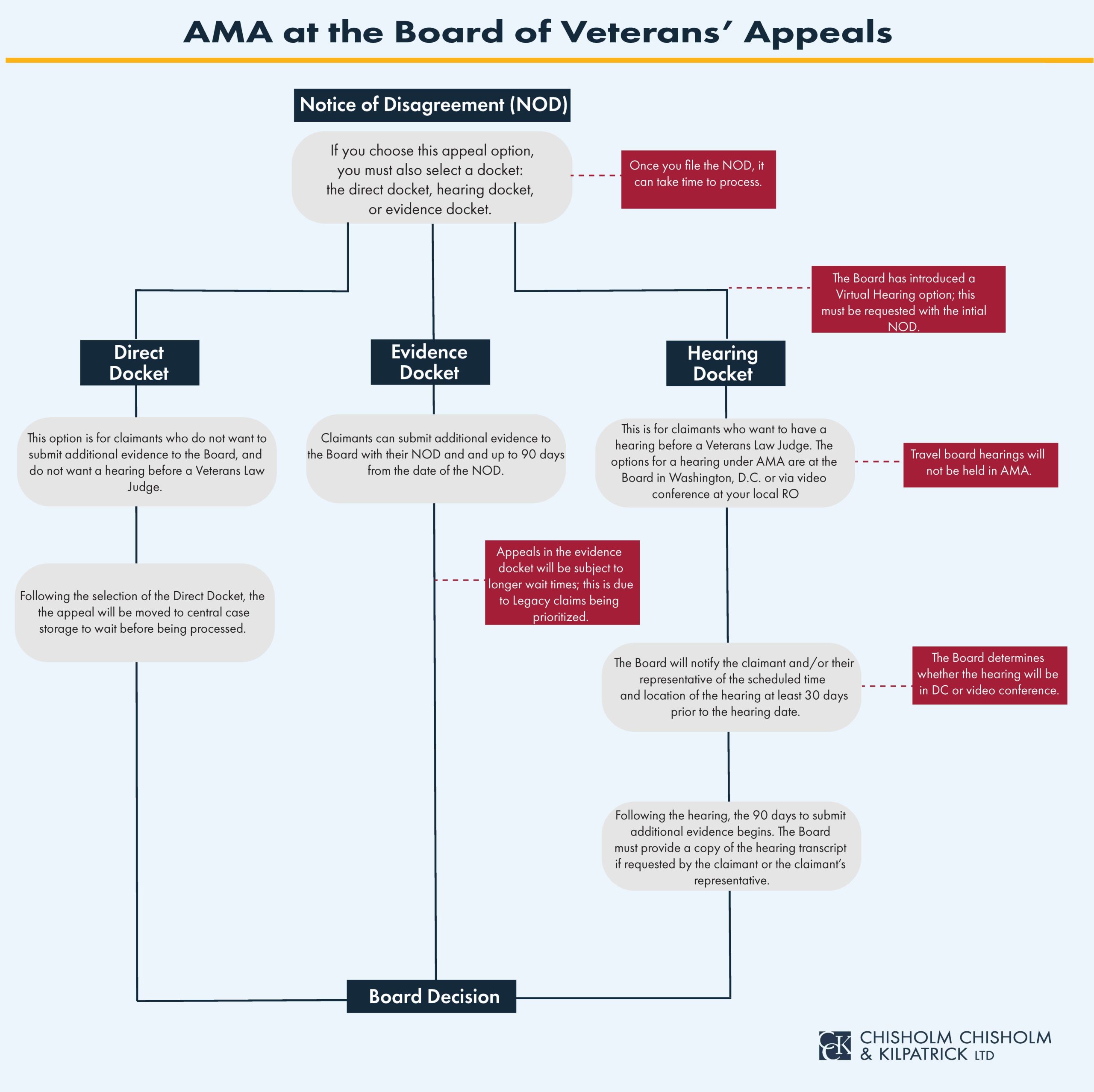 About the Author