Veterans Law
The Most Common Illnesses Associated With Camp Lejeune Water Contamination
We now know that at the North Carolina Marine Corps base of Camp Lejeune, the drinking water was laced with toxins from the 1950's through the 1980's.  At the time, no one was aware of the situation, and even after the toxic exposure came to light, it took years for the proper investigations to ensue, and even longer to offer compensation to the exposed veterans. For many veterans who served at Camp Lejeune, this information is still breaking news, and both the VA and the veteran community are working to get the word out to those who may have been exposed. Some veterans may already be ill and unaware that their cancer or other medical condition could be due to the time they spent at Camp Lejeune between 1953 and 1987.
Although many details are left unreleased to the public, recent investigations show definitive evidence that for those three decades the water contained toxic chemicals and volatile organic compounds. Not only were people drinking water laced with dry-cleaning solvents, degreasers, and chemicals such as benzene, but they were also bathing in it and cooking with it for years.
Service members and their families living at Camp Lejeune may have experienced one of the worst water contamination issues our country has ever known and were not alerted about it until decades later. Many veterans suffer from multiple conditions that we now know are most likely caused by their exposure. Many of these diseases are insidious too, meaning they don't manifest until years or even decades later.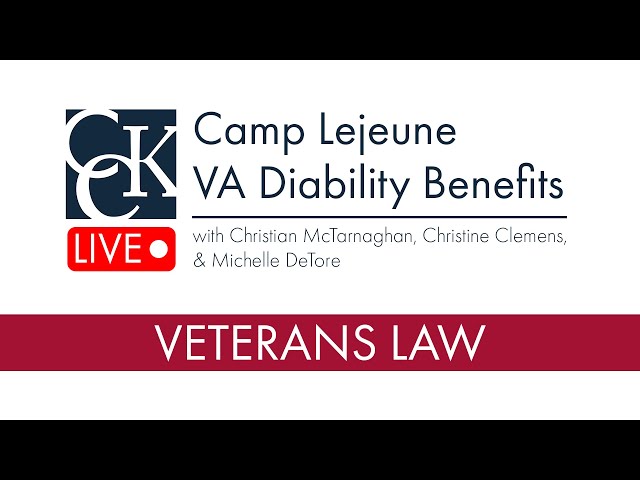 Camp Lejeune Water Contamination
Servicemembers and their family members living at United States Marine Corps Base Camp Lejeune, North Carolina between August 1, 1953 and December 31, 1987 may have been exposed to contaminated drinking water as they were drinking it, as well as cooking with it, bathing in it, and washing their clothes in it.  Veterans and their family members became sick with a host of health problems now presumed to be connected to their military service.
8 Presumptive Conditions Linked to Camp Lejeune Water Contamination
VA has established a list of eight presumptive conditions for veterans who served at Camp Lejeune for at least 30 cumulative days from August 1, 1953 through December 31, 1987:
Adult leukemia
Aplastic anemia and other myelodysplastic syndromes
Bladder cancer
Kidney cancer
Liver cancer
Multiple myeloma
Non-Hodgkin's lymphoma
Parkinson's disease
Since VA presumes that these conditions are related to veterans' exposure to contaminated drinking water at Camp Lejeune, it does not require a medical nexus.
15 Conditions Eligible for Healthcare Benefits for Those Exposed at Camp Lejeune
There are 15 conditions, some of which are also on the presumptive list for disability compensation, that VA acknowledges as being associated with contaminated water exposure at Camp Lejeune; VA offers free healthcare for these conditions to veterans and their family members.  Importantly, VA does not offer disability compensation for every condition for which it offers healthcare.  It is necessary to look at each list to determine for what you may qualify.  The list of conditions that qualify for healthcare benefits, such as reimbursement for out-of-pocket healthcare costs, includes the following:
Bladder cancer
Breast cancer
Esophageal cancer
Female infertility
Hepatic steatosis
Kidney cancer
Leukemia
Lung cancer
Miscarriage
Myelodysplastic syndromes
Non-Hodgkin's lymphoma
Renal toxicity
Scleroderma
To qualify for healthcare benefits for any of the above-mentioned conditions, veterans and family members must submit VA Form 10-10068: Camp Lejeune Family Member Program Application along with evidence proving your eligibility for the program.
Compensation for Camp Lejeune Toxic Water Exposure
Are you a veteran, a family member of a veteran, a civilian, or dependent of a deceased veteran who served at Camp Lejeune between 1953 and 1987 for at least 30 cumulative days? If so, the now-passed PACT Act may enable you to receive compensation due to contaminated water exposure. Contact us today to learn more about the Camp Lejeune water contamination lawsuit and how to qualify.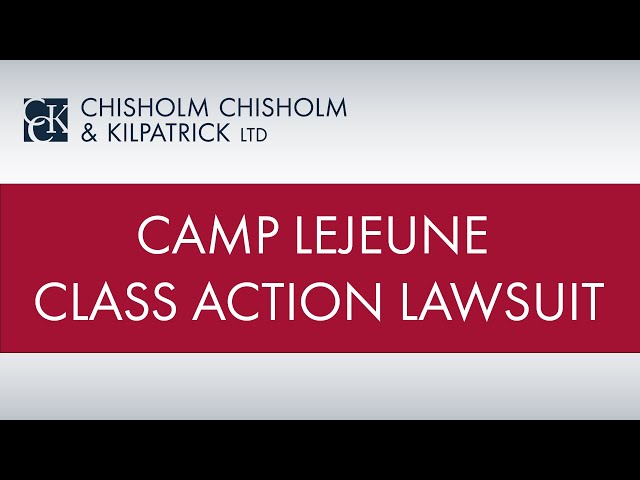 Call Chisholm Chisholm & Kilpatrick for a Free Case Evaluation: 800-544-9144
Chisholm Chisholm & Kilpatrick LTD is experienced in handling claims related to Camp Lejeune Water Contamination.  If you were previously denied VA disability compensation benefits for one of the conditions listed above, we may be able to help you file an appeal. Contact us today for a free case evaluation by calling 800-544-9144.