Veterans Law
Neurobehavioral Effects of Camp Lejeune Contaminated Water Exposure
History of Water Contamination at Camp Lejeune
Water contamination at Camp Lejeune existed for decades and exposed thousands of people to serious health risks.  Specifically, from 1953 to 1987, everyone living or working at United States Marine Corps Base Camp Lejeune in North Carolina was exposed to a variety of toxins in the water.  Service members living on the base at the time, along with their families, were unknowingly drinking contaminated water, as well as cooking with it, bathing in it, and washing their clothes in it.  Veterans and their family members became sick with a list of health problems now presumed to be connected to their military service.
VA's List of Presumptive Conditions Associated with Camp Lejeune Contaminated Water Exposure
VA has established a list of presumptive conditions for service members that served at Camp Lejeune for at least 30 cumulative days from August 1, 1953 through December 31, 1987:
Adult leukemia
Aplastic anemia and other myelodysplastic syndromes
Bladder cancer
Kidney cancer
Liver cancer
Multiple myeloma
Non-Hodgkin's lymphoma
Parkinson's disease
In order to receive presumptive service connection, you must show that you served during that time period for at least 30 days (consecutive or non-consecutive) and have a current diagnosis of one of the above-mentioned conditions.  Importantly, because VA will presume that one of the above conditions is related to your service, you do not need to prove that your illness is connected to your military service.  Service members who served at Camp Lejeune and are experiencing other health conditions can still apply for VA disability compensation, but must prove that their disabilities are connected to their military service by providing a medical nexus.
Healthcare Benefits for Veterans and Family Members
There are 15 total conditions, some of which are also on the presumptive list, that VA acknowledges as linked to contaminated water exposure at Camp Lejeune; VA offers free healthcare for these conditions.  It is important to note that VA has a list of exposure-related conditions for disability compensation purposes (listed above) and a list of exposure-related conditions for healthcare purposes.  These lists are different and VA does not offer disability compensation for every condition for which it offers healthcare.  The list of conditions eligible for healthcare benefits, such as reimbursement for out-of-pocket healthcare costs, include the following:
Bladder cancer
Breast cancer
Esophageal cancer
Female infertility
Hepatic steatosis
Kidney cancer
Leukemia
Lung cancer
Miscarriage
Multiple myeloma
Myelodysplastic syndromes
Neurobehavioral effects
Non-Hodgkin's lymphoma
Renal toxicity
Scleroderma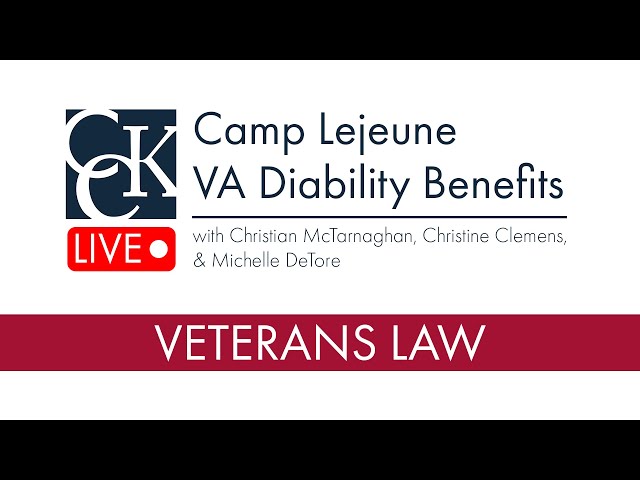 In order to receive reimbursement for costs incurred during the treatment of a qualified condition listed above, veterans and family members must first apply to the Camp Lejeune Family Member Program by completing VA Form 10-10068: Camp Lejeune Family Member Program Application and submitting it to VA.  In addition, VA will require you to submit evidence proving your eligibility for the program, such as:
Marriage license or birth certificate that shows a dependent relationship to a veteran who was stationed at Camp Lejeune
Proof that you lived at the base for at least 30 cumulative days between August 1, 1953 and December 31, 1987 (e.g. base housing records, military orders, utility bills, or tax forms)
Medical records proving that you paid medical expenses for one of the qualifying conditions above, "respective to the following date ranges":

Dependents who lived at Camp Lejeune between January 1, 1957 and December 31, 1987 can be reimbursed for out-of-pocket medical expenses incurred on or after August 6, 2012
Dependents living at Camp Lejeune between August 1, 1953 and December 31, 1956 can have medical expenses incurred due to a qualifying condition reimbursed for care received on or after December 16, 2014

VA Form 10-10068b: Camp Lejeune Family Member Program Treating Physician Report completed by your doctor.
It is important to note that qualifying family members are not eligible to receive VA disability compensation for any conditions associated with Camp Lejeune water contamination.  Family members are only eligible to receive healthcare benefits.
Neurobehavioral Effects
There are currently a number of studies looking further into neurobehavioral effects, one of the health conditions listed above associated with water contamination at Camp Lejeune.  VA defines neurobehavioral effects as conditions of or relating to the relationship between the action of the nervous system and behavior.  Examples of neurobehavioral effects may include: poor memory, dementia, poor concentration, post-traumatic stress disorder, insomnia, fatigue, motor problems, etc.
University of Pittsburgh Studies
Studies at the University of Pittsburgh have showed the effects of toxic solvents on occupationally exposed subjects.  The studies' findings included social alienation, poor concentration, anxiety, and impairments in learning and memory among those exposed.  Hyperactivity and behavioral problems were also found among school-aged children when certain toxins were in the school buildings.  Further research into this area points out that behavioral problems may be the earliest sign of chemical toxicity.
National Center for Biotechnology Information (NCBI) Study
An NCBI study concluded that long-term exposure to low concentrations of the chemical trichloroethylene (TCE), common in groundwater contamination, is associated with neurobehavioral deficits.
Nuclear Regulatory Commission (NRC) Findings
The NRC now agrees that neurobehavioral effects, specifically Parkinson's, should be included and covered by VA in terms of presumptive service connection for conditions associated with exposure to contaminated water at Camp Lejeune.  This conclusion is based on the positive trends of increased risks from occupational and drinking water exposures found in previous studies.
Compensation for Camp Lejeune Toxic Water Exposure
Are you a veteran, a family member of a veteran, a civilian, or dependent of a deceased veteran who served at Camp Lejeune between 1953 and 1987 for at least 30 cumulative days? If so, the now-passed PACT Act may enable you to receive compensation due to contaminated water exposure. Contact us today to learn more about the Camp Lejeune water contamination lawsuit and how to qualify.
Call Today to Speak with a Member of Our Team
If you were exposed to the water contamination at Camp Lejeune and are suffering from one or more of the associated health conditions, Chisholm Chisholm & Kilpatrick LTD may be able to help you receive the VA disability benefits you deserve.  If your disability compensation claim was denied, call 800-544-9144 for a free case evaluation.