Veterans Law
The Do's and Don'ts of C&P Examinations
Compensation and Pension (C&P) examinations are the focus of today's Facebook LIVE. In this week's installation, our attorneys provide some valuable "Do's and Don'ts" for veterans to follow before, during, and after their C&P exams.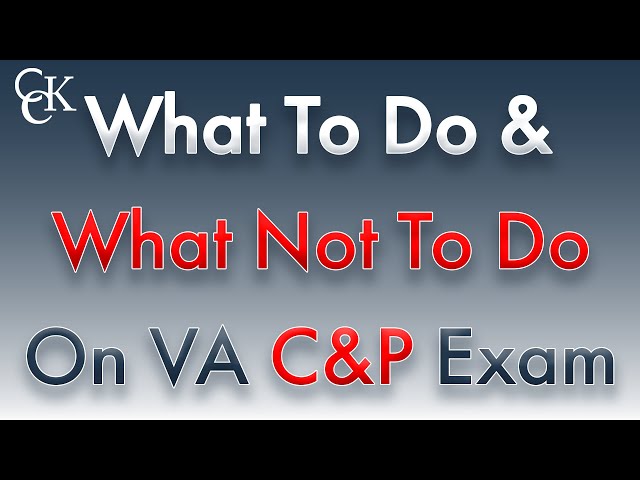 Background Knowledge: Compensation and Pension (C&P) Examinations
Compensation and Pension (C&P) Examinations are medical exams ordered by the Department of Veterans Affairs (VA) to evaluate the conditions a veteran is claiming for disability compensation.
When Does VA Order a Compensation and Pension (C&P) Exam, and who Conducts it?
When a veteran files a claim for service connection or increased rating, but does not have the required elements to prove their claim (e.g. updated medical evidence), VA will order a compensation and pension examination. These exams are meant to assess the etiology and/or severity of a veteran's condition and are a part of VA's duty to assist veterans in obtaining evidence to support their disability claim.
These exams are conducted by VA medical professionals or third-party medical professionals contracted by VA. The examiner is not always a doctor; nurse practitioners and physicians assistants are also authorized to conduct these exams. Veterans seeking disability compensation for more than one service-connected condition may be required to attend a separate C&P exam for each disability.
Disability Benefits Questionnaire (DBQ)
During C&P exams, medical examiners will often complete what is known as a Disability Benefits Questionnaire (DBQ), a check-the-box style series of questions aimed at evaluating the veteran's specific condition. Many believe that this format is not sufficient to adequately capture the full picture of a veteran's disability, so our team provided some tips to make your DBQ more effective:
Take notes as to the length of your C&P exam and whether the medical examiner took enough time to adequately assess your condition.
If the DBQ was completed but lacks additional analysis, veterans can argue that the exam was inadequate due to a lack of development.
DBQ's are available to veterans on VA's website. Attempt to have your personal treating doctor, one who knows your condition better than a one-time VA examiner, complete a DBQ for you and submit it to VA.
Independent Medical Opinions (IMOs)
When the Board of Veterans' Appeals is reviewing a veteran's file for adjudication, they may discover that some medical questions have been left unanswered or prior examinations were inadequate. It is in this situation that the Board may request an independent medical opinion (IMO) from a doctor of a specialty that is relevant to the pending appeal. These medical opinions are not exams that a veteran must attend, but rather a review of the evidence currently of record.
If an independent medical opinion is conducted, the veteran and their representative will be notified and will have 60 days to respond with evidence or argument either contesting or agreeing with its findings.
Before Your Exam:
DO understand what your exam is about
You should come to a C&P exam prepared to talk about your disabilities and how they impact your life and ability to work. This sort of information is what the examiner will be focusing on. If you are being seen, for example, for an orthopedic condition you should be prepared to discuss how this condition affects your ability to perform occupational tasks. If you are attending a C&P exam for a psychological condition, similarly phrase your answers to show the impact it has on your daily life and ability to be productive at work.
Be aware of the type of exam that you are attending. If you are seeking an increased rating the C&P examiner will focus on the severity of your condition, whereas if you are seeking service connection the examiner will focus on the etiology (meaning how the disability arose) and severity. Be prepared to answer questions related to the type of claim you are being examined for. If the examiner does not seem interested in what happened to you during service it is not because this information is unimportant, but rather it may not be relevant to assessing the current severity of the condition.
During Your Exam:
DO attend your exam
VA places a lot of weight on these examinations when it comes time to adjudicate your claim and it is crucial that you attend it. If you do not attend or reschedule your initial C&P exam, it will most often result in a claim denial. Be sure to inform VA of your inability to attend this exam as soon as possible and reschedule it. If you are seeking an increased rating, missing your C&P exam could mean depriving your claim of up-to-date medical evidence as adjudicators may have to rely on the potentially outdated evidence of record.
DO be honest
Be honest about what happened in service to cause your disability and the effects you currently experience. Your C&P examiner will have already—or will soon read through your file and compare your statements on the day of the exam to the statements you've previously provided. Consistency is a key factor here and you do not want to discredit yourself.
DON'T downplay the severity of your symptoms
Your relationship with a C&P examiner is very different from that of your treating physician. Compensation and Pension examinations are not conducted to diagnose or treat a condition, but rather to get a picture of how severe the disability is and how it impacts you on a daily basis. When the examiner asks, "how are you today?" be honest and try to avoid the polite reply of "I'm doing well." This is because the examiner is noting down everything you say. Reply with honesty about how your disability is impacting you.
Be sure to mention any flare-ups you may have, how severe they are, and how often you experience them. Explain what your "bad days" are like and how often you have them. Some veterans find it helpful to bring a list of symptoms to their examinations to ensure they won't forget to mention any. It may also be helpful to bring a family member or friend to attend your C&P exam with you as they may be able to help fill in any gaps of information you may have missed.
DON'T exaggerate
There is a specific term to classify exaggeration of symptoms, called malingering. Compensation and pension examiners will note any suspected exaggeration in their report. If you believe this is wrongfully noted in your exam, ask your family or friends to submit a statement in support of the severity level you described or ask your treating physician to complete a DBQ or write a statement.
After Your Exam
DO request a copy of your exam
To request a copy of your C&P examination, you can send a letter requesting it to your Regional Office. Once you obtain this information, you should review the exam to ensure that it adequately represents what you reported to the examiner. If you feel as though the results were not adequate, you or your representative can respond with reasons as to why you feel this way. VA weighs C&P exams heavily when adjudicating claims, so it is important that you review these results.
DO be aware of your options
If your C&P exam results are unfavorable, accredited representatives can obtain private medical opinions to counter the VA exam. Additionally, veterans' advocates can look into the credentials of the VA examiner to question whether they were qualified to opine on the veteran's condition. For example, a doctor specializing in orthopedic conditions should not be examining a veteran's post-traumatic stress disorder. You may request to see your examiner's credentials using a Freedom of Information Act (FOIA) request.
About the Author