Veterans Law
The Backlog of VA Claims and Appeals 2018 Update
The backlog of claims and appeals at the Veterans Benefits Administration (VBA) has been an ongoing issue at VA over the course of many years. Legislation enacted in August 2017, the Veterans Appeals Improvement and Modernization Act, is meant to reduce the department's backlog and therefore improve wait times for veterans' disability compensation decisions.
But just how large is VBA's backlog of claims and appeals, and how did it get this way? Will Appeals Reform remedy the situation? We will take a look at how this backlog came to be, and what VA is doing to reduce it.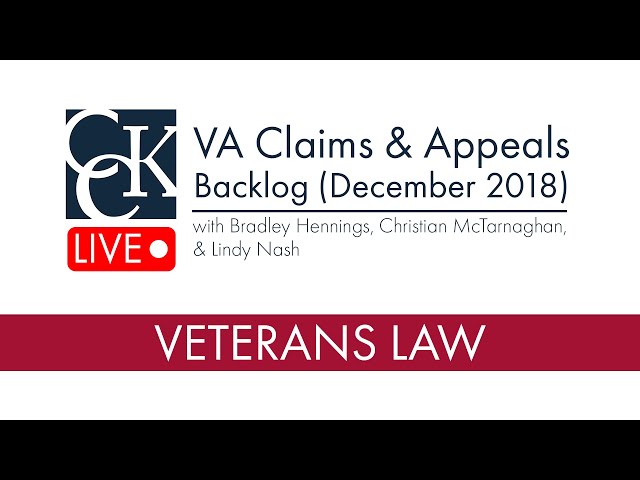 Structure of the Department of Veterans Affairs
To understand how VA's backlog came to be and where it fits into the department as a whole, it is important to recognize the structure of VA and the administrations within it. The Department of Veterans Affairs is made up of three separate administrations:
The Veterans Benefits Administration (VBA) oversees disbursement of a variety of different benefits— from disability compensation, to pension, to education benefits, and more.
The Veterans Health Administration (VHA) is the entity of VA that manages veterans' healthcare, such as at VA Medical Centers.
The National Cemetery Administration (NCA) maintains national cemeteries and directs burial benefits for veterans and their families.
It is important to note the distinction between the VBA and VHA, as the two operate separately.
Two Separate Backlogs at VBA
Two separate backlogs exist at the Veterans Benefits Administration: one comprised of claims and one comprised of appeals. Claims refer to initial filings— for example, a claim for service connection. Once a claim moves through the process, the veteran will receive a rating decision and have the opportunity to file a Notice of Disagreement if the outcome is unfavorable. Once a Notice of Disagreement is filed, the claim becomes an appeal.
The amount of time it takes for a veteran's claim or appeal to be adjudicated varies on a case-by-case basis. The average amount of time it takes for a veteran's claim to be adjudicated is about 120 days, or four months. Following submission of a Notice of Disagreement, veterans wait an average of three years for the next decision on their appeal, such as a Statement of the Case. Veterans who continue their appeal to the Board of Veterans' Appeals experience an average wait time of about five years.
VBA Claims Backlog
A "backlogged" claim is any claim that has not been adjudicated by VBA within 125 days. The claims backlog reached its peak in March of 2013 with 611,000 claims. So, what contributed to this massive backlog? Although we do not know for sure, our team was able to identify some potential contributing factors:
Agent Orange Presumption. In 2010, the VA Secretary added three new conditions to the list of conditions covered under the Agent Orange presumption to include Ischemic Heart Disease, Parkinson's Disease, and Chronic B Cell Leukemias. This may have led to a significant uptick in compensation claims.
Complexity of Claims. VA data shows that the complexity of initial claims entering the system has increased dramatically from past years. In fact, VA saw a 200% increase in initial claims containing eight or more specific medical conditions over the past 10 years. Claims of increased complexity can take longer to adjudicate.
Processing Errors. Errors by adjudicators may contribute to the claims backlog as well. For example, the Board of Veterans' Appeals found flaws or requested more information in 57% of cases it reviewed in 2017. Additionally, 41% of Board remands in 2015 were caused by a VBA error during adjudication.
IT Systems. VBA's IT systems have exhibited flaws in the past, such as with tracking and processing claims.
Design of Processing System. Docketing appeals that had been certified to the Board, which is a minor administrative task, added an average of 222 days to processing times for appeals decisions made in fiscal year 2015.
Current State of the Claims Backlog
As of September 2018, the number of backlogged claims in VBA's system was about 84,000 and the number of pending claims was just under 350,000. The significant reduction of the claims backlog may be attributed to VBA's "Transformation Plan." This plan encouraged Regional Offices to process more claims by instituting mandatory overtime and performance goals.
VBA Appeals Backlog
The appeals backlog is a separate category from the claims backlog. VA's appeals backlog is made up of appeals at both the VBA and Board of Veterans' Appeals levels.  Currently, there are about 470,000 pending appeals with approximately 120,000 at the Board.  As stated before, veterans wait an average of three years for a standard appeal to be adjudicated and five years when appealing to the Board of Veterans' Appeals.
Various factors have contributed to the increasing appeals backlog at VA, such as:
Prioritizing Claims Backlog. When the claims backlog was near its peak, priority was placed on adjudicating these claims. As a result of the shift in priorities and resources within the department, an inverse relationship was established where the claims backlog dropped as the appeals backlog increased.
Periods of Inactivity. A "period of inactivity" means the amount of time from when VBA staff could have taken action on an appeal to when they actually took an action. When a veteran's appeal enters the system and reaches the next phase, it is not necessarily being adjudicated throughout that waiting period. Periods of inactivity accounted for 45% to 76% of the total processing time in each phase of adjudication, according to a March 2018 Office of Inspector General report.
Processing Errors. According to appeals data from 2015, 13% of all remanded appeals were returned to the Board without completing remand instructions. Additionally, 17% of all appeals were closed prematurely without notifying the veteran, causing missed appeal deadlines. Errors such as these can further perpetuate the backlog of claims.
Potential Solutions
The Department of Veterans Affairs has already implemented some changes to address its appeals backlog, and will soon enact more.
Increased Hiring. In FY 2018, VA hired 186 new attorneys to adjudicate veterans' appeals. This led to the Board issuing over 81,000 appeals decisions—28,000 more than last year (2017).
Training of Adjudicators. While this increased hiring may help to reduce the backlog, it is equally important that these adjudicators are properly trained. Proper training can lead to a reduced number of remands.
Appeals Reform. The new VA appeals process, enacted by the Veterans Appeals Improvement and Modernization Act of 2017, was developed to simplify the VA claims and appeals process while reducing veteran wait times. This new process is set to take effect in February 2019, when its effects on the backlog may become more apparent.