Veterans Law
Plantar Fasciitis and VA Compensation
Plantar Fasciitis is a common condition of the foot in which the plantar fascia, a thick band of tissue running across the bottom of the foot connecting the heel bone to the toes, becomes inflamed. This tissue acts as a shock absorber and supports the arch of the foot. When these tissues are overstretched, tears can occur.
How Does Plantar Fasciitis Occur?
Repetitive stretching and tearing of the plantar facia, tissues on the bottom of the feet, can result in pain and inflammation.  One condition that may exacerbate plantar fasciitis is pes planus.  Pes planus, often known as flat feet, is a foot deformity where the arch of the foot is flattened to the point where it may even touch the ground.  Pes planus, flat feet, can place more pressure on the veteran's heels which can strain the tissues on the bottom of the feet and worsen plantar fasciitis.
Plantar fasciitis most often affects those over the age of 40, but it can occur at any age.  Those who work in professions that require prolonged periods on their feet or who partake in certain forms of exercise, such as long-distance running, face an increased risk of developing plantar fasciitis.  Veterans who are obese also face an increased risk of plantar fasciitis.
Service Connection for Plantar Fasciitis
To file a claim for plantar fasciitis, veterans should fill out and submit VA Form 21-526, Application for Disability Compensation and Related Compensation Benefits.  Along with the form, veterans should also submit a diagnosis of plantar fasciitis.  To establish service connection, veterans will also need evidence of an in-service event, injury, or incident which contributed to the plantar fasciitis.  Veterans will also need a medical nexus linking the diagnosis to the in-service occurrence.
In some cases, plantar fasciitis may also be claimed as secondary service connection.  Secondary service connection can result when a condition develops from a separate condition that is already service-connected.  In this instance, plantar fasciitis can be claimed as a secondary service-connected condition to pes planus because pes planus adds pressure to the veteran's heel, where the plantar facia is located.
How Does VA Rate Plantar Fasciitis?
Plantar fasciitis is rated under 38 CFR § 4.71a, Diagnostic Code 5285.  Veterans receive higher ratings if the condition affects both feet and is considered not responsive to treatment.  VA changed the rating criteria in early 2021, adding a diagnostic code specifically for plantar fasciitis. Below are the specific qualifications for each rating percentage:
10% – Veterans can receive the 10 percent rating for plantar fasciitis affecting one or both feet that is responsive to treatment.
20% – Veterans can receive the 20 percent rating for plantar fasciitis affecting one foot and is not responsive to treatment. This means that there is no relief from non-surgical or surgical treatment.
30% – Veterans can receive the 30 percent rating for plantar fasciitis affecting both feet and is not responsive to treatment.
40% – Veterans who lose the use of a foot because of plantar fasciitis can be awarded a 40 percent rating under diagnostic code 5167.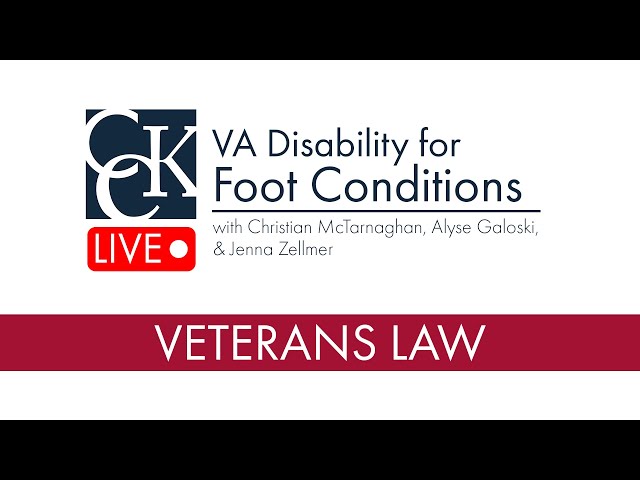 Compensation and Pension (C&P) Examinations for Plantar Fasciitis
VA may order a Compensation and Pension examination for plantar fasciitis to analyze whether it is related to service.  The examiner will ask questions regarding your condition and how it may be caused by your time in service.
After the examination, the VA examiner is going to issue a decision. There are two opinions the examiner can issue: favorable or unfavorable.  A favorable opinion will support the notion that your condition is related to service, whereas an unfavorable decision will not support a connection to service.
The VA examiner will also analyze the severity of the symptoms and form an opinion.  If the examiner issues a favorable opinion, then VA adjudicators will assign a disability rating, or percentage, that is consistent with the favorable opinion.
Veterans should be sure to request a copy of the examination report, otherwise, VA will not provide one.  If the veteran receives an examiner's opinion they disagree with, the veteran can obtain a private physician or doctor's opinion from outside VA.  This opinion can be used to argue against the VA examiner's findings.
Obtaining Total Disability based on Individual Unemployability (TDIU)
Veterans who do not have a 100 percent combined disability rating but are unable to work because of plantar fasciitis may be entitled to total disability based on individual unemployability.
Veterans granted TDIU will receive compensation at the one hundred percent level from VA.  A one hundred percent rating means that VA acknowledges that a veteran's service-connected condition or conditions inhibit them from obtaining gainful employment.  VA generally defines gainful employment as a steady job that allows the veteran to support themself financially.  If a veteran receives the one hundred percent rating, they will receive the highest form of compensation from VA.
VA Claim Denied? Contact Chisholm Chisholm & Kilpatrick
The experienced, accredited advocates and attorneys at Chisholm Chisholm & Kilpatrick LTD have decades of experience successfully representing Veterans and their dependents before VA, the Court of Appeals for Veterans Claims, and the Federal Circuit. If your VA disability claim was denied, we may be able to help with an appeal. Contact us at 800-544-9144 for a free consultation.
About the Author