Veterans Law
Military Discharge Status and What It Means for Your Entitlement to VA Benefits
"Bad paper" – or less-than-honorable discharge status from the military – can cause veterans shame, stigma, and ineligibility for VA benefits. Many veterans, and some VA health care professionals, assume that a less-than-honorable discharge status on a veteran's discharge documents automatically disqualifies them from healthcare, disability compensation, educational assistance, and other VA benefits.
Though entitlement to benefits is unlikely if you received a less-than-honorable discharge status, there are some exceptions made by VA. There are a variety of types of less-than-honorable discharge that carry different consequences in post-military life. Additionally, VA can make a case-by-case determination of "character-of-discharge" that could potentially allow you to access healthcare and other benefits, if (and only if) you request medical treatment or submit a disability compensation claim.
Types of Discharge Status
A military discharge is simply defined as a service member's release from their obligation to continue service in the armed forces. When discharged, a service member also receives a "characterization of service" which appears on their DD-214 and usually falls into one of five categories: honorable, general under honorable conditions, other than honorable, bad-conduct, or dishonorable.
Honorable Discharge
An honorable discharge is by far the most common with over 85 percent of veterans receiving this type of discharge.  Veterans with an honorable discharge are entitled to all VA benefits (e.g., disability compensation, educational, healthcare, vocational).
General Discharge Under Honorable Conditions
General discharge means that you met the requirements of service, likely with some minor disciplinary actions, or failure to meet certain standards.  However, overall, your military performance was considered satisfactory. Veterans who receive general discharges under honorable conditions are entitled to all VA benefits, with the exception of GI Bill education benefits.
Other Than Honorable (OTH) Discharge
An OTH discharge is typically an undesirable discharge.  It means you had some serious departures from the conduct, protocol, and performance expected of a service member. Examples of situations that might result in an OTH discharge include security violations, serious misconduct that endangers other members of the military, or use of deliberate force to seriously hurt another person.
In these cases, VA will conduct a character of service determination to assess eligibility for benefits.  Therefore, an OTH discharge does not mean you are definitely barred from getting VA benefits.  Instead, VA has to determine based on the facts of your case whether you are allowed to receive benefits based on the statutes and regulations.  OTH discharge characterizations are made administratively rather than through court-martial proceedings. Veterans have long reported misuse of OTH characterizations in cases where the soldier's misconduct was related to post-traumatic stress disorder (PTSD), traumatic brain injury (TBI), military sexual trauma (MST) or, before 2011, sexual orientation.
Bad Conduct Discharge
A bad conduct discharge is a punitive, or disciplinary, discharge that is imposed by a court-martial. A court-martial is a criminal trial conducted by the military when there is a violation. If you receive a bad conduct discharge by a special court-martial (reserved for more serious charges), rather than a general court-martial (reserved for crimes that would be felonies if committed by civilians),
Dishonorable Discharge
The worst discharge you can receive is a dishonorable discharge. This type of discharge status is usually reserved for veterans who have committed a very serious offense such as desertion, rape, or murder. Dishonorable discharges are only issued if you are convicted at a general court-martial that calls for dishonorable discharge as part of the sentence. Thus, if you receive a dishonorable discharge, you are immediately ineligible for all VA benefits.
Other Than Dishonorable Conditions: VA Determinations of Eligibility
Many veterans assume that when they get a less-than-honorable discharge, they are ineligible for benefits. Similarly, veterans are sometimes told by clerks at VA medical centers that they are ineligible simply based on their DD-214, which states their discharge status. These assumptions frequently deter veterans with less than honorable discharges from even applying for VA benefits.
However, veterans with an OTH Discharge or, more rarely, a Bad Conduct Discharge can be deemed eligible for some VA benefits. On a case-by-case basis, VA determines whether the incidents that led to the discharge may be found to have been "under conditions other than dishonorable," and thus whether basic eligibility for VA benefits can be established. This character of service determination is performed by your local VA Regional Office.
Character of Service Determinations
VA does not consider character of discharge until it receives a claim for benefits. This means the onus, or responsibility, is on the veteran to initiate the case-by-case investigation. You can initiate the process via a request for medical treatment at your VA Medical Center (usually VA Form 10-10EZ) or an application for compensation or pension at your VA Regional Office (usually VA Form 21-526).  If you received an honorable discharge, you will not need a character of service determination.
To determine whether the events that led to discharge were "under conditions other than dishonorable," VA reviews the facts and circumstances surrounding the incident(s) that led to discharge, as report by the military. You can also submit your own supporting evidence or evidence obtained from third parties.  Essentially, VA is going to compare what you did in service to the statutory and regulatory bars (see below) and then make a determination.
VA is more likely to decide your case favorably if your offense was less serious or if there were mitigating circumstances, meaning there were circumstances (for example, mental illness) that at least partially explain why you engaged in misconduct. It may also help your case if the medical treatment you seek is for a condition incurred in or caused by your service.
Importantly, if you disagree with your character of service determination, which is completed by each individual branch of service you can file an appeal.  It may be beneficial to get help from a veterans service organization or an accredited attorney when going through this process.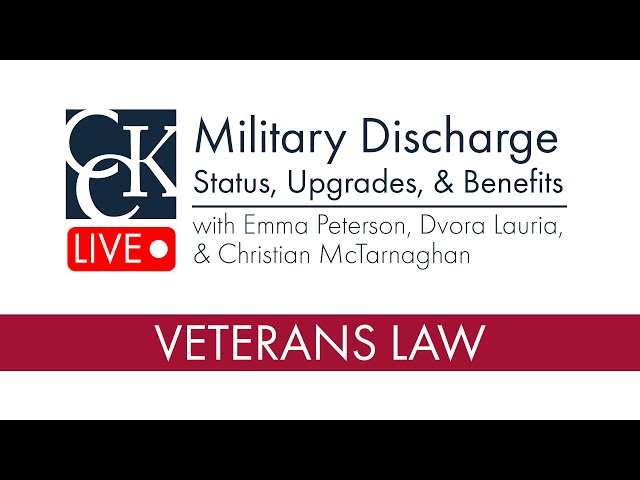 Statutory Bars to Benefits
By law, VA is prevented from granting entitlement to benefits if the reason for the veteran's discharge constitutes a "statutory bar to benefits." That is, if the incident(s) that led to separation or discharge are any of the following:
Sentence of a general court-martial
Being a conscientious objector who refused to perform military duty, wear the uniform, or otherwise comply with lawful orders of competent military authority
Desertion
Resignation by an officer for the good of the service
Absence without official leave (AWOL) for a continuous period of 180 days or more, without compelling circumstances to warrant such prolonged unauthorized absence (as determined by VA)
Requesting release from service as an alien during a period of hostilities
The exact language for this rule is found in 38 USC § 5303.  However, it is important to note that when considering the discharge status of an individual who went AWOL, there is another subset of adjudication that needs to happen.  Specifically, VA must look at the totality of circumstances to see if the individual had a good reason for being AWOL for more than 180 days.  After looking at the reasons and comparing it to the quality of service, VA can make a more appropriate determination.
Regulatory Bars to Benefits
In addition to the statutory bars, there are also regulatory bars found under 38 CFR § 3.12(d). Individual's character of discharge is considered to have been issued "under dishonorable conditions" if they were released under any of the following circumstances:
Acceptance of an undesirable discharge to escape trial by general court-martial
Mutiny or spying
An offense involving moral turpitude (generally including the conviction of a felony)
Willful and persistent misconduct, or
Homosexual acts involving aggravating circumstances or factors affecting the performance of duty (e.g., child molestation, homosexual prostitution, homosexual acts or conduct accompanied by coercion or assault, and homosexual acts or conduct when a service member has taken advantage of his or her superior rank, grade, or status
Insanity Exception
The insanity exception is one way in which individuals can get around statutory and/or regulatory bars that prevent them from obtaining veteran status.  When the insanity exception applies, it does not mean that the statutory or regulatory bar is dismissed; however, it means that you can still get benefits.  Importantly, insanity here is not the same as it is in a criminal context.  VA defines insanity as "one who while not mentally defective or constitutionally psychopathic exhibits, due to a disease, more or less a prolonged deviation from normal behavior."  This means that at the time you committed one of those bars, you were not acting as you normally would, because of a disease.
Does Character of Service Determination Change Discharge Status?
While a character of service determination can make an individual eligible for VA benefits and veteran status, it does not change their actual discharge status from the military.  Again, it only means that VA is going to allow their benefits claim to proceed if the character of service discharge is favorable.  A character of service determination is something VA does as opposed to something your specific branch of military does, which would be the case for discharge upgrades.
Veterans with Multiple Periods of Service
Determining eligibility for benefits may be complex for veterans with multiple periods of service.  For example, veterans may have two periods of service: the first with an honorable discharge and the second with a dishonorable discharge.  Any conditions incurred during the first period would be eligible for VA benefits; however, any conditions incurred during the second period would likely not be eligible.  On the other hand, if a veteran signs on for four years of service and then re-enlists at three years, the entire period of service will be treated as one timeframe.  If any portion of that is considered dishonorable, the whole period of service will be considered dishonorable.  It becomes even more nuanced when there are more than two periods of service.  In that situation, it may be best for individuals to reach out to a veterans service organization or other representatives that deal specifically with discharge upgrades and character of service determinations.
Changing, Upgrading Military Discharge Status
Again, a character of service determination is what VA is going to consider when determining whether you are eligible to receive benefits or not.  However, many people want to actually change the discharge status itself.  There are two bodies that you can do this with depending on your case: the Discharge Review Board or the Board of Corrections of Military Records.  Each has different jurisdictional limitations of what they can look at:
Discharge Review Board
The Discharge Review Board can look at discharge upgrade requests that were within 15 years of your discharge from service.  However, it can only look at upgrades for general, OTH, and special court-martial discharges.  It cannot look at dishonorable or general court-martial discharges.
Board of Corrections of Military Records
The Board of Corrections of Military Records can look at discharge upgrade requests that fall beyond that 15-year period.  It will look at the totality of circumstances, which is similar to what VA will look at (i.e., service, length of service, what happened, facts of the case).  Here, individuals will need to do some advocacy and explain why the discharge was wrong either factually or legally.
As with character of discharge determinations, discharge upgrade determinations are all appealable within the right timeframes.
Does CCK Assist with Discharge Upgrades?
While discharge upgrades are not something that CCK typically handles, there is help available. Contact a VSO or find more information through the Department of Veterans Affairs.