Veterans Law
Gulf War Syndrome Claims Wrongly Denied
As generations of veterans return home from war, including Vietnam veterans exposed to Agent Orange and post-9/11 veterans, they often find themselves fighting with VA over their rightfully earned benefits.  For example, more than 650,000 U.S. servicemembers were deployed in the war against Iraq in the 1990s.  Although the actual fighting lasted only a few months, these veterans developed health conditions because of this service that have impacted the rest of their lives.
Nearly 44 percent of the 650,000 veterans deployed in the Persian Gulf returned home with a variety of serious medical issues, including several mysterious conditions that became collectively known as Gulf War Illness or Gulf War Syndrome.  However, despite this fact, the majority of claims relating to Gulf War illnesses are denied by VA.
What is Gulf War Syndrome?
As veterans were coming back from service in the Southwest Asia theater of operations, they were experiencing unexplained illness and symptoms.
The terms Gulf War Illness and Gulf War Syndrome are used as a way of characterizing the wide range of symptoms and conditions that veterans of the Gulf War experience.  The terms are used interchangeably, however, medically speaking, there is no diagnosis of "Gulf War Syndrome" or "Gulf War Illness."
VA then created a presumption for Gulf War veterans to make it easier for them to obtain service connection for conditions they developed due to their service in the Gulf War.
The presumption holds that if a veteran served in certain locations between August 2, 1990 and December 31, 2026, and they experience certain signs or symptoms, VA will presume that the veteran's Gulf War service caused their condition.  The presumption includes medically unexplained chronic multisymptom illnesses (MUCMIs), undiagnosed illnesses, and certain infectious diseases.
Common symptoms of Gulf War Syndrome include, but are not limited to:
Sustained and debilitating fatigue
Joint pain and discomfort
Difficulty sleeping
Problems with memory and cognition
Digestive ailments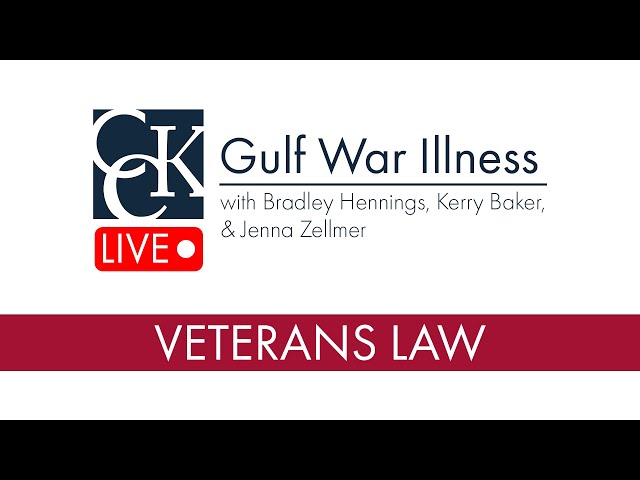 Why Does VA Continue to Deny Gulf War Claims?
According to a GAO report published in 2017, VA has denied over 80 percent of all Gulf War illness claims.  The report also found that denial rates were three times higher than for all other medical issues related to the war, and the claims process took longer overall.
More recent research from veterans' service organizations proves that VA has taken few, if any, steps to improve this process and provide benefits to Gulf War veterans in a timely and consistent manner.  These VSOs analyzed VA's claim decisions between 2002 and the beginning of 2018, finding that VA rejected approximately 90 percent of undiagnosed disability claims from Gulf War and post-9/11 veterans, denying them Congress-approved eligibility for VA medical care.
Many of these veterans fear that, like the Vietnam and World War II veterans, they will die before they gain access to the benefits they were promised.  Currently, about 250,000 former servicemembers suffer from symptoms of Gulf War Illness.  These veterans are left unable to fully enjoy their lives as they face an ever-growing backlog of claims within an overly complicated system that is not equipped to handle their cases properly.
Bills Proposed in Congress May Provide Long-Awaited VA Benefits
Over the years, Congress has attempted to aid this large group of veterans and ensure they receive the benefits to which they are entitled.
Through the Veterans' Benefits Improvements Act of 1994, Congress ruled that VA must pay benefits to Gulf War veterans for service-related disabilities caused by undiagnosed illnesses, such as fatigue, muscle and joint pain, headaches, menstrual disorders, skin conditions, respiratory disorders, and neurological and psychological disorders.  This was in addition to chronic fatigue syndrome, fibromyalgia, and functional gastrointestinal disorders, such as irritable bowel syndrome.  In 1998, and again in 2001, Congress amended the law in the hope that more Gulf War veterans would become eligible VA medical care and benefits.
Several bills have recently been introduced into Congress that would make it easier for veterans suffering from the effects of toxic exposures to qualify for VA health care and benefits.  While these bills are directed more at veterans of the post-9/11 era, advocates for Gulf War veterans hope the attention will aid their cause as well.
The Comprehensive and Overdue Support for Troops of War Act of 2021, also known as the COST of War Act, in the Senate and the House version of the bill, the Honoring Our Promise to Address Comprehensive Toxics (PACT) Act, are part of an ongoing effort to better aid veterans who suffer the effects of toxic exposure.
If they became law, these companion bills would automatically grant about 3.5 million veterans of the Iraq and Afghanistan wars eligibility for VA health care.  They would also reform VA's process of handling claims related to toxic exposure and add new conditions to the presumptive list for toxic exposure.