Veterans Law
Bills in Congress to Aid Veterans Suffering from Toxic Exposure
Many veterans who served overseas throughout the 1990s and the post-9/11 wars have since been diagnosed with cancers, respiratory issues, and lung diseases at young ages that are thought to be the result of exposure to toxic substances, such as the fumes released from open-air burn pits.
Most of the major bases in Iraq and Afghanistan used burn pits at one point, and conflicts in the Middle East also saw the burning of oil fields, a toxic hazard from which many service members could not escape.
Although most of these veterans seek VA disability benefits and health care for their conditions, their claims are often denied by VA based on the argument that they lack sufficient evidence.
Recently, however, two major pieces of legislation were introduced into Congress.  These companion bills would provide one of the most comprehensive expansions of health care eligibility in VA history, extending VA disability and health care benefits to veterans of all eras who suffer from health issues related to toxic exposure.
COST of War and Honoring Our PACT Acts of 2021
The Comprehensive and Overdue Support for Troops of War Act of 2021, also known as the COST of War Act, was announced by Senator Jon Tester of the Senate Committee on Veterans' Affairs.  The House version of this bill, the Honoring Our Promise to Address Comprehensive Toxics (PACT) Act, was also unveiled by Chairman Mark Takano of the House Committee on Veterans' Affairs.  The COST of War Act 2021 and the Honoring Our PACT Act are part of an ongoing effort to better aid veterans who suffer the effects of toxic exposure.
If they became law, these bills would automatically grant eligibility for VA health care to about 3.5 million veterans of the Iraq and Afghanistan wars.  They would also reform VA's current process of handling claims related to toxic exposure, add new conditions to the presumptive list for toxic exposure, and more.  The major elements of these companion bills are detailed below.
Toxic Exposure Presumption Process Reform
The COST of War Act and the Honoring Our PACT Act both propose significant changes to the process of determining presumptive conditions related to toxic exposure.  Some of these changes would include:
Establishing a consistent and transparent system for the establishment of new presumptions of service connection between a condition and a toxic exposure based on medical and scientific evidence.
Guaranteeing that veterans will not have to wait years for their benefits due to VA inaction.
Removing the need for Congress to act on each new condition or exposure in order to establish a presumption.
Reducing the burden on veterans claiming direct service connection for toxic exposures without a presumption by requiring VA to examine a veteran's military records for proof of toxic exposure and to consider whether other evidence shows such records are wrong or incomplete.
Ordering VA to provide veterans with a toxic exposure exam and medical opinion if initial evidence is insuff­icient to establish a direct service presumption.
Requiring VA to respond publicly to recommendations to establish presumptions within 60 days.
The COST of War Act would also help dependents of veterans who suffered toxic exposures by directing VA to evaluate an expansion of CHAMPVA coverage.
Expanded List of Presumptive Conditions
One major difference between the bills is the number of conditions for which a presumption of exposure would be created.
Under the COST of War Act, the following conditions would be added to the presumptive list:
Asthma
Chronic obstructive pulmonary disease
Chronic bronchitis
Constrictive or obliterative bronchitis
Emphysema
Pleuritis
Pulmonary fibrosis
Interstitial lung disease
Sarcoidosis
Respiratory cancer of any type
Glioblastoma
Rhinitis
Sinusitis
The Honoring Our PACT Act, in addition to the conditions listed above, proposes to include the following illnesses:
Head cancer of any type
Neck cancer of any type
Respiratory cancer of any type
Gastrointestinal cancer of any type
Reproductive cancer of any type
Lymphoma cancer of any type
Lymphomatic cancer of any type
Kidney cancer
Brain cancer
Melanoma
Granulomatous disease
And any other disease the Secretary determines is warranted based on a positive association with certain substances, chemical, or airborne hazards
Both the Senate and House bills also include provisions for older veterans.  The bills call for presumptive benefits for Vietnam War veterans who developed hypertension or monoclonal gammopathy of undetermined significance (MGUS) as a result of exposure to chemical herbicides.
This would apply to veterans who served in Vietnam, Thailand, Laos, Guam, Cambodia, and American Samoa and were potentially exposed to herbicides, as well as "atomic" veterans who participated in toxic cleanup activities in Enewetak Atoll or Palomares, Spain and the Pacific Ocean in the 1970s.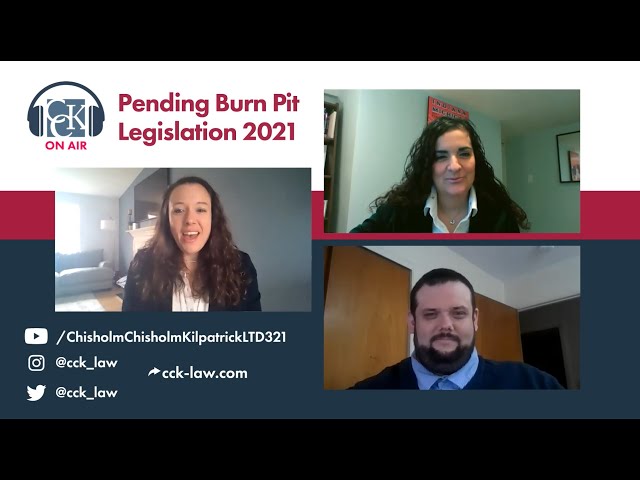 Research and Record-Keeping
These companion bills also emphasize the need for more extensive research and record keeping to better support veterans suffering from toxic exposures.  Specifically, they call for an increased focus on federal research to support toxic exposure veterans and aim to ensure that the toxic exposure framework is based on comprehensive science.
In order to facilitate this, VA would become the official authority for all federal toxic exposure-related research.  VA would also be required to conduct a study on the health trends of all post-9/11 veterans, as well as on the rate of cancer among veterans in general.
The COST of War and Honoring Our PACT Acts would further assist veterans by ensuring that toxic exposures are properly recorded before veterans seek VA health care and benefits.  Independent studies would be regularly carried out to evaluate the Individual Longitudinal Exposure Record, the Department of Defense's method of identifying and documenting toxic exposure incidents, to guarantee that veterans' records reflect all up-to-date toxic exposures.
The acts would also strengthen VA's toxic exposure process for key benefits, such as health care to disability compensation, by requiring specialized toxic exposure training for VA health care workers and disability claims processing personnel.
Additionally, VA would be required to publicly report any cases involving veterans with health problems resulting from exposure to burn pits, the circumstances surrounding their exposure, and the services VA provides to them.
Will These Bills Become Law?
At this point, it is impossible to say if the COST of War Act or the Honoring Our PACT Act will eventually become law.  Lawmakers in the House and Senate are hopeful that they can get a bill passed through Congress by the end of 2021, but there is still a long way to go.
Although a budget has not yet been determined, it is assumed that these bills will be incredibly costly.  A higher cost would likely make it more challenging for the bills to pass.
However, the COST of War and Honoring Our PACT Acts have already garnered much support, both inside Congress and in the community.  A number of Veterans Service Organizations (VSOs) have publicly announced their support for the two bills, as have House Representatives and Senators from both parties.  If passed, these bills would provide much-needed relief to veterans of all eras suffering from exposure to toxic substances.
Was Your Toxic Exposure Claim Denied?
Historically, it has been incredibly challenging for veterans to prove exposure to toxic substances.  As a result, VA often denies veterans' claims for benefits based on this exposure or gives them low disability ratings.  If you find yourself struggling to get your rightfully earned benefits from VA, the team and Chisholm Chisholm & Kilpartick LTD may be able to assist.
Our years of experience allows us to identify what your claim may be missing, gather strong supporting evidence, seek opinions from medical or vocational experts, and more.  For a complimentary case review to see if we may be able to help, call us at (800) 544-9144.
About the Author