Veterans Law
Board of Veterans' Appeals Docket Update
The status of the case docket at the Board of Veterans' Appeals (VA) remains largely unchanged, particularly with regard to Legacy appeals, meaning veterans must wait longer to receive their hard-earned benefits.  Despite the Board's efforts, appeals are being processed slowly, due in part to factors such as COVID-19, mailing delays, issues with Compensation and Pension exams, and more.
Status of Appeals at the Board
As of January 24, 2022, there are a total of 201,933 appeals pending at the Board of Veterans' Appeals.   Of these appeals, 116,969 were filed under the Appeals Modernization Act (AMA) system.  The remaining 84,964 appeals are in the Legacy system, or the old VA system.  This means these claims were filed prior to February 2019, when AMA was implemented.
The Board's original goal for Fiscal Year 2022 was to dispatch 111,500 decisions.  However, as of January 24th, 2022, the Board has only processed 25,064 appeals for FY22 across both the Legacy and AMA systems.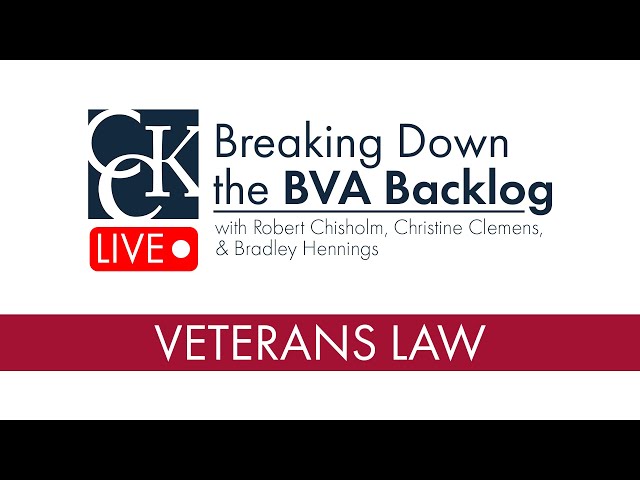 Legacy Appeals Delays
During the first week of August 2020, it was reported that the BVA was working on appeals with docket dates up to July 2019, due to a large influx of Legacy cases.  Importantly, this date applies to the working docket, not appeals in which a hearing has been requested.  The July 2019 docket date is particularly significant as, just a week prior, the docket date had been April 2020.
Currently, the Legacy docket decision date stands at August 2019.  This means that, over the course of the past 18 months, the Board has made little to no progress in processing Legacy appeals.
So, why has the docket date barely moved since August 2020?
Board Response to Delays
The Board has claimed that delays in AMA appeal decisions are due to the Board's focus on and prioritization of Legacy appeals.  However, the Legacy docket continues to be virtually stagnant.
Instead, the BVA is focusing on holding hearings and returning remanded cases which can take more time to process.  Additionally, the Board's "algorithm" is supposed to release only 20 percent of AMA cases each week.  Yet some cases are operating outside of this algorithm, including appeals involving attorney fees.  This has ultimately resulted in a slowdown in the number of cases being decided.
What Can Veterans Do?
Unfortunately, there are no real courses of action directly related to this backlog that Veterans can take to have their Board appeal decided faster.
Veterans do have the option to advance their case on the Board's docket if they are terminally ill, over the age of 75 or older, facing financial hardship, have faced a natural disaster, or meet the conditions of another qualifying circumstance.
CCK Can Help with Your Appeal
As these delays continue, hundreds of thousands of veterans are left without access to benefits they rightfully deserve and often depend upon to support themselves and their families.
If you require assistance appealing a decision from VA at the Board of Veterans' Appeals, contact the skilled team at CCK today.  Our attorneys have years of experience advocating on behalf of veterans at the Board, as well as helping veterans appeal Board decisions at the Court of Appeals for Veterans Claims.
Call CCK at 800-544-9144 for a complimentary consultation to determine if we can help with your appeal.
About the Author