Video
New Laws for Veterans and Servicemembers in 2020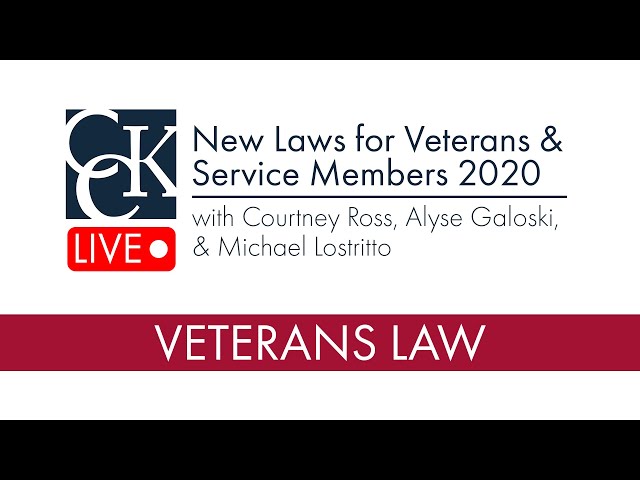 Video Transcription:
Courtney: Good afternoon and welcome to Facebook Live with Chisholm Chisholm and Kilpatrick. I'm Courtney Ross and I'm joined today by Alyse Galoski and Mike Lostritto. And today, we're going to be talking about New Laws for Veterans and Servicemembers in 2020. If you have any questions throughout the broadcast, please feel free to leave them in the comment section and we will do our best to address them as we go through.
Before we jump into the specific laws that we're going to talk about today, I want to start by just totally explaining the National Defense Authorization Act. All of the laws that we go through today will pass as part of this broader act. What this act is an annual funding bill for the Department of Defense that sets out spending limits and policies for how the money will be spent for that year.
What's interesting about this bill is because legislators know that it needs to be addressed and passed each year, they also oftentimes will propose and incorporate other bills as part of that law. This year's bill was a $738 billion-dollar bill. It passed back in December by Congress and was signed into law by the President on December 20th of 2019.
One of the first things we want to talk about is what was referred to as the widow's tax. To really understand this, you first have to understand two different types of benefits. The first one is what's called DIC or Dependency and Indemnity Compensation. This is a VA benefit. It's a monthly benefit that is paid out to surviving dependents of veterans who have passed away from– have died either in action, so in service, or as a result of their service-connected disabilities. The current rate for DIC, I think, is just over $1300 currently.
The second benefit is what's called the Survivor's Benefit Plan or SBP. This is a monthly benefit that is paid to a surviving spouse of a retired veteran. This is a program that the veteran elects in his pays into. The amount that they're paid varies, but they can be paid up to 55% of the retirement plan that the veteran had.
What's important to know here is that the surviving dependents who qualify for both programs cannot receive payments from both programs. That inability to collect is what is referred to as the widow's tax. Essentially, the payments offset one another. If a widow or a surviving dependent is receiving SBP, and at some point, they're awarded the DIC benefits, for every dollar of DIC, a dollar of the SBP benefit gets offset.
This is significant because it can cost the surviving spouse or dependent up to $11,000 a year in benefits that they are no longer receiving. It's up to, I think, estimates are 65,000 individuals of each year are experiencing this. Legislators have introduced bills repeatedly over the last 20 years to try to get this repealed.
Now, with the passage of this last National Defense Authorization Act, the repeal was part of it. It's been passed and signed, but it's not an immediate rollout. It's something that's going to be rolled out in different phases over the next 3 years.
Now, I want to turn to talk about tracking the last exposures. Alyse, can you talk a little bit about this? This was also again passed. This is part of this act. Just a little bit about what this means for veterans and service members.
Alyse: Yes, absolutely. This has to do with TBIs or traumatic brain injuries. TBI is actually almost known as the signature wound for veterans or service members in Iraq and Afghanistan because it's just such a common injury. It can go undiagnosed. It also often can lead to symptoms such as irritability, headaches, cognitive issues, sleep disorders. Actually 22% of casualties in both the Iraq and Afghanistan wars involve brain injuries. It's a big deal.
One of the big problems with that was that there haven't been in the past ways to track, blast exposure. The NDAA is now basically directing the Pentagon to come out and start documenting when troops have been exposed to these blasts. They need to, both documents the duration of the blast and the date. If possible, they also need to document the measured blast pressure.
That won't be possible in every case, but at least having the date and the duration will help veterans become service-connected down the line. It's also going to help people get their medical benefits. Basically, going forward, what's going to happen next is that the DOD is going to have to report to Congress what their plan is within a year.
Courtney: Great. I want to turn now to talk a little bit about what's called the Feres Doctrine and what implications on that doctrine, the recent passage of the NDAA had. Mike, can you speak a little bit about what that doctrine is and what changes were made?
Mike: Sure. The Feres Doctrine is a legal doctrine. It's been around for a very long time. In fact, it stems from a 70-year-old Supreme Court case. The Authorization Act basically has some implications as to how that doctrine is applied going forward.
The doctrine basically stands for the idea that service members are not allowed to sue the federal government for injuries that they might have sustained while on active duty due to the result of the federal government's malpractice or negligence. It's really an extension of the concept of sovereign immunity which, generally speaking, just doesn't allow individuals to sue the federal government.
Civilians have always been allowed in certain circumstances under the federal tort claims act to insert instances to sue the federal government for medical malpractice and negligence. Under the Feres Doctrine, this 70-year-old legal doctrine, service members were not allowed to do so. They really were left with little to no recourse in situations where they may have received some type of injury or some type of damage as a result of medical malpractice committed by a medical or a military doctor.
Kind of an example, this is a common example that's been discussed in the news. A situation where a service member has lung cancer. Unfortunately, their lung cancer was misdiagnosed by a military doctor during their active duty service. Even if that misdiagnosis was ultimately the result of some type of medical malpractice on behalf of the Department of Defense or VA doctor, they wouldn't be allowed to sue on a civil court for any injuries or damages because of the Feres Doctrine.
How does that plan to what was passed in the National Defense Authorization Act? Basically, the Authorization Act looked at the doctrine and it did not overturn the doctrine. Just to be clear, the doctrine still stands. What it did was it set up a process for which veterans can now file claims with the Department of Defense for injuries that they sustained as a result of medical malpractice on behalf of a VA or Department of Defense doctor.
Again, the doctrine still stands. Veterans are not allowed, at the current moment, to file an independent civil suit in court, but the Department of Defense is now going to be required to set up a claims process. It's really to be seen how the Department of Defense goes about setting up that claims process. They're going to have the authority and the discretion to set up the process and decide the claims.
I guess it's to be determined a little bit. That's going to be coming here in the next several months and years where veterans will now have some recourse, at least, to file a claim and receive some type of compensation for any medical malpractice that's been committed on behalf of a military doctor.
Courtney: Thank you, Mike. A number of the laws that were included in the NDAA deal with different types of exposure that veterans may have experienced during their time in service including exposure to burn pits and Agent Orange. I want to turn now to talk about the laws that relate to that. Alyse, can you start us off with some of the information that is relevant for burn pits and maybe just briefly explain what a burn pit is?
Alyse: Absolutely. A burn pit is basically a large military dump. It's composed of various materials. Basically, it could be plastics. It could be discarded equipment, medications, or even human wastes. Basically, it's lit on fire. Basically, what it sounds like. It's a giant burn pit.
The problem with that is all of those materials that are being burnt released toxins into the air and that's the exposure that we're talking about. This exposure has been associated with different types of cancers and respiratory illnesses. It's kind of being referenced as the new Agent Orange and a kind of in response to NDAA has issued basically two different types of provisions that are going to address these burn pits.
The first is to start to bring back the burn pits. The second is going to be a way to start tracking them. It's really important as far as bringing them back because VA has estimated that this has impacted about 3.5 million service members and veterans since 9/11. Among the contaminants is a toxin called dioxin. This is a highly toxic chemical that has been associated with reproductive issues, also cancers, development issues. It can affect your hormones and your immune system.
Another big thing is what it shares in common is that it is one of the main toxins that was found in Agent Orange. That's also been found in these burn pits. There were as many as 63 burn pits used in Iraq and in the height of the operation Iraqi freedom. There is a predicted amount of about 250 burn pits at the peak between both Afghanistan and Iraq.
What's going to happen next? The Pentagon is going to have to roll out a plan basically to start phasing out these burn pits. Most likely, what already started happening is they're replacing the burn pits with incinerators. That's most likely what might happen. I'm not sure exactly but a lot of these burn pits have already started to be replaced.
We're down from 250. Now, they're predicting there's probably about only 9 still active. Most of them are in Syria. There's, I think, one in Afghanistan and another one in Egypt. They've been massively reduced already but the plan is now to phase them out completely so that hopefully, they'll be no further exposure to these toxins.
Courtney: Okay. You said the first part was ending the use of the burn pits and the second part is going to be tracking the burn pits and the toxic exposure. Mike, can you talk a little bit about the specifics of that part of the law?
Mike: Sure. As we eluded, too, here, there's really a lot that's not known or, and communicated really at least about burn pits and their use. I think, one of the primary aims as to some of the provisions within the National Defense Authorization Act is to do things like better track, better document, and better research exposure related to burn pits.
On those points, there is a provision within the bill that now requires the Secretary of Defense to submit a report to both Congress and the Department of Veterans Affairs to specifically list out all of the burn pits and their locations that have been used in and were used and continued to be used. Hopefully, that provides some additional clarity at least and some additional information to providers and people on the benefit side that can be very useful in the VA compensation context, at least, help decide these claims.
In terms of better documenting some of the exposures due to burn pits, there are some provisions in this legislation that require the Department of Defense basically to now evaluate service members at certain periods of time in order to determine whether they've been exposed, and if they've been exposed, how that impacts their overall health.
At least to my understanding, this is something that's new in the sense that there's going to be a real, renewed effort to really take a look at whether a veteran has been exposed to burn pits. There's going to be some additional training as well for the medical staff at the Department of Defense and the VA to be better able to identify exposure and how it might relate to certain diseases. I think that hopefully will go a long way to allowing the providers to have this issue be at the forefront when they're evaluating veterans.
Additionally, there's going to be some other provisions where there's going to be more information-sharing if you will. The Department of Defense will be required to submit a report, as I said, detailing the extent to which in the location of the burn pits, but they're also going to be required to retroactively update medical records for veterans.
That's important because up until now a lot of the veteran's medical records really have been absent as to work that they serve in the location near a burn pit. It's not really documented. Now, they're going to be required to retroactively look back and keep better record-keeping for those issues.
I think another important thing to just keep in mind is that really about 80% or up to 80% of all burn pit claims that are filed for VA compensation are rejected. I think a large part of that is because of a lack of information, information sharing, research, lack of research, and the lack of documentation as to where these burn pits were located and in terms of tracking, the extent to which they were used. Hopefully, some of these provisions, I think, they're aimed to achieve that end and hopefully they do so.
Courtney: And I think to–  This is a little of what Alyse said about tracking the blast exposures and with the burn pits now. Once these laws are fully implemented and DOD's taking these steps, I think it could have a significant impact on veterans who have these different claims or appeals pending for TBIs or other head injuries and different types of conditions that they're trying to link to burn pits. That could be really significant in the long term, in the future, once these are fully implemented
Mike: Absolutely. I think if there is research that the Department of Defense has been doing as to the effects of burn pits, it hasn't always been distributed to Congress or to the Department of Veterans Affairs. Now, under certain provisions of this legislation, that research will now have to be distributed to the other departments so that they are better able to deal with this issue hopefully.
Courtney: Yes.
Alyse: I think in an ideal world, we're hoping this might potentially open the door to making burn pits a presumptive type injury similar to different exposure cases like Agent Orange.
Courtney: That's actually a perfect transition because the last thing I want to talk about today is Agent Orange and the implications the NDAA had for that. The law the NDAA requires VA leaders to reveal what their plan is for adding new conditions as presumptive Agent Orange conditions. Specifically, the law requires that VA reports to Congress within 30 days of the passage which we're right at that mark this week. As I said, it was signed into law on  December 20th of 2019.
To report to Congress within 30 days, the reason for the year's long delay in adding new conditions as well as the cost estimate for what it will take to add the conditions and a timeframe for when this is all going to happen. What's interesting is we are saying new conditions, but really it's been a number of years now where a certain number of conditions had scientific and medical evidence to support that there's a link between Agent Orange and these conditions. We've kind of been waiting years to see what VA's going to do.
Back in 2016, the National Academies of Sciences issued a report on a number of conditions including hypothyroidism, bladder cancer, and Parkinsons-like tremors. Their research showed that there was suggestive evidence that there's a link between those three conditions and Agent Orange. As I've said, this is the type of research that the VA has used in the past to add conditions that are already on the list. Things like ischemic heart disease, diabetes, that are already presumptive conditions.
I should actually back up and just give a little bit more context to what I mean by presumptive conditions. What I mean is that if a veteran has filed a claim for ischemic heart disease, we'll use that as an example because it's already on the VA's list. All that they have to show VA to get service connection is the diagnosis of that condition and then the exposure and service if that's not already presumed.
They don't have to provide or show that medical nexus linking the condition to service because it's presumed, you're exposed, and you have this condition. We're going to grant you a service connection. It's significant whether new conditions are going to be added to the list or not.
Back in 2016, the National Academies of Sciences issued that report. The VA Secretary at that time said shortly after that he had made a decision on a number of conditions and that a decision was going to be issued soon. That never happened. In 2018, the National Academies issued another report for hypertension that said there was sufficient evidence linking hypertension to Agent Orange so even higher than for the other 3 conditions.
Following that, again, there was some indication that we might get a decision one way or the other. Nothing happened. In March of 2019, VA actually reported to Congress that within 90 days, we would have a decision on which conditions were being added. Nothing happened. It did come out in the news in some time back in the fall that the Office of Management and Budget and the White House may have been delaying some of the decision to add conditions due to cost concerns.
This is important. Kind of this brief summary of the history here is important because now, we have this law that's been signed. It's in effect. It requires the VA to make a decision and report to Congress within the 30 days of what the plan is.
Again, we're at the 30-day mark. We don't know the exact timeframe, but I think just a few weeks ago it was, the Secretary said that it probably actually won't be until late 2020 that they have a decision on what conditions are being added. The reason he gave for that is that they're waiting on the results of two different scientific studies.
One of them, just so that I don't mess up the names, is the Vietnam Era Health Retrospective Observational Study and the other one is the Vietnam Era Mortality Study. The problem is, is that both of those studies will need to be analyzed and pre-reviewed before they can be published which could really add even more delay onto the timeframe for when we're going to get the decision on this.
The unfortunate part of all of these is that there's at least– estimates are that there are up to 83,000 veterans who are suffering from hypothyroidism, bladder cancer, and Parkinsons-like tremors. While we wait for VA to make a decision on adding those conditions, there's a large portion of the veteran community that is waiting and is already suffering from those conditions.
CCK is going to keep a close eye on this and monitor it. Hopefully, within this year, we'll get a final answer from VA on that. That's the last thing we wanted to touch base about specifically today. Alyse or Mike, do you have any final thoughts before we wrap up?
Alyse: Mike?
Mike: I think we touched on it. There's a lot here, a lot of good stuff, a lot of uncertainty still, but I think we will certainly be on top of monitoring it all over the next year and making sure that any major changes are relayed the best that we can.
Alyse: It's definitely promising. I mean, you're starting to see more regulations come through regarding both veterans that served in Iraq and Afghanistan. The burn pits hopefully, we'll start to see some big movement with that.
Mike: Yes. Burn pits, I think, is the next big issue.
Alyse: I think so, too.
Alyse: Many people have said that.
Alyse: Yes.
Mike: It's a slow roll. There's no doubt. Hopefully, some of these provisions kind of are stepping the right direction to providing some more clarity and getting us to where we want to be.
Courtney: I agree. Well, that's all we have for you today. Thank you for joining Facebook live with Chisholm Chisholm and Kilpatrick.