Veterans Law
Fort McClellan Toxic Exposure: What Veterans Need to Know
History of Fort McClellan
Fort McClellan (FTMC) is located in Calhoun County, Alabama and served as an active duty Army installation from 1917 to 1998.  It was one of the largest Army bases during World War II, seeing nearly half a million troops pass through.  Following the war, its primary missions were to house and support the U.S. Army's Military Police Corps, the Women's Army Corps, and the Army Chemical School.  Additionally, the base has also been home to various Army Recruit Training Centers throughout the years until its closure in 1999.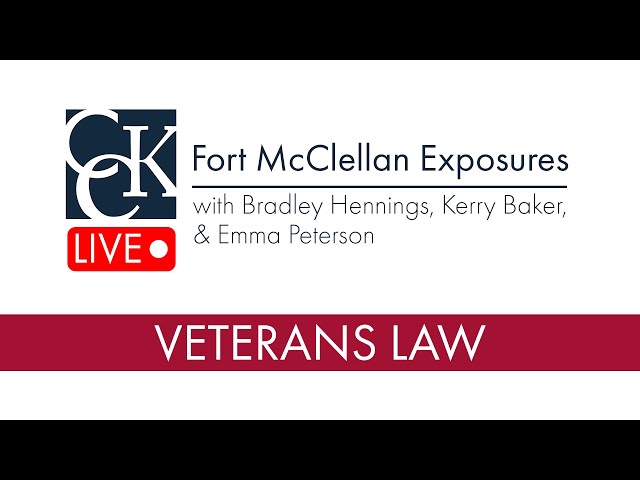 The Army Chemical School at Fort McClellan
The Army Chemical School operated on Fort McClellan from 1951 until 1999, except for a brief period in the 1980s when it was temporarily relocated to Aberdeen, Maryland.  At the Army Chemical School, military personnel trained in chemical warfare, different types of herbicide agents, and radioactive materials.
As such, it is well established that chemicals and herbicide agents were used at Fort McClellan.  Specifically, the chemical company Monsanto located in nearby Anniston, AL, contaminated the area with polychlorinated biphenyl (PCB) contaminants.
PCBs remain in the environment for long periods of time, especially in soil and sediment, and can be transferred to humans by consuming water and food, such as fish, animals, and dairy products.  Despite this, VA has indicated that the current and relevant scientific evidence does not show that individuals were exposed to any chemical agent at the level needed to produce long-term health effects.
Therefore, VA does not currently presume that any adverse health conditions are associated with service at Fort McClellan.  While it is possible to get service-connected for a disability resulting from exposures at Fort McClellan, veterans must provide a nexus between the exposure and the claimed condition.
Potential Exposures at Fort McClellan and Associated Conditions
The specific toxins used at Fort McClellan may lead to certain conditions or symptoms.  VA acknowledges that radioactive compounds such as cesium-137 and cobalt-60, chemical warfare agents such as mustard gas and nerve agents, and airborne polychlorinated biphenyls can cause certain conditions, as mentioned above.  Below are some symptoms or side effects of these types of exposure.
Exposure to radioactive compounds, such as cesium and cobalt, may cause:
Cell damage
Nausea
Vomiting
Diarrhea
Bleeding
Coma
Cancer
Chemical warfare agents, like mustard gas and nerve agents, can lead to symptoms such as:
Abdominal pain
Diarrhea
Nausea
Vomiting
Headache
Chest tightness, or shortness
Muscle twitches
Loss of bladder or bowel control
Decreased formation of blood cells, or aplastic anemia
Respiratory issues, such as chronic respiratory disease
Risk of cancers, specifically lung or respiratory
Those exposed to Polychlorinated Biphenyls (PCBs) may experience:
Skin conditions, such as acne or rashes
Liver damage and/or cancer
Anemia
Stomach pain or injuries
Thyroid Gland injuries
Changes to the immune system or behavior
Impaired reproduction
Herbicide Agents Used at Fort McClellan
The 1998 Environmental Baseline Survey notes that it was unclear what quantity of chemical warfare materials were stored and used on Fort McClellan.  However, it does establish that chemicals, arsenic-based herbicides, and radiological materials, were all used on the base.
Furthermore, it confirms that those herbicides were used, at least, between 1974-1976 for Army training and recreational purposes.  In total, there were 153,640 gallons of a combination of those herbicides used during that time. Yet, there is only 45,400 acres on FTMC.
When comparing the amount of herbicide agents used in relation to the acreage, the landmass of Fort McClellan could be completely covered over 1,900 times over that three-year span.  In contrast, when considering the amount of herbicide agents used in relation to the acreage of Vietnam over the ten-year period of time VA identifies, the landmass of Vietnam would only be covered about 146 times.  Such statistics demonstrate the high concentration of herbicide agents used at Fort McClellan.
VA Regulations Regarding Herbicide Agents
For VA purposes, an herbicide agent is defined as 2,4-D or 2,4,5-T and its contaminant TCDD, cacodylic acid, or picloram.  The military used various "rainbow herbicides", including but not limited to, Agent Orange, Agent White, Agent Blue, and Agent Pink.
Importantly, VA's regulations break down exposure based on the chemical components rather than the trait names.  Thus, VA does not require veterans to show exposure to Agent Orange, Agent Blue, etc.  Rather, VA's regulation requires veterans to show exposure to an herbicide agent, as defined above.  Therefore, if veterans can show exposure to one of those agents and that they have one of the diseases considered presumptive to herbicide exposure, they should, in theory, be granted service connection.
Another important distinction within VA's regulations involves the difference between a presumption of exposure and presumptive service connection.  Specifically, 38 CFR 3.307 promulgates a presumption of exposure meaning if a veteran served in a particular location, he or she is presumed to be exposed to herbicides.  Furthermore, 38 CFR 3.309 addresses presumptive service connection in which certain disabilities are eligible for service connection without establishing a medical nexus.
While these two regulations can work together in many cases to establish service connection, they operate individually as well.  Namely, if a veteran satisfies 3.307 but not 3.309, he or she must provide a medical nexus. On the other hand, if a veteran satisfies 3.309 but not 3.307, he or she will have to prove exposure on a facts-found basis.  In either case, a veteran is still eligible for service connection.
Presumptive Service Connection for Conditions Caused by Agent Orange Exposure
In regards to 38 CFR 3.309, the conditions eligible for presumptive service connection are as follows:
AL Amyloidosis
Chronic B-cell leukemias
Chloracne
Hodgkin's Disease
Ischemic Heart Disease
Multiple Myeloma
Non-Hodgkin's Lymphoma
Peripheral Neuropathy, Early-Onset
Porphyria Cutanea Tarda
Respiratory Cancers
Soft Tissue Sarcomas
The 2021 NDAA, or National Defense Authorization Act, was passed by Congress and determined, by statute, that there is a link between three new medical conditions and Agent Orange exposure.  In doing so, Congress bypassed VA to add these new conditions to the presumptive service connection list.  The new conditions include:
Hypothyroidism: A condition in which thyroid gland does not produce enough of certain crucial hormones.
Parkinson's-like symptoms: A condition with symptoms such as tremor, slow movement, impaired speech, and muscle stiffness that resembles Parkinson's Disease but is not formally diagnosed as such.
Service Connection for Fort McClellan Exposures
Again, VA does not currently have a presumption of exposure established for the various toxic environmental hazards of Fort McClellan.   Nor does VA presume that any adverse health conditions are associated with service at Fort McClellan.  In light of the information above, the question becomes: why not?
As herbicide exposure has predominately been associated with Vietnam, it may require additional research, training, and education to gain a better understanding as to how this issue extends to Fort McClellan.  If VA concedes a presumption of exposure at Fort McClellan, it is possible presumptive service connection would follow.
Difficulty with Fort McClellan Exposure Cases
Fort McClellan exposure claims can be difficult and often frustrating.  If you need assistance with a Fort McClellan exposure claim, the veterans' advocates at Chisholm Chisholm & Kilpatrick LTD may be able to help.  We offer free initial case evaluations to see if we may be able to assist.  Call 800-544-9144 to speak with a member of our team today.
About the Author