Veterans Law
How to Win Your VA Claim
This week, we hosted a Facebook Live broadcast about how to submit a really effective VA disability claim. We covered everything from the elements of service connection to finding the right filing form.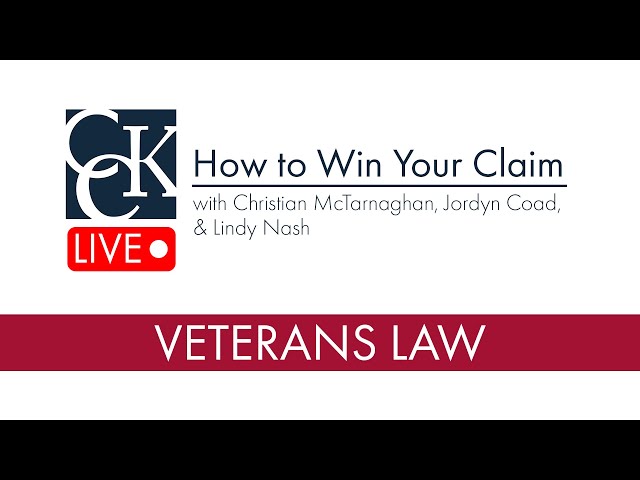 Here is a breakdown of the information our experienced attorneys have gathered about the VA claims process:
Establishing Service Connection 
There are three elements that VA is looking for when determining if a veteran is entitled to service connection:

A current, diagnosed disability;
An event, injury, or illness that occurred in service; and
A medical nexus linking the event, injury or illness to the development of the disability
The requirement that the event must have occurred "in service" does not have to mean that the event occurred as a result of combat or even training. While those types of events are considered "in service," so are any events that were coincident with service – that is, any event that happened while the claimant was on active duty, regardless of where it happened. For example, a veteran could submit a claim for an injury he or she incurred while playing basketball with some service buddies as long as he or she was on active duty at the time.
VA's Duty to Assist 
VA has a duty to assist veterans. If something is missing from your application for benefits, VA should help you gather the evidence you need for your claim. For example, they may help locate your service records or medical records from previous providers. However, VA's duty to assist has changed since the full implementation of the Appeals Modernization Act. To learn more about these changes.
Lay Statements
You can submit "lay statements" or "buddy statements" from friends, family members, or fellow service members who can provide insight into your disabling event, or acknowledge the symptoms you experience daily.
Compensation & Pension (C&P) Examinations 
Compensation and Pension (C&P) exams are used to determine the severity of a veteran's condition, as well as its relation to service. You should expect to be observed from the minute you enter the office and exam room; how you enter the office (e.g. using a cane) is often documented in your C&P exam. Plan to talk about the event or injury in service, your condition, and its severity while being as honest as possible, as VA weighs C&P exams heavily.
Forms to Submit When Filing a Claim for VA Disability Benefits 
When a veteran files a claim for VA disability compensation, they can file it using VA forms 21-526, 21-526c, or 21-526EZ. Form 21-526EZ is considered to be a fully developed claim, and VA will not require submission of additional evidence. Form 21-526 is a less detailed claim application, and VA may request that you submit more evidence later down the line. Form 21-526b should be used when providing supplemental evidence to your claim. You should file these forms with your local VA Regional Office, and submit them to the evidence intake center. However, there are several new forms under the Appeals Modernization Act, including the following: VA Form 20-0995 (Supplemental Claim); VA Form 20-0996 (Higher-Level Review); VA Form 10182 (Notice of Disagreement). Read more about these new forms.
Follow up with VA to make sure your claim is pending in the system. Just because a claim is submitted doesn't mean VA will file it right. Program like VBMS, if you are a representative.
Submitting Evidence with Your Claim
If you have additional evidence, submit it with your initial claim if possible. Submitting it later may delay a decision.
Be aware of the evidence in your file – then you can better know what you need to get the rating you deserve. If a C&P doesn't accurately reflect severity, you may need an outside medical opinion or a description of the condition from their own treating doctor. If you know what's in your file, you.
Don't be afraid to be direct. Tell VA what you think you deserve. For example, if you are applying for TDIU or a higher rating, state that you are seeking Total Disability for Individual Unemployability or, say, a 70 percent rating.
If you have to wait for evidence documents (from a doctor, for example), but do not want to be assigned a later effective date (the date you start receiving benefits; usually the date VA receives your claim), you can submit an Intent to File form. This form will preserve your effective date for one year while you gather the evidence you need.
If you are seeking to establish service connection, you will want to obtain a medical opinion stating that your disability is "at least as likely as not" related to your military service. If you are seeking disability benefits based on individual unemployability, the standard terminology would include that you are "unable to maintain, follow, or secure gainful employment." This terminology can be found in 38 CFR.
Takeaways
If you're representing yourself, READ EVERYTHING. All documents you receive from VA. If you miss a deadline or submit something on the wrong form, it could result in years of delay or the closing of your case.
About the Author