Veterans Law
How to Increase VA Disability Rating from 80% to 100%
What are VA Disability Ratings?
The Department of Veterans Affairs (VA) assigns those who have become disabled as a result of military service with a disability rating.  This rating is based on how severe the veteran's condition is and how the disability impairs their average earning capacity.
Veterans receive a disability rating by filing a claim for service connection with VA.  If VA decides in the veteran's favor, it will grant service connection for the disability and assign a percentage rating based on severity, ranging from 0 percent to 100 percent.  These ratings are assigned in 10 percent increments.
Each percentage increment corresponds to a dollar amount specified in the VA disability pay chart.  In other words, the higher the veteran's disability rating, the more compensation they should receive each month.
VA Math and Combined Disability Ratings
If you have more than one service-connected condition, VA will calculate a combined rating to determine how much you will be paid each month.  To calculate a combined rating, VA does not simply add your individual disability ratings together.
For example, you do not receive an 80 percent VA disability rating if you have two disabilities rated at 40 percent each.  Rather, rating specialists often use a Veterans Disability Calculator to figure out your combined rating.  Nonetheless, the basic process is as follows:
Say you have one disability rated at 40 percent and one rated at 30 percent.  Again, this does not mean that your combined rating would be 70 percent.  Using the Combined Ratings Table, you would locate the row labeled 40 (the highest rating first) and then move along the row until you're in line with the column labeled 30.  There, the table tells you the combined rating is 58.  You would then round up to 60 and get 60 percent as your final combined disability rating.  If you have more than two service-connected conditions, you can continue combining until all your conditions are included.
For example, say you have disabilities rated at 40 percent, 30 percent, and 20 percent, respectively.  Starting with the highest disability rating and continuing in descending order, you would combine 40 and 30 using the Table.  Again, the Table tells you this is 58 (see above).  Then, before rounding up, you would combine 58 and 20 – locating the row labeled 58 and moving along the row until you're in line with the column labeled 20.  The Table tells you the combined rating is 66.  You would then round up to a final combined disability rating of 70 percent.
What is the Difference Between and 80% Rating and a 100% Rating?
The difference between an 80 percent rating and a 100 percent rating can be significant, both in compensation and in other benefits.  Some benefits are exclusive to those considered totally disabled, or who have the 100 percent rating in other words.
As of December 1, 2022, veterans with an 80 percent rating will receive $1,933.15.  However, veterans who are rated at the 100 percent level will receive $3,621.95 per month.  That means that veterans who are rated at 100 percent receive $1,688.80 more per month compared to those rated at 80 percent.
Veterans rated at 100 percent are also eligible for priority group one in VA health care, CHAMPVA, the Dependents Education Assistance Program, and Commissary and Exchange Benefits.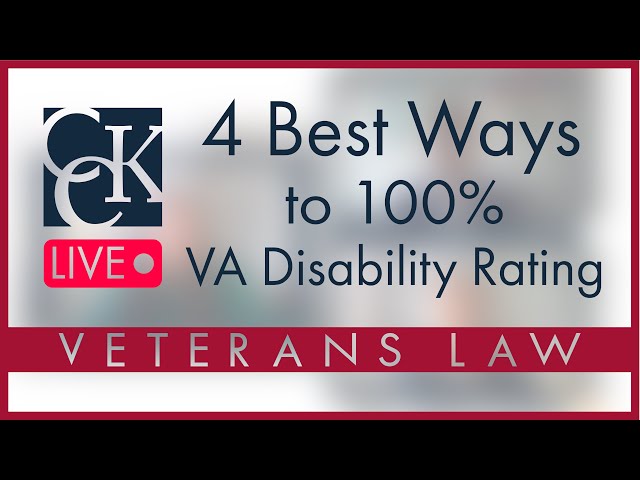 How to Increase Your 80% Rating
File a Claim for an Increased Rating
Under certain circumstances, VA may increase your disability rating in light of new evidence that your condition has worsened.  If you think your service-connected condition warrants a higher disability rating than the one it is currently assigned, you have the right to file an appeal or file a claim for an increased rating.  Under the Appeals Modernization Act (AMA), you have one year from the date the VA notified you of the decision to choose one of the following three appeal options: (1) Higher-level Review lane; (2) Supplemental Claim lane; or (3) Notice of Disagreement lane (i.e., appeal to the Board of Veterans' Appeals).
When applying for increased ratings, veterans should consult VA's rating criteria for their conditions.  Veterans can read through the rating criteria and determine how their symptomology lines up with what is listed.  They can then submit the following types of evidence to support their increased rating claims and appeals:
In-Service Medical Records: These records include enlistment and separation examinations, as well as any hospital stays or sick calls during service.
Private Medical Records: To obtain these records, veterans can typically request them directly from their private provider.  If a veteran notifies VA that they are treating with a private provider and signs a release form, VA can request records directly from the provider to obtain the veteran's medical records.
VA Medical Records: VA can obtain these records directly from the VA medical center(s) where the veteran receives treatment.  If a veteran wants to obtain these records themselves, they can request them directly from the VA medical center as well.
C&P Examinations: In many cases, VA will schedule a veteran for a C&P exam to assess the merits of service connection or an increased rating for the veteran's condition. If favorable, these examinations can be useful in substantiating a claim.
Medical Opinions: Veterans can request a medical opinion from their treating doctor to help substantiate their claim.  Medical opinions can come in handy if the veteran had an unfavorable C&P examination and wants to argue against the examiner's findings.
Lay Statements: A lay statement is a written statement from a veteran, family member, friend, or coworker outlining the onset and progression of the veteran's condition.  Statements can be submitted directly to VA.
File a Claim for a New Claim for A Secondary Condition or an Additional Service-Connected Condition
Filing a new claim for an increased rating usually occurs when you are outside of the one-year period to file an appeal with VA's decision.  Perhaps you received an initial rating decision that was consistent with your level of impairment, but several years later, you have found that your condition has worsened and believe it now warrants a higher rating.  VA will require you to file a new claim for an increased rating in which you can submit any new documentation or evidence you have supporting the fact that your service-connected condition has further deteriorated.  VA has been unclear in whether you need to submit a supplemental claim or a VA Form 21-526 (initial claim) when filing a new claim for an increased rating.  The Regional Offices have accepted both, reflecting an inconsistency in both the processing of claims and their adjudication.  Due to the complexities of the AMA system and the ramifications of a new claim versus a supplemental claim, it is advisable to consult with a VA-accredited legal representative to assist you with your filing.
TDIU
Because of the way in which VA adds disabilities together, it is difficult to go from a schedular 80 percent to a schedular 100 percent rating.  You would need to have another condition rated at 80 percent in order to receive a 100 percent combined schedular rating.  Alternatively, you would need to have multiple additional conditions that equaled another 80 percent rating.  Some veterans may therefore find the easiest path to the 100 percent rating through TDIU, or total disability based on individual unemployability.
TDIU is a monthly benefit that pays veterans at the 100 percent rating level, even if their combined disability rating is less than that.  In this way, it is an alternative path to receiving maximum benefits.
TDIU is awarded in circumstances in which veterans are unable to secure and follow substantially gainful employment as a result of their service-connected condition(s).  VA outlines two ways in which veterans can pursue TDIU: schedular and extraschedular.
To qualify for TDIU under 38 CFR § 4.16(a), or schedular TDIU, a veteran must have:
One service-connected condition rated at 60% or higher; or
Two or more service-connected conditions, one of which is rated at 40% or higher, with a combined rating of 70% or higher.
Veterans who do not meet the schedular requirements under 38 CFR § 4.16(a) may still be considered for extraschedular TDIU under § 4.16(b).
Need a Representative to Help You Go From an 80 Percent Rating to a 100 Percent Rating?
Sometimes, veterans need help from an accredited representative to get their 80 percent rating to a total disability, 100 percent, rating.  If you find yourself in this situation, assistance is available to you.  The experienced team of veterans' advocates at Chisholm Chisholm & Kilpatrick have helped veterans win their claims for 100 percent benefits and we may be able to help you.  Contact our office today for a free case evaluation.