Veterans Law
Orthopedic Ratings and VA Disability
Orthopedic disabilities are those that impact the musculoskeletal system.  Common orthopedic conditions impacting veterans include low back and knee disabilities, and those impacting joints.
How Can You Get Service Connection For an Orthopedic Condition?
Service connection is the means of showing the VA that a veteran's current condition or diagnosis was caused by an event, injury, or disease in service. Generally, the VA requires veterans to demonstrate three things to prove direct service connection for their condition:
A current medical diagnosis;
An in-service event, injury, or diagnosis; and
A medical link, called a "nexus", between the veteran's current diagnosis(es) and the in-service incident.
However, the U.S. Court of Appeals for the Federal Circuit recently ruled in the case Saunders v. Wilkie that pain, without an underlying diagnosis, can also be service-connected for VA disability compensation purposes. The Court's ruling affects the first requirement of direct service connection: the current medical diagnosis. Now, veterans are not required to have a medical diagnosis underlying their physical pain in order to get service connection. However, in order to be service connected on a direct basis for pain, a veteran will still have to show the VA that there was an in-service event, injury, or symptom that caused their pain, and provide a medical nexus linking their pain to that in-service incident or symptom.
Check out our blog "Federal Circuit Court Rules Veterans Can Get Disability Benefits for Pain" for more on the decision.
In instances where a veteran lacks a diagnosis underlying their pain caused by military service, lay evidence can provide important details when claiming service connection. Lay testimony can serve as evidence that an in-service event occurred and is the cause of the veteran's current pain.
For more on the potential impacts of the decision on veterans' claims for benefits, read our blog "Can I Receive VA Disability Benefits for Pain? A Second Look at Saunders v. Wilkie."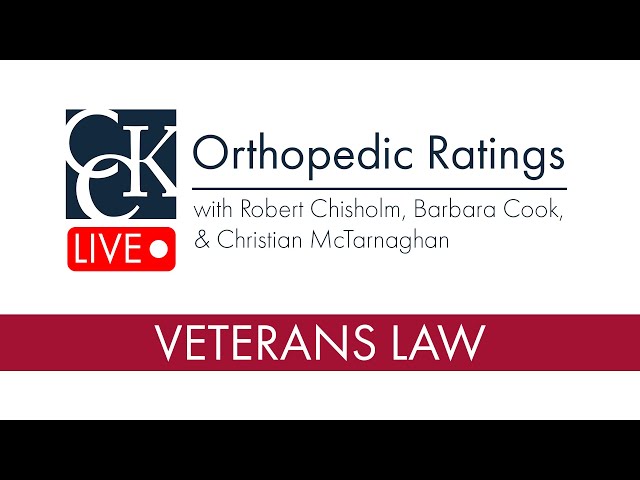 How Does the VA Rate Orthopedic Conditions?
Typically, the VA will rate orthopedic disabilities based on diagnostic testing of a veteran's range of motion. This type of diagnostic testing is typical at a VA Compensation and Pension examination (C&P). The VA is also supposed to consider outside medical records showing limitation of motion when it rates an orthopedic condition.
The VA rates orthopedic conditions based on functional loss resulting from that condition. Functional loss can be shown through weakness, incoordination, and in some instances instability. Additionally, the VA is supposed to consider if a veteran experiences pain during motion, and whether that pain causes functional loss.
The VA should consider how the veteran's disability impacts their everyday life when rating orthopedic conditions. Examples of how orthopedic disabilities can impact a veteran's day-to-day activities include: how long a veteran can stand or sit without experiencing pain; and if the veteran can bend, climb stairs, or walk for extended periods.
What Are Some Common Errors in C&P Exams for Orthopedic Conditions?
When attending a C&P exam for your orthopedic condition, it is important to be honest about your condition and its effects when speaking with the examiner. Examiners may not note down that you experience pain on motion during a range of motion test. It is important to tell the examiner what you are feeling since pain and weakness should be considered when the VA assigns a disability rating.
Veterans should also mention if they experience flare ups of their orthopedic condition. Examiners may overlook flare ups if the veteran is not experiencing one during the exam, so veterans should discuss with the examiner how often they experience flare ups and if they have any functional limitations during the flare up.
Separate Ratings and "Pyramiding" For Orthopedic Disabilities
Separate ratings occur when there is another distinct manifestation of a disability that is not currently rated. For example, a veteran can be entitled to multiple disability ratings for a knee condition if they experience instability in addition to limitation of motion.
In contrast, pyramiding is a practice prohibited by VA, and refers to when a veteran has two disability ratings for a single manifestation of their disability. Veterans can only be compensated once for each manifestation of a disability. For example, a veteran cannot receive two disability ratings to compensate them for their back pain caused by a single condition.
Secondary Service Connection
Secondary service connection is when a veteran's already service-connected condition causes a new, separate disability, or aggravates a preexisting disability, that is not service connected. Veterans can receive disability compensation for that new or aggravated condition as a result of their already service-connected disability.
Secondary conditions can commonly occur from a service-connected orthopedic condition. For example, a separate orthopedic condition may be caused by overuse due to the veteran's already serviced- connected condition. Veterans can also claim secondary service connection for a condition as the consequence of an already service-connected condition. For example, if a veteran falls and breaks their arm due to weakness from their service-connected knee condition, they can be entitled to service connection for a disability that results from breaking their arm.
About the Author