Video
What is a VES C&P Exam?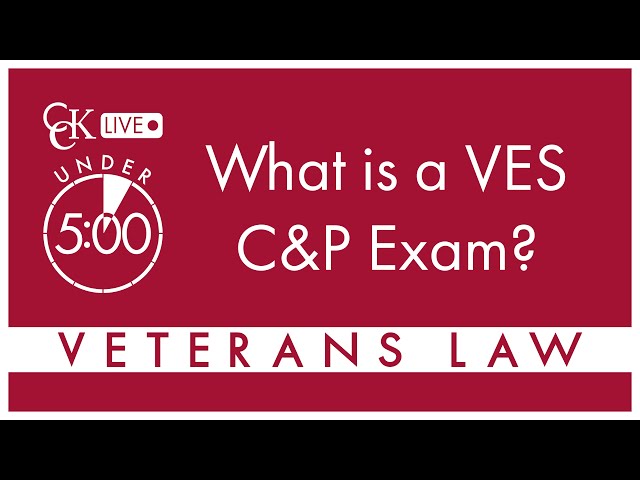 Video Transcription
Emma Peterson: Welcome to CCK Live Under 5. I'm Emma Peterson and today I am explaining the VES C&P examinations.
So, Compensation and Pension examinations, or C&P exams, are a major part of the VA disability benefits process. They are used to determine if there's a connection or nexus between the veteran's claim condition and their military service. And they're also used to evaluate the severity of that condition so that an appropriate disability rating can be assigned. In most cases, pretty much nine times out of 10, VA will require a veteran to undergo a C&P, or Compensation and Pension exam.
In the past, these examinations were all conducted by VA examiners. However, since 2014, this policy has been shifting and now VA outsources more than 80% of all C&P exams. This shift is partly a response to the backlog of C&P exams at VA, which have been made worse by the pandemic.
So, that takes us to VES. The majority of C&P exams are now conducted by VA-contracted examiners. VES or Veterans Evaluation Services is one of the major contractors hired by VA to perform exams for compensation and pension purposes. In some cases, these contract examiners are not as well versed in diagnosing or treating issues specific to veterans, such as Gulf War Illnesses or PTSD.
Additionally, these examiners are not trained in the same manner as VA examiners, lending to issues and inconsistencies in the exam reports. If an examiner is not qualified to evaluate their condition, the veteran may end up with an unfavorable exam that could lead to a low rating or even an outright denial of benefits.
So, for more information on C&P examinations, including what you can do if you end up with an unfavorable exam, please be sure to check out our blog. We explain how to avoid common mistakes and offer advice on what veterans can do in fighting negative C&P exams, and we'll post a link to that.
Also, be sure to check out our other videos on YouTube to learn more about a range of veteran related topics that we speak about. Thanks for tuning in, and please don't forget to subscribe to our channel and follow us on social media.