Veterans Law
Who Can Help Me File a Claim for VA Disability?
Are you suffering from a service-related condition and considering applying for disability benefits from the Department of Veterans Affairs (VA)?  While it is possible to file a claim independently, the VA disability claims process can be overwhelming and challenging to navigate.  If you need help filing a disability claim, there are several options for claims assistance recommended by VA.
How to File a VA Disability Claim
To apply for disability benefits, veterans typically must fill out VA Form 21-526EZ.  This form can be submitted via mail to the Evidence Intake Center or electronically through VA's eBenefits website. Veterans should also make sure they have evidence of the following three things:
An in-service event, injury, or illness;
A current diagnosis by a medical professional; and
A medical nexus, or link, between your in-service event, injury, or illness and your current diagnosis.
VA requires that these three elements of service connection are met before granting disability compensation.  Although VA generally has a "duty to assist" veterans in developing their claims by gathering evidence on their behalf, it can be beneficial to directly submit any evidence you already have or to inform VA of where to find certain documents, as this will speed up the claims process.
Who Can Provide VA Claim Assistance?
If you need help filing a VA claim for disability benefits, you have the option to work with either an accredited attorney, an accredited claims agent, or a Veterans Service Officer (VSO).
VA requires that professionals assisting veterans with claims or appeals are trained and certified by VA.  According to VA regulation, accredited representatives and VSOs must pass an exam, pass a background check, and take regular continuing-education courses.
When researching representatives to handle your VA disability claim, it is important to verify whether they are accredited by VA.  VA-accredited representatives are individuals recognized by VA as legally authorized and capable of assisting claimants in pursuit of benefits before VA.  Accreditation is crucial because it helps determine whether the representative meets or exceeds the minimum standards set forth by VA to represent you.
Claimants can use the VA Office of General Counsel (OGC) database to find out if the representative who wants to help them is accredited.  It is essential to only get VA claim filing help from a representative or VSO who is registered in VA's system.
Veterans Service Officers (VSOs)
Veterans Service Officers, or VSOs, work for Veterans Service Organizations and local government offices.  These organizations are officially recognized by Congress and are typically free of charge.
VSOs can assist veterans in many aspects of the claims process, including educating veterans and their families and answering questions about different federal, state, and local veterans' benefits.  These trained professionals may also be able to provide additional support, including helping with transportation to medical appointments.
VA-Accredited Attorneys and Claims Agents
Accredited attorneys or claims agents can also help veterans with VA disability claims.  An accredited attorney is a lawyer who has passed the bar exam and been accredited by VA, while a claims agent is a non-attorney who has been trained to practice VA law.
Again, only claims agents and attorneys who are accredited by VA are qualified to assist veterans with their claims. You can confirm that a potential representative is accredited by using the VA Office of General Counsel (OGC) database.
It is also beneficial to work with claims agents or lawyers who have prior experience practicing VA Law, and who can continue to represent you if you later need to file an appeal or take your case to the Court of Appeals for Veterans Claims (CAVC).
Pre-Discharge Claims Assistance
If you develop an illness or injury while on active duty and file a claim for disability benefits 180 to 90 days before you leave the military, you can get assistance from a VFW Pre-Discharge representative.  Established in 2001, the Veterans of Foreign Wars (VFW) Pre-Discharge program assists active-duty military personnel in obtaining their VA benefits upon discharge.
VFW representatives can guide military personnel through the claims process and help them prepare and submit forms and evidence prior to separation from military duty. They can also offer advice about VA benefits.  Service members within 180 days of discharge can contact a VFW Pre-Discharge representative to start the process.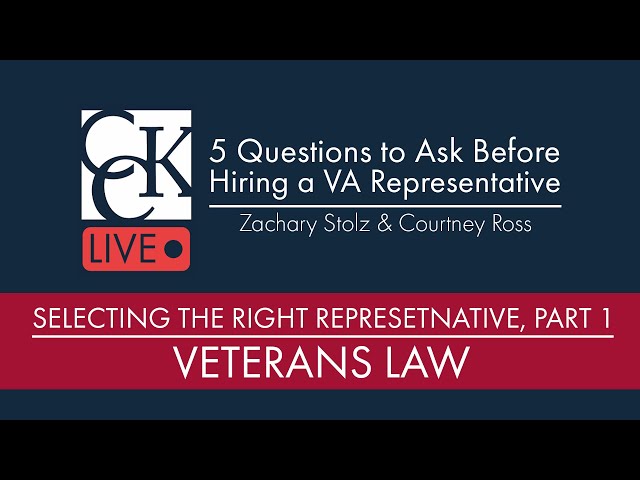 How Can VA Representatives and VSOs Help with Your Claim?
VA representatives or VSOs can file a claim on your behalf.  They can also help you assemble and submit evidence (e.g., doctor's reports, vocational evidence, lay statements, etc.) to support your claim for benefits.  This will help you get a rating decision from VA more quickly.
Although submitting evidence can speed up the process, the VA claims process can still be lengthy.  In most cases, representatives and VSOs can track your claim, provide you with regular updates, and make sure you meet all VA's required deadlines for submitting documents.
If you receive your rating decision and your claim is denied, your representative should be able to advise you on next steps and help you file an appeal.  VA attorneys and accredited claims agents can help you prepare a strategy for fighting a VA decision.
How Much Can a VA Representative Charge for Claims Assistance?
No individual or organization is legally allowed to charge fees for helping you file an initial claim for disability benefits, nor may they take any portion of your future VA monthly payments.  However, there are some situations in which they may charge you for unusual expenses.  In general, VA representatives can only charge fees after VA has issued a decision about your claim, such as during the appeals process.
How to Appoint a Representative or VSO
Once you have chosen a representative to help with your VA disability claim, you should fill out one of two forms.
To appoint a Veterans Service Organization (VSO) to help with your claim, veterans should use VA Form 21-22: Appointment of Veterans Service Organization as Claimant's Representative.  This form authorizes the VSO to prepare, present, and prosecute your claim.  It also allows them to access VA records and Federal tax information.
To appoint an individual (attorney or claims agent) to help with your claim, veterans should use VA Form 22-21a: Appointment of Individual as Claimant's Representative.  Attorneys or claims agents should complete and submit this form on the veteran's behalf.
These forms can be submitted online through the eBenefits portal or sent directly to VA's Claims Intake Center.
CCK Can Help with Your Claim
If you are looking for assistance with your VA claim or appeal, the attorneys and accredited claims agents at Chisholm Chisholm & Kilpatrick may be able to help.  Our team has decades of experience helping veterans secure the disability benefits they deserve.  We have successfully represented veterans before VA, the Board of Veterans' Appeals, the CAVC, and the Court of Appeals for the Federal Circuit, and may be able to do the same for you.
We offer free consultations to veterans searching for VA claim assistance or VA benefits assistance.  Reach out to CCK today at 800-544-9144.