Veterans Law
Applying for VA Benefits Years after Service
VA Disability Benefits Years After Service
You may be eligible for VA disability benefits if you have a current physical or mental condition and meet the following requirements, even if it is years after service:
Served on active duty, active duty for training, or inactive duty training, and
Have a disability rating for your service-connected condition; and
Became sick or injured while serving in the military – and can link this condition to your illness or injury; or
Had an illness or injury before you joined the military – and it worsened while you served; or
Have a disability related to your active-duty service that did not appear until after you ended your service.
Veterans can pursue VA disability benefits in a number of ways following a veteran's discharge.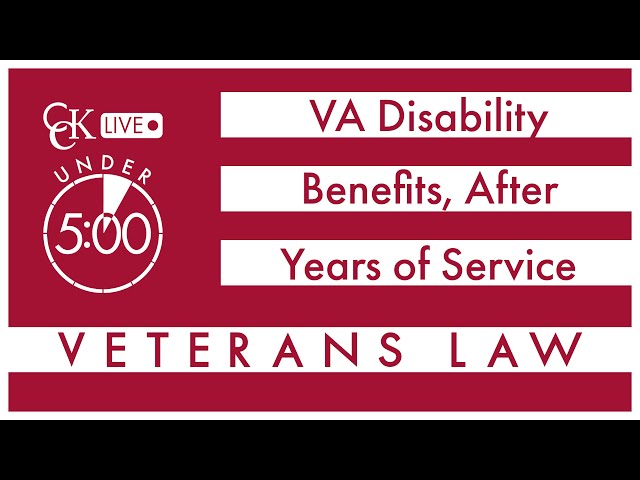 Benefits Delivery at Discharge
A joint VA-Department of Defense (DoD) program gives service members the opportunity to file VA disability claims from 180 to 90 days prior to their separation or retirement from active duty.
Prestabilization Ratings
Prestabilization ratings apply to veterans who were discharged from service with an unstable medical condition.  These rating are designed to compensate newly separated service members for any impact their disability could have on their ability to work in the year following their military discharge.  Prestabilization ratings are either 50 percent or 100 percent depending on the severity of the disability.  The rating will continue for one year after military discharge, at which point veterans can be scheduled for a VA examination to determine a new rating for their disability based on the severity at that time.
Presumptive Conditions within One Year of Discharge
Certain groups of veterans may be able to get VA disability benefits on a presumptive basis if they have an illness that is at least 10 percent disabling that appears within one year after discharge.  To be qualified on this basis, veterans must meet both of the requirements listed below:
The condition is listed in 38 CFR § 3.309(a); and
You did not receive a dishonorable discharge
In order to receive benefits under these conditions, veterans must file a claim for disability compensation and submit evidence to VA.  The evidence should show that your condition is at least 10 percent disabling and it appeared within one year after being discharged from service.  Veterans may consider submitting doctors' reports or treatment notes indicating the severity of your condition and medical evidence showing the date of their diagnosis.
Presumptive Conditions Appearing Multiple Years after Service
There are some chronic conditions that qualify for presumptive service connection even if they appear more than one year after you are separated from service:
Hansen's disease (a long-lasting infection that affects your skin, nerves, and mucous membranes) if it appears within three years after service discharge
Tuberculosis (an infection that attacks your lungs and sometimes other areas of your body) if it appears within three years after service discharge
Multiple sclerosis (a long-lasting illness that can cause numbness, weakness, and many other symptoms) if it appears within seven years after service discharge
Amyotrophic lateral sclerosis (ALS), also known as Lou Gehrig's disease (a long-lasting illness that affects muscle control), if it appears any time after discharge
While these are specific examples of presumptive conditions, it is important to note that veterans can file for service connection at any point following discharge.  There is no time limit on when you can claim a condition is related to your service.
About the Author