Was Your VA Individual Unemployability (TDIU) Claim Denied?
Did VA deny your claim for a 100 percent rating based on TDIU even though you are unable to get and keep a job due to your service-related disability?  If so, you may still be able to get the compensation you deserve.
The team of experienced advocates at Chisholm Chisholm & Kilpatrick LTD may be able to help you appeal VA's decision.  Start your free case evaluation by submitting the form.
Be Aware: Companies charging veterans fees to file initial VA claims is illegal. See if your representative is accredited here.
Total Disability Based on Individual Unemployability (TDIU)
The Department of Veteran Affairs (VA) awards Total Disability based on Individual Unemployability, or TDIU, to veterans unable to obtain and maintain substantially gainful employment due to a service-connected disabling condition.  TDIU allows veterans who do not have a combined schedular rating of 100 percent to receive disability compensation at the 100 percent level.
Essentially, this is another avenue to secure the highest available benefit from VA.  A veteran with a 100 percent schedular rating and a veteran with TDIU will receive the same amount of monthly compensation.
However, due to the unemployability factor, TDIU comes with work restrictions whereas a 100 percent schedular rating does not.  Veterans who qualify for TDIU can only work jobs not considered substantially gainful, such as those with salaries below the federal poverty line.
Do I Qualify for TDIU Benefits?
To qualify for TDIU on a schedular basis, a veteran must:
Have a service-connected medical condition rated at least 60 percent; or
Two or more service-connected disabilities with a combined rating of 70 percent, and with at least one rated 40-percent disabling or higher.
Veterans with service-connected conditions can also file for extraschedular TDIU if they are unable to secure substantially gainful employment but do not meet the schedular requirements listed above.
Veterans can apply for TDIU by filling out and submitting VA Form 21-8940: Veteran's Application Based on Unemployability.  To learn more about the application process, reference: How to Apply for 100% VA Unemployability.
2021 Monthly Compensation for TDIU
As of December 2021, a single veteran without dependents who qualifies for individual unemployability benefits will receive $3,332.06 per month.  VA also provides additional compensation for veterans with qualifying dependents, such as dependent parents, children, or a spouse.
Common Mistakes with TDIU Claims
In theory, VA automatically awards the highest monthly benefit to all veterans who meet the TDIU requirements when they file a claim; however, this is not always the case.
To secure VA TDIU benefits, it is important to fill out VA Form 21-8940 when applying for individual unemployability.  It can also be vital to submit any available evidence—medical records, employment records, social security determinations, vocational reports, and more—as quickly as possible.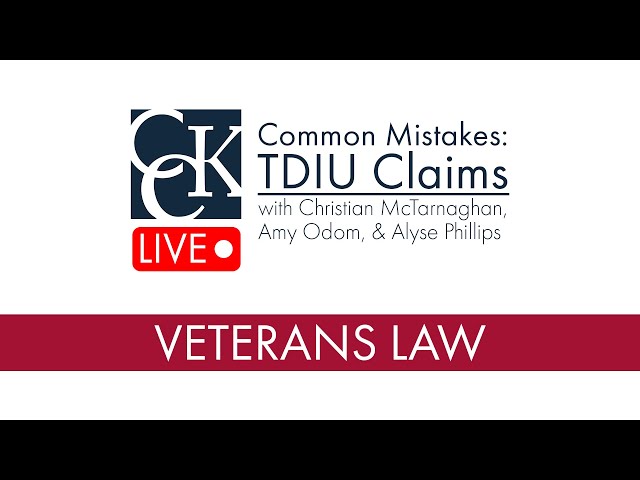 Was Your TDIU Claim Denied?
Veterans deemed unfit for substantially gainful employment due to their service-connected conditions are entitled to VA disability compensation.  If VA denied your claim for TDIU, the team at Chisholm Chisholm & Kilpatrick LTD may be able to help.
The accredited attorneys and advocates at CCK are dedicated to helping veterans receive the benefits they deserve. Fill out the form on this page or call us to get started!