Client Update COVID19,
CCK has confirmed as of June 22, 2020 that VA intends to open twenty VA Medical Centers around the country to conduct in-person compensation and pension (C&P) examinations. It is our understanding that VA contractors too will start conducting in-person C&P examinations in these same regions where VA Medical Centers are opening. VA aims to have opened forty VA Medical Centers around the country by July 15, 2020. One of the challenges VA may confront as it begins to permit in-person C&P examinations by contractors is whether there will be enough examiners to conduct them after the layoffs that have occurred in the last three months due to COVID-19. In those locations where the VA Medical Centers remain closed, VA will continue to conduct telehealth examinations and use ACE examinations to evaluate disabilities for claims and appeals.
VA recently stated that there is a growing backlog of AMA claims largely resulting from VA's inability to conduct in-person C&P exams. We understand that VA is devoting more resources to conduct in-person C&P exams to prevent the backlog from increasing.
VA Regional Offices and the Board of Veterans' Appeals continue to operate and are making decisions on claims. Regional Offices will likely open up to foot traffic in the near future. The Court of Appeals for Veterans Claims continues to operate normally except that work is being done remotely. The Court has held a number of oral arguments via telephone and will continue to do so for the next few months.
Here at CCK we remain open and operational, with most of our team working remotely since Tuesday March 17, 2020. Thanks to the dedication of our employees, managers, and our IT department, the transition was virtually seamless, and we stand ready to continue to provide the high level of service you expect from CCK. We will remain open and operational throughout the duration of this remote status, and will keep you apprised of any updates with CCK, the VA, and the Courts.
We are sending well wishes to you, your families, and your colleagues. Our sincere thoughts are with those impacted by this virus.
Very truly yours,
The Team at Chisholm Chisholm & Kilpatrick LTD
VA Operations During COVID-19 With Regional Office Officials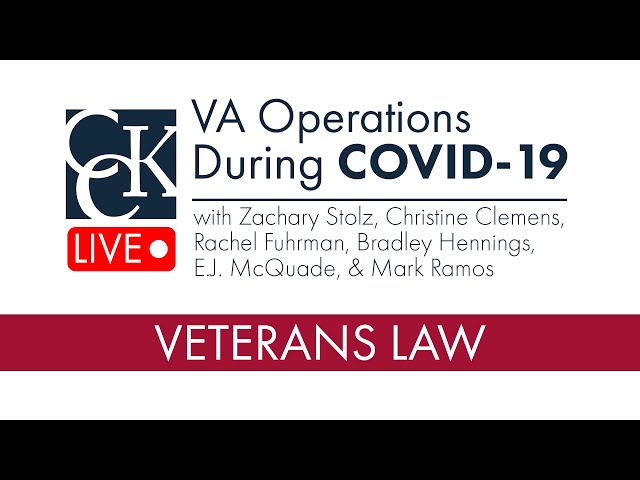 Recorded On April 23, 2020
Documents referenced in the video:
Recorded On April 2, 2020