Video
Women Veteran Healthcare at the Veterans Health Administration (VHA)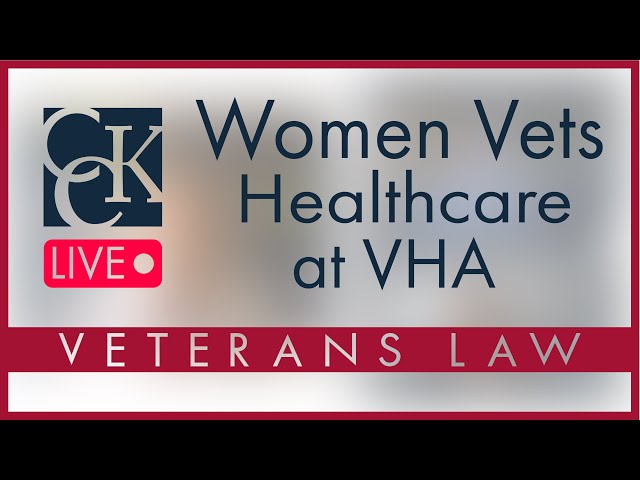 Video Transcription
Emma Peterson: Hello, and welcome to another edition of CCK Live. My name is Emma Peterson and today I'm joined by my colleagues, Alex Gamache and Michelle DeTore. We are going to be talking about Women Veterans Healthcare at the VHA, the Veterans Health Administration. We'll have some links posted for you to various websites that are put out by VA that you can look at your leisure. And in this video, we're going to break down the different types of healthcare benefits that are available to women veterans throughout the VA system.
So, women are the fastest-growing group in the veteran population with about 2 million currently living in the United States. In addition to the general health and wellness benefits available to all eligible veterans, VA offers a range of female-specific services and resources including reproductive and sexual health, cancer screenings, infertility services, and mental health and domestic violence care. Now, these services are available to anyone that identifies as a woman and we'll have additional information for you posted in the comments.
Alex, can you tell us a little bit about the reproductive health care benefits that VHA offers female veterans?
Alex Gamache: Sure. I will start with birth control first. VA provides comprehensive contraceptive care services and birth control options including hormonal and burial methods, long-acting reversible contraceptives, and emergency contraception in tubal litigation.
Moving on to pregnancy and maternity care, in addition to comprehensive health services such as medical exams and assistance with prenatal vitamins, VA can help veterans prepare for pregnancy with mental health services, housing, and food support. To access VA's pregnancy services, we recommend that you contact your VA primary health care provider. If you do not have one, you can call the Woman's Veteran Program Manager at your local VA which most, if not all, VA medical centers will have to help you access VA benefits and healthcare services.
Maternity care is covered by VA but provided by non-VA providers in non-VA facilities. Women can continue to receive care for other conditions at the VA during this period. VA maternity care coordinators work with pregnant veterans to navigate their care. Maternity care services at the VA are available and they include and/or are not limited to physical exams and lab tests, prenatal education and screening, ultrasounds, genetic tests, prescription drugs, breastfeeding, chest feeding, lactation support, and services in case of a miscarriage or stillbirth. To access maternity-specific services, veterans who are enrolled in VA Healthcare should contact or make an appointment with their Maternity Care Coordinator at their local VA.
Emma: That's so important. It sounds like that you're allowed to continue, maybe to see the OB of your choice, but get that care covered by VA because there are a number of out-of-pocket expenses that can come up with pregnancy for all those labs and screenings that you need to do just to make sure that everything's going okay during the development of your baby.
Michelle, what about infertility services? I know that can be a really costly and a stressful expense for a lot of people out there struggling with it. What can VHA do for our female veterans out there, in terms of infertility services?
Michelle DeTore: You know, as long as a veteran is enrolled in VA health care, they are eligible to receive infertility treatment. Typically, you'll need a referral from your VA provider, more like a primary care physician to receive these services. The services can include but are not limited to, infertility assessments and counseling, laboratory tests including genetic counseling and testing; imaging services such as ultrasounds or x-rays; hormone therapies; maybe some surgical corrections if you've have polyps, blockages, or scars; fertility medication which can be very costly; artificial insemination to the ligation; getting your tubes tied reversed; vasectomy reversal; egg freezing; and then also sperm retrieval techniques.
What's interesting is that if you are service-connected and that condition causes infertility, you and your spouse may be eligible for IVF treatments or other forms of assisted reproduction technology if you meet certain criteria that are set forth under the criteria for this additional benefit, but that was something I didn't actually know until today.
For more information on fertility services, coverages, and eligibility requirements, a veteran should call the Women Veterans Healthcare Center or talk to their health care primary provider. They can be able to give you a little bit more information about the requirements and what additional services may be offered through this healthcare system.
Emma: Great. Thanks, Michelle. Just for rounding out the typical trifecta of OB/GYN services, VA will also help you with menopause resources. So, menopause is a normal, hormonal, and biological change that's coming for us all. It's a gradual process that can take years and symptoms can be bothersome to downright just unbearable. If you have menopausal symptoms that are bothering you and you already have a VA primary care provider, you can let them know about those symptoms and they can review options with you, or you can call your nearest VA medical center and ask for the Women Veterans Program Manager, the WVPM, and they can help coordinate any services or care that you might need.
Another important function of Women Veterans Healthcare is that the VHA has to do with cancer screening. So, Alex, can you tell us about that?
Alex: Yeah. Moving on to gynecological cancer, this is cancer that develops in your reproductive organs. These cancers are more easily treated if they are detected early. At the VA, women can receive their Pap tests and HPV vaccines from their primary care provider. If your Pap comes back abnormal, your provider will let you know the next steps for potential screening.
If your provider determines that you need to see a Gynecological Specialist or an Oncologist, they can refer you to one at your VA medical center or your VA healthcare facility in your community. These specialists will work with your primary care provider to develop a treatment or care plan for your gynecological cancer.
Emma: I think cancer screenings and also infertility screenings are so important to many of our female veterans out there to know the emerging information about exposures to things like burn pits on various basis. Be sure to reach out to that coordinator if you have any concerns with either of those areas of health.
Now, Michelle, speaking of health, we've talked about bodily systems. What about mental health? Can VA help our female veterans out there with mental health conditions?
Michelle: Yes, they can. If you are a woman veteran, you are able to have services and healthcare treatment for mental health conditions related to service such as depression, eating disorders, PTSD, substance abuse, and suicide prevention. In addition to it, not just being related to your service, they are also providing special resources for pregnant and postpartum veterans struggling with their mental health. It's always good to know if you are in those two criteria of pregnancy and postpartum, that you do have resources available through VA, not just because it was related to your service.
All former service members and veterans are eligible for one year of free mental healthcare services, regardless of their discharge status. Even if you are not eligible to receive other VA healthcare, you may still be able to get certain healthcare services. If you do not have health care benefits but have served in a combat zone, you may get counseling and alcohol and drug assessment done and other support at your local vet center as well. There are a lot of options and resources out there for mental health treatment for women that work in service.
Emma: Finally, another sort of tangent off of that is that if you're living currently living in an abusive situation or if you've experienced sexual trauma of any kind, whether that is pre, during, or post your military service, VA has resources to support. They can help you get out of an intimate partner violence situation and help you address any repercussions from military sexual trauma or other sexual assault. Even if you're not eligible to receive other VA healthcare, you may still be able to get certain healthcare services, like care related to the residuals of military sexual trauma. Do reach out if you need assistance with any of those issues.
Alex, how do women out there access these benefits? What should they do?
Alex: Yeah. If you served on active duty in the military and were discharged under honorable conditions, you likely qualify for some VA health benefits. As someone who identifies as a woman veteran, you may be eligible for VA healthcare benefits including gender-specific care. Specific eligibility requirements information on these groups can be found on VA's website which we will link below. To apply for VA healthcare, veterans should fill out the VA Form 10-10EZ, application for health benefits. For assistance filling out this form, veterans can contact VA or seek the help of an accredited agent or a VSO.
Emma: Thanks, Alex. More information about all the topics we discussed today can be found on our website and our blog. Alex, any closing thoughts about Women's Healthcare?
Alex: Kind of going off a little bit of Michelle's topic. I also did not know that veterans could get one year of free healthcare or mental health services. So, I would just recommend that if any woman is going through any of these topics that we've discussed, they should definitely reach out and get the assistance that they need.
Emma: Michelle, any final thoughts?
Michelle: I think that it's just hard sometimes to know what all the benefits you are eligible for or have. If you're not sure, it's always good to ask. It's good to get information. There are definitely packets, websites, and stuff that provide more information. Always talk to your doctor to see if it's something that might be covered for you.
Emma: Great. Thank you. So, thank you for joining us to talk today about women's healthcare benefits available at the VHA. Please be sure to keep up with CCK by subscribing to our YouTube channel and make sure to follow us on social media. Have a good day.