Veterans Law
Military Sexual Trauma (MST) VA Claims
In this video, CCK partners Barbara Cook and Robert Chisholm discuss the challenges faced by Military Sexual Trauma survivors during the VA disability compensation process and how veterans can creatively address those challenges when submitting a claim.
"As with all claims, I feel that VA compensation is a contract that we have as a nation with people who serve. This is not a gift. This is not something people should be reluctant to take advantage of. We cut a deal with people who volunteer and who serve that says, 'If you are injured on active duty, we will help take care of you.' And that's what this is all about."

– BARBARA COOK, CCK PARTNER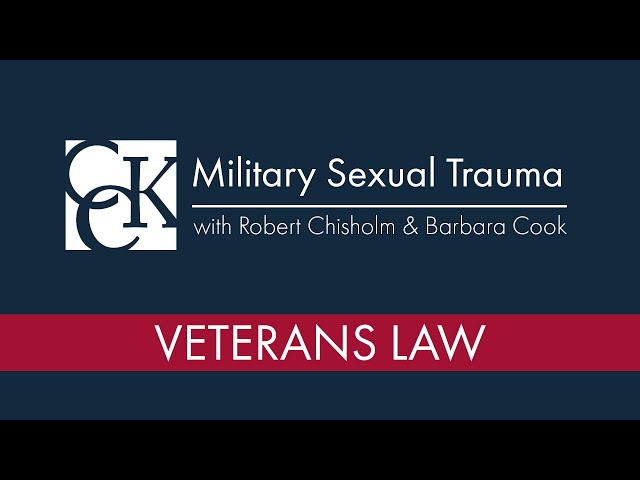 According to the Department of Veterans Affairs, Military Sexual Trauma (MST) is a psychological trauma that results from physical assault or battery of a sexual nature, or psychological trauma that results from sexual harassment. VA defines sexual harassment as repeated and unsolicited verbal or physical contact of a sexual and threatening nature.
MST-related claims are not limited to PTSD claims. Though PTSD may be one result of military sexual trauma, MST does not always result in a diagnosis of PTSD. It can also be associated with depression or anxiety, for example, or even a physical diagnosis.
For a number of valid reasons, many veterans do not report MST events while in service. VA recognizes this problem, so it has special rules for MST claims. VA guidelines instruct the adjudicators of MST claims to look beyond the claimant's military records. As a matter of law, the individual's failure to report the event at the time cannot be used against them.
Instead, VA allows the person to use a wide range of evidence to show the event occurred. In addition to medical treatment records and official reports of sexual assault or harassment, VA adjudicators must take into account evidence that shows changes in the individual's social or economic behavior, requests for transfer, substance abuse, changes in work productivity, or other indicators that the event occurred. Additionally, they may take into account statements from the individual's friends, family members, therapist, minister, etc. that the individual experienced or told them about the MST event. VA also allows VA therapists to look at behavioral changes in the military record and use the therapist's statement as substantiating evidence of the traumatic event.
Both men and women experience and submit claims for Military Sexual Trauma. VA estimates that approximately 50% of MST claims are filed by men.
All VA claims are confidential at the Regional Office level and at the Board of Veterans' Appeals. At the Court of Appeals for Veterans Claims, the veteran or the Veteran's attorney can ask the Court to 'seal the record,' meaning that no member of the public would be able to see the court proceedings. The Court can also permit the claimant to use a pseudonym or their initials for confidentiality.
VA does not always adjudicate Military Sexual Trauma claims properly. VA adjudicators often narrowly interpret which diagnoses are considered related to MST. Some have limited ideas about what counts as evidence, despite VA's intentionally liberalized standards. Additionally, some VA staff minimize the importance of reports from non-VA healthcare providers.