Veterans Law
Conditions Affecting Women Veterans
Women Veterans Demographics
Women comprise approximately 14.5 percent of the active duty military force and almost 18 percent of National Guard and Reserves.  As the number of women in the military increases, so does the number of women veterans.  Specifically, women make up the fastest growing population of veterans in the United States, totaling approximately 2 million as of 2017.  As a result, more women veterans are now seeking supportive services from VA.  This growth is highlighted in VA's 2015 Women Veterans Report:
In 2015, 840,000 women veterans used at least one VA benefit or service (an increase from 31.2% of women veterans in 2005 to 41.1% in 2015)
From 2005 to 2015, the number of women veterans enrolled in VA healthcare increased 83.9% from 397,024 to 729,989
From 2005 to 2015, the number of women veterans using VA healthcare increased 46.4% from 237,952 to 455, 875
1% of all women veterans in 2005 used VA health care compared with 22.4% of all women veterans in 2015
In 2015, 405,418 women veterans received compensation from VA for a service-connected disability, representing about 20.1% of the total population of women veterans
54% of women veterans receiving compensation had a combined disability rating of 50% or higher
Accordingly, VA is committed to ensuring that these benefits and services for women veterans are made as accessible as possible, and has created a number of outreach programs and revised guidelines toward this objective.
VA Women's Benefits and Programs
Women's Healthcare Services
VA offers general services like disease prevention, nutrition counseling, and weight control to women veterans.  However, VA recently began providing female-specific services as well, including birth control, preconception counseling, menopausal support (e.g. hormone replacement therapy), reproductive care, maternity care, and infertility evaluation and limited treatment.  Additionally, VA offers screenings for cervical cancer (i.e. pap smears) and breast cancer (i.e. mammograms).  Women veterans are also afforded free, confidential counseling and treatment for mental and physical health conditions related to military sexual trauma, along with mental health services for depression, post-traumatic stress disorder (PTSD), and substance use problems.
Center for Women Veterans
The Center for Women Veterans was created to monitor and coordinate VA's administration of benefit services and programs for women veterans.  Specifically, it advocates for a cultural transformation that recognizes the service and contributions of women veterans and women in the military, and also raises awareness of the responsibility to treat women veterans with dignity and respect.
Women Veteran Coordinators
Women Veteran Coordinators are located in every Regional Office and function as the primary contact for women veterans.  They provide specific information and comprehensive assistance to women veterans, their dependents, and beneficiaries concerning VA benefits and other related non-VA benefits.  These individuals may also assist women veterans in the intake, development, and processing of military sexual and personal trauma claims.    
Military Sexual Trauma (MST) Coordinator
Every VA facility has a designated MST Coordinator who serves as a contact person for MST-related issues.  The MST Coordinator works as an advocate and can help women veterans find and access VA services and programs, state and federal benefits, and community resources.
Women Veterans Hotline
While the number of women veterans enrolled in VA programs and services is steadily increasing, research still indicates that women veterans underutilize VA care and benefits, largely due to a lack of knowledge about VA benefits and available services.  To address this, VA created the Women Veterans Hotline – 1-855-VA-WOMEN (829-6636) to receive and respond to questions from women veterans, their families, and caregivers across the nation.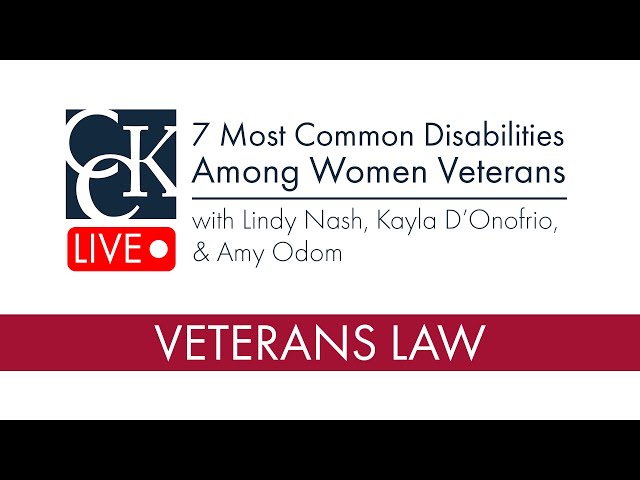 VA Updates Schedule for Rating Disabilities to Include Women-Specific Conditions
In September 2017, VA began updating its Schedule for Rating Disabilities, to include a new rating schedule for gynecological conditions and disorders of the breast.  No conditions were removed from the new rating schedules for gynecological conditions and disorders of the breast; however, several new diagnostic codes were added and others were retitled, restructured, or updated.  One notable update is the addition of Female Sexual Arousal Disorder.  Male veterans with certain penile conditions have been eligible for disability compensation and possible additional monthly benefits in the form of special monthly compensation (SMC), but there was no rating option for similarly disabling conditions affecting women veterans.  According to VA, the new rating schedule guarantees both men and women veterans are evaluated equally.
Most Common Service-Connected Conditions for Women Veterans
VA's 2015 Women Veterans Report also noted the top five most common service-connected conditions claimed by female veterans.  Specifically, the following five conditions accounted for 33% of all service-connected conditions for women veterans:
PTSD – accounts for 12% of all service-connected conditions among women veterans, totaling about 48,000 women
Major depressive disorder (MDD) – approximately 26,500 women veterans were service-connected for MDD
Migraine headaches – over 24,000 women veterans received disability compensation for migraine headaches
Back pain – roughly 22,200 female veterans were service-connected for lumbosacral or cervical strains
Uterus and ovaries, removal of, complete – about 12,700 women veterans had the complete removal of their ovaries and uterus
While research regarding women veterans has increased significantly over the past few decades, additional development is still needed to fully understand health outcomes related to military service.
Mental Health and Women Veterans
Studies regarding the prevalence of mental health issues among women veterans demonstrate that compared to men, women veterans are more likely to be diagnosed with a mental health disorder.  Namely, 31% of women veterans are diagnosed with mental health disorders as compared to 20% of male veterans.  As reflected in the most common service-connected conditions, women veterans are significantly more likely to have a diagnosis of: depression, PTSD, other anxiety disorders, and bipolar disorder.  Mental health disorders in women veterans are associated with the following:
Lower health perceptions
More medical diagnoses
Increased pain
Poorer psychosocial functioning
Lower perceived quality of life
Higher level of health-risk behaviors
Increased physical health problems (greater vulnerability to medical co-morbidity)
Research suggests that early access and intervention that includes screening for mental health symptoms and trauma exposure are critical in addressing mental health issues within the women veteran population.